There are some interesting facts about IPL which have no logical explanation. So here is the list of Top 10 unique facts about IPL that defies logic.
We have already covered 50 Mind-Blowing Facts about IPL that you don't know in our previous post. Check that out as well.
1. Chennai Super Kings is unbeaten in matches played on 25th April.
This is one of the unique facts about IPL and there is no logical explanation for it but it is true.
CSK has played a total of 7 matches on April 25 over the years. They have won 6 out of 7 matches, the latest being against RCB on 25th April 2018.
One match against RCB in 2012 was washed out due to rain. Hence, you know that 25th April is lucky for CSK.
What do you think? Is this a coincidence or Dhoni's magic? Share your views in the comment section.
2. Brendon McCullum created history in his very first innings of IPL in which he scored 158*.
He is the first one to score IPL's first run, first four, first six, first fifty, first hundred, and first 150. He is also the first player in IPL to be awarded Man of the Match.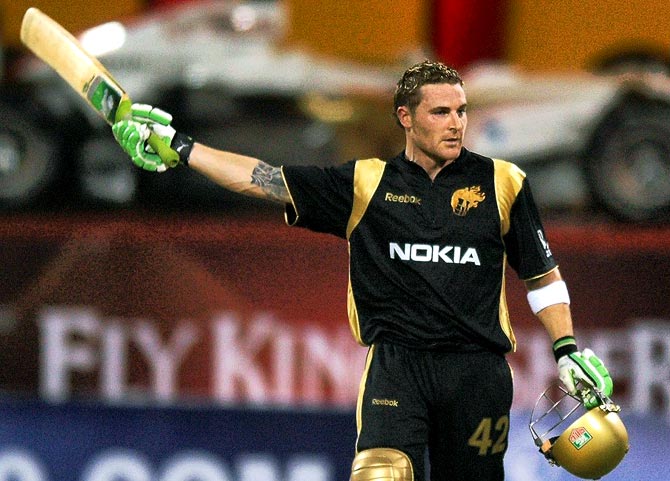 3. 12 Australian players played in IPL before representing Australia in International Cricket.
These 12 cricketers are Aaron Finch, James Faulkner, Glenn Maxwell, George Bailey, Shaun Marsh, Matthew Wade, Rob Quiney, Dirk Nannes, Ben Dunk, Chris Lynn, Brett Geeves, and Mitchell Marsh.
This is the reason why everyone wants to play in IPL.
4. Whenever Delhi Daredevils finished at the last position in the points table, the team finished second won the IPL Season. This is one of the interesting and unique facts about IPL.
See the points table below as proof.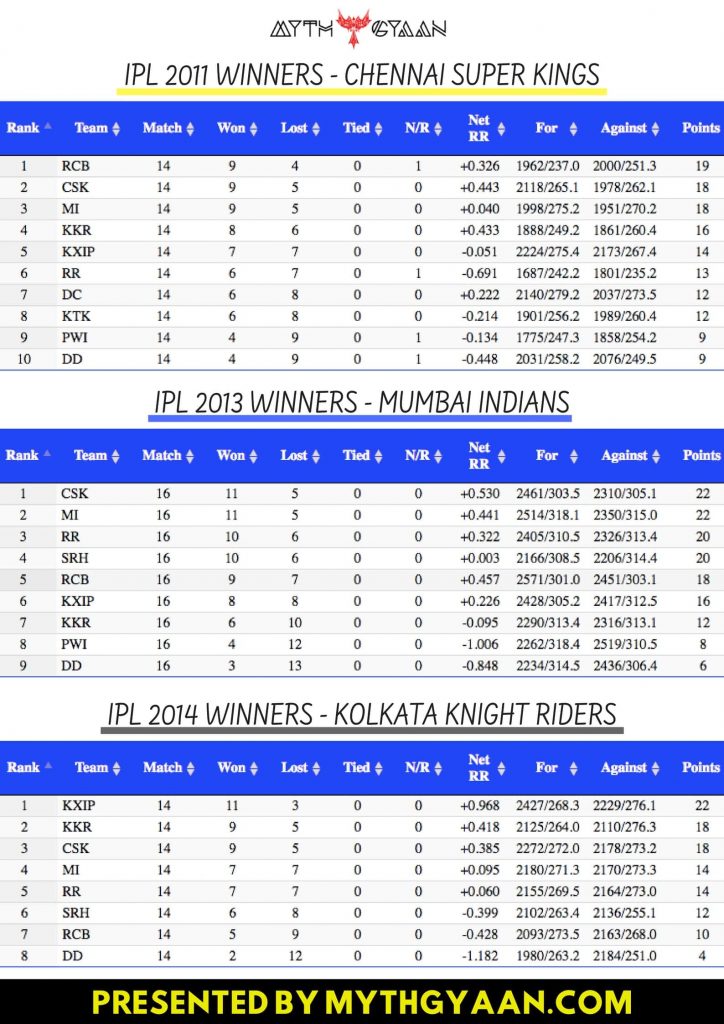 When Delhi Daredevils finishes at the bottom in the points table:
2011 – CSK wins
2013 – MI wins
2014 – KKR wins
Yes, this fact turns out to be true in 2018 also. Chennai Super Kings win the IPL Trophy in 2018 against Sunrisers Hyderabad. In 2018 also, DD finishes at the bottom of the points table.
Share this post with CSK Fans.
5. The result of every IPL final is decided in the final over of the match. IPL 2018 final is an exception.
It means that till the 19th over of the second innings, nobody knows who is going to win the trophy. This happens in all the IPL finals from 2008 to 2017.
See yourself below. Nobody knows why and how it happens.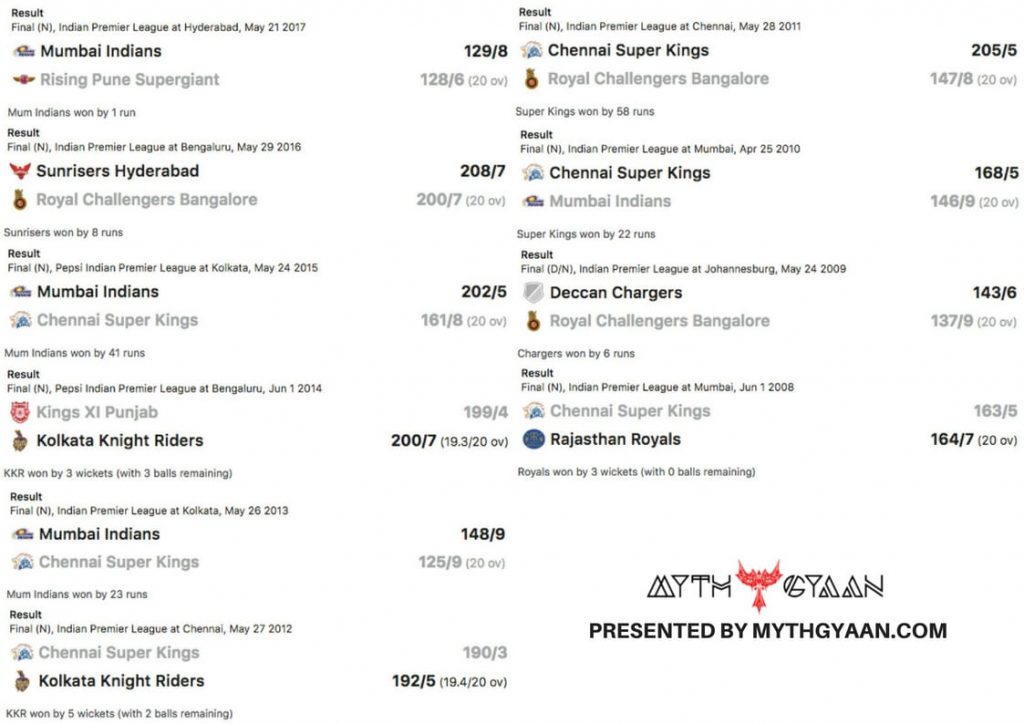 6. No batsman has hit six sixes in an over in IPL. Yet the maximum runs scored in an over are 37.
In IPL 2011, Chris Gayle hit 4 sixes (one of a no-ball) and 3 fours combining for a total of 37 runs against Prasanth Parameswaran of Kochi Tuskers Kerala.
6. No batsman has hit six sixes in an over in IPL. Yet the maximum runs scored in an over are 37.
The biggest coincidence is that he bowls these two super overs on the same date i.e. April 29. One against KKR in 2014 and the other one against MI in 2017.
And you won't believe it but it was his birthday on the same day i.e. 29th April. Furthermore, in both the super overs, he conceded 11 runs and took 2 wickets.
Now how can you give a logical explanation of how is this possible!!!
8. Sarfaraz Khan was only 10 years old when IPL started. Now in 2018, he is 20 and playing alongside Virat Kohli and AB de Villiers.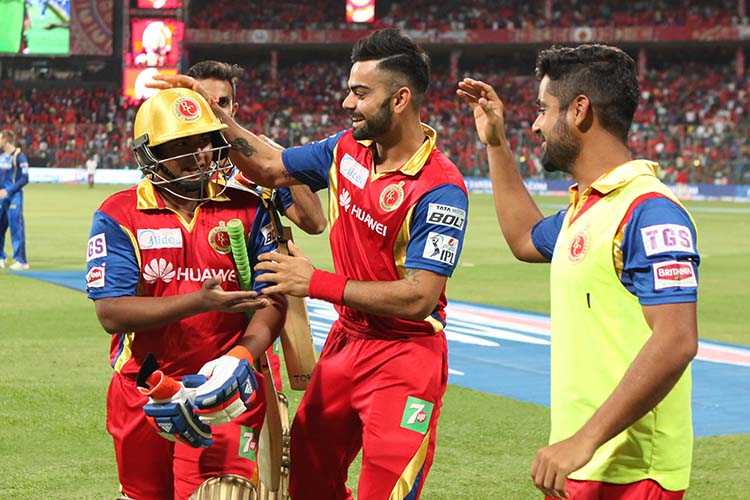 9. Do you know that the IPL Competition Logo on a white background will always appear on the lower leading arm of the player irrespective of the color of the jersey.
This is mandatory for all the teams. Thus, one of the unique facts about IPL.
Now there is an important point to understand. The leading arm for a left-hander is his right hand and for a right-hander, it is the left hand.
Probably, this is done for the maximum visibility of the brand while the camera is rolling over from the bowling side.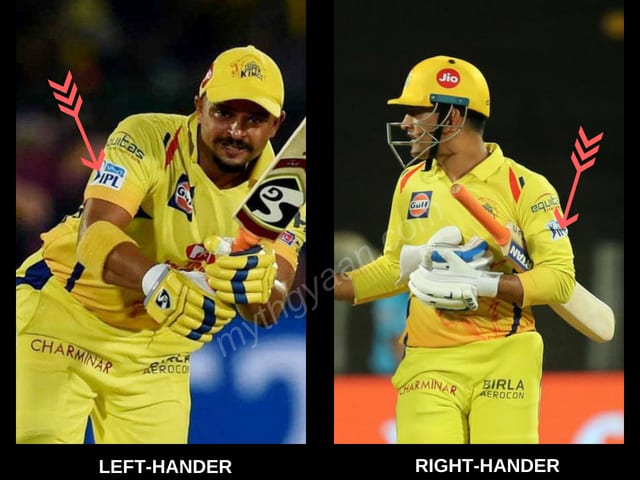 10. After 2010, there was a change in the design of the IPL Trophy. Thus, Chennai Super Kings is the only team in IPL to win both the trophies (old and new ones).
This proves that CSK is the luckiest team in IPL.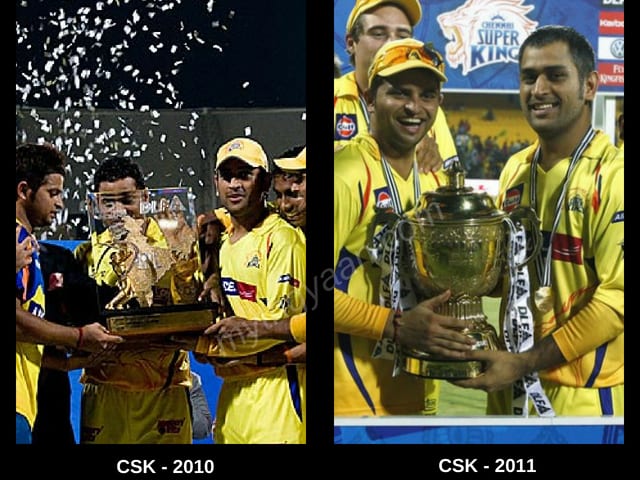 MUST-READ: Why Jersey of Indian Cricket Team has three stars above the BCCI Logo?
BONUS:
What is written on the IPL Trophy in Sanskrit?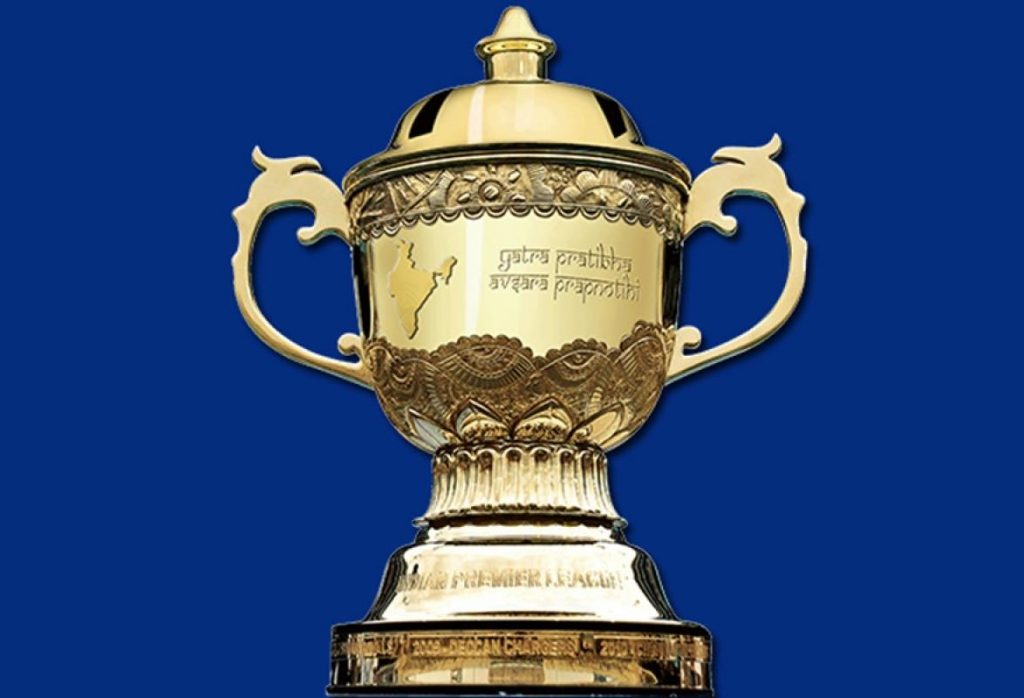 It is written:
Yatra Pratibha Avsara Prapnotihi
In English, it means:
Where talent meets opportunity.
In Hindi, it means:
जहां प्रतिभा अवसर प्राप्त करती है