Costa Coffee, one of the largest coffee chains in the UK, is facing backlash and calls for boycott over a controversial advertisement featuring a cartoon image of a "trans man" with mastectomy scars. The coffee chain had featured the image on one of its mobile coffee vans, sparking outrage on social media with the hashtag #BoycottCostaCoffee trending.
In this detailed article, we will analyze:
The controversial Costa Coffee advertisement and image
Arguments from both sides – why some found it offensive while others defended it
Calls for boycotting Costa Coffee on social media
Comparisons with other recent brand controversies like Bud Light
Costa Coffee's response to the backlash
The Controversial Costa Coffee Image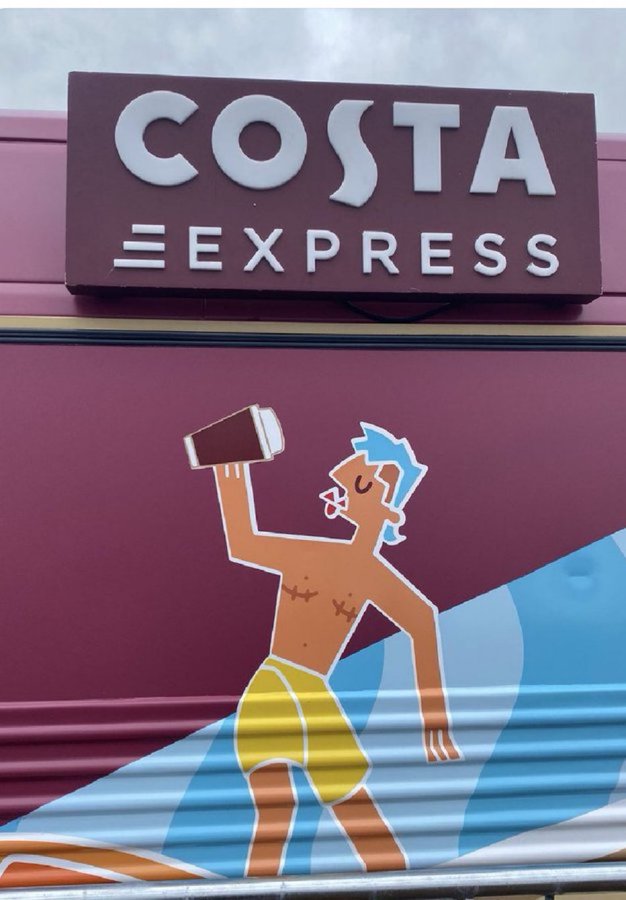 The image at the center of this controversy is a cartoon depicting an androgynous surfing character with scars under each breast, typical of a mastectomy procedure.
As per reports, this image is part of a larger mural that was commissioned by Costa Coffee for Brighton and Hove Pride celebrations in 2022. A section of this mural is now being featured on one of Costa's mobile coffee vans being used for events around the UK.
The surfing character has blue hair, a masculine appearance, and wears swim shorts. The scars under the chest area indicate a transition from female to male, implying the character is a "trans man".
Why Some Found This Offensive
As soon as images of the Costa coffee van featuring this image spread online, it sparked outrage among some segments especially gender critical feminists, conservative groups, and women who have undergone mastectomy due to breast cancer.
The main arguments made by those finding it offensive are:
They accuse Costa Coffee of promoting and glorifying breast removal surgery among young girls and teenagers struggling with gender dysphoria.
The image trivializes the trauma and difficulties faced by cancer patients who undergo mastectomy surgeries. Promoting elective mastectomy could be insensitive to their plight.
It propagates the narrative that women can magically become men by removing their breasts and taking hormones. This is seen as misleading by critical feminists.
Normalizing irreversible surgeries and promoting them as "cool" could pressure confused teenage girls into opting for unnecessary procedures with permanent impacts.
Mastectomy is a serious and complex surgery involving risks like infections, necrosis, blood clots etc. Presenting it in a fun cartoon form is considered irresponsible.
Overall, the outrage comes from the perspective that Costa is glorifying gender transition surgeries and promoting the removal of healthy breasts and organs among young women. This is slammed as dangerous and unethical.
Voices Supporting Costa's Advertisement
On the other side, transgender activists and LGBTQ groups argue that the backlash against Costa's advertisement is transphobic. They make the counter arguments:
Mastectomy or "top surgery" helps transgender men feel more comfortable with their bodies and alleviates gender dysphoria which is a serious condition.
The surgery is safe, routine, and improves mental health according to medical research. Promoting it raises awareness.
Costa featuring a trans man in their campaign artwork makes it more diverse and inclusive. This should be encouraged.
Boycotting the company for celebrating inclusivity and diversity would be regressive. Costa should be lauded for being progressive.
Critics exaggerate the risks of mastectomy. In most cases it is a successful and life-affirming procedure for trans men.
So while one side sees the potential glamorization of breast removal as dangerous, the other argues that highlighting such surgeries promotes inclusivity for the trans community and could help normalize necessary transition procedures.
Social Media Backlash and Boycott Calls Against Costa
The controversial Costa Coffee advertisement went viral on social media on July 31, 2023 after pictures of the coffee van featuring the image were shared online.
This quickly sparked outrage and debate on platforms like Twitter, with thousands of angry reactions demanding a boycott of Costa Coffee with the hashtag #BoycottCostaCoffee trending in the UK.
Some of the common arguments made in social media posts are:
Feminist activists condemned the glamorization of medically unnecessary mastectomies which could distort the reality of such invasive surgeries.
Customers who underwent mastectomy due to breast cancer shared how traumatic it was, arguing Costa was being highly insensitive.
Parents of teenagers feared the ad could groom young girls unhappy with their bodies to consider drastic irreversible procedures.
Political commentators like Laurence Fox urged all to boycott Costa, accusing them of promoting the "mutilation" of healthy girls.
Some revealed they would never visit Costa outlets again due to this "irresponsible" and "shocking" campaign.
Even customers who previously loved Costa expressed disappointment at the inappropriate advert.
Along with individuals, groups like the LGB Alliance and other feminists organizations amplified the calls to boycott Costa Coffee unless they withdrew the controversial advertisement. So the social media reaction has been overwhelmingly negative.
How This Compares to Other Recent Brand Controversies
The backlash against Costa Coffee has parallels with how brands like Nike and Bud Light also faced boycotts from conservatives in 2023:
Nike
Faced boycott calls in April 2023 for sponsoring trans influencer Dylan Mulvaney modeling a Nike sports bra.
Critics argued it was unethical for a biological male model to promote female sportswear.
Bud Light
The beer brand hired trans influencer Dylan Mulvaney for a sponsored ad campaign earlier this year.
Faced severe backlash from conservative groups leading to falling sales and mass layoffs.
The CEO admitted their trans-inclusive ad campaign impacted revenues and share price negatively.
Similarities
All three campaigns involved showcasing transgender models/characters.
In each case, conservative and anti-woke groups lashed out and called for boycotts alleging the ads promoted gender transitions unethically.
The companies continue to face reputational damage and revenue loss.
So while support for trans rights is increasing, backlash from a small but vocal socially conservative segment persists when brands prominently feature trans people in campaigns. The Costa Coffee boycott seems to follow this trend of cultural clashes.
Costa Coffee's Response
Costa Coffee has defended its advertisement and the larger mural against allegations that it promotes breast removal surgeries unethically.
Costa Coffee spokesperson told Newsweek: "At Costa Coffee we celebrate the diversity of our customers, team members and partners. We want everyone that interacts with us to experience the inclusive environment that we create, to encourage people to feel welcomed, free and unashamedly proud to be themselves. The mural, in its entirety, showcases and celebrates inclusivity".
The statement emphasises that taken in entirety, the bright visual mural is meant to reflect Costa's ethos of inclusivity and diversity. The company insists allegations of it promoting unethical gender transitions are unfounded.
However, Costa Coffee has refused to disclose the locations where the coffee vans bearing the now-controversial image are currently operational.
The company is also a sponsor of Brighton and Hove Pride events in 2023 where the original mural is displayed. Costa insists it stands by the artwork while critics argue the brand should reconsider in light of public outrage regarding one specific part of the mural.
Conclusion
The angry social media reactions and call to boycott Costa Coffee reflect the cultural conflicts surging over gender identity, especially relating to medical transitions for transgender youths.
Companies prominently featuring transgender models or characters in their campaigns have faced coordinated backlash from conservative groups in recent times. But they have also received support from LGBTQ advocates.
Inclusive advertising is a complex balancing act for brands like Costa Coffee who want to celebrate diversity while avoiding contentious political issues.
While Costa defends its cartoon trans man as an attempt to promote inclusivity, critics accuse it of glamorizing breast removal surgeries unethically. The company faces reputational damage and loss of customers.
This ongoing controversy highlights the heated debates surrounding gender transitions, alarm over youth medicalization, and the difficult terrain brands must now navigate.
With woke capitalism and identity politics impacting marketing, such clashes between brands and conservatives are likely to increase. Companies like Costa will have to judge where the ethical lines lie and how they can make branding progressive yet inoffensive.
Read More Interesting Stories: