25 Inspirational Kung Fu Panda Quotes that will definitely inspire you! Kung Fu Panda is one of those rare movies that will make you laugh and inspire you at the same time. Here are some out many quotes from Kung Fu Panda movie that will definitely motivate you to chase your dreams, no matter who you are and where you come from.
It is the story of an underdog, a bumbling panda named Po. He is chosen to be the Dragon Warrior and has to fight against an evil warrior named Tai Lung.
Master Shifu trains him (Po). Grand Master Oogway is the master of shifu and he is only one believed that Po is destined to become the Dragon Warrior.
Kung Fu Panda is a very entertaining and inspiring movie and a must-watch not only for kids but also for adults. There are many dialogues and inspirational quotes from Kung Fu Panda which will definitely make you laugh and at the same time also motivate you.
In the 2nd and 3rd installment of Kung Fu Panda, Po fights we two new enemies namely Lord Shen (Kung Fu Panda 2) and Kai (Kung Fu Panda 3).
25 Inspirational Kung Fu Panda Quotes:
Kung Fu Panda Quotes:
1. One often meets his destiny on the road he takes to avoid it.

Grand Master Oogway

2. Your mind is like this water, my friend. When it is agitated, it becomes difficult to see. But if you allow it to settle, the answer becomes clear.

Grand Master Oogway
3. Don't Quit.

Grand Master Oogway
4. You are too concerned with what was and what will be.

Grand Master Oogway
5. There is a saying: Yesterday is history, tomorrow is a mystery, but today is a gift. That is why it is called the present.

Grand Master Oogway
6. The true path to victory is to find your opponent's weakness and make him suffer for it. And to take his strength and use it against him until he finally falls or quits.

Master Shifu

7. A real warrior never quits.

Po
8. There is just news. There is no good or bad.

Grand Master Oogway
9. There are no accidents.

Grand Master Oogway
10. The panda will never fulfill his destiny, nor you yours until you let go of the illusion of control.

Grand Master Oogway
11. Look at this tree. I cannot make it blossom when it suits me, nor make it bear fruit before its time. No matter what you do that seed (of peach) will grow to be a peach tree. You may wish for an apple or an orange, but you will get a peach.

Grand Master Oogway
12. You just need to believe. You must believe.

Grand Master Oogway
13. The mark of a true hero is humility.

Master Shifu

14. There is no secret ingredient. Don't have to. To make something special, you just believe it's special.

Mr Ping, Po's adoptive father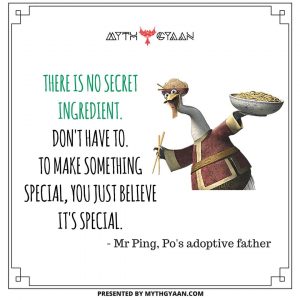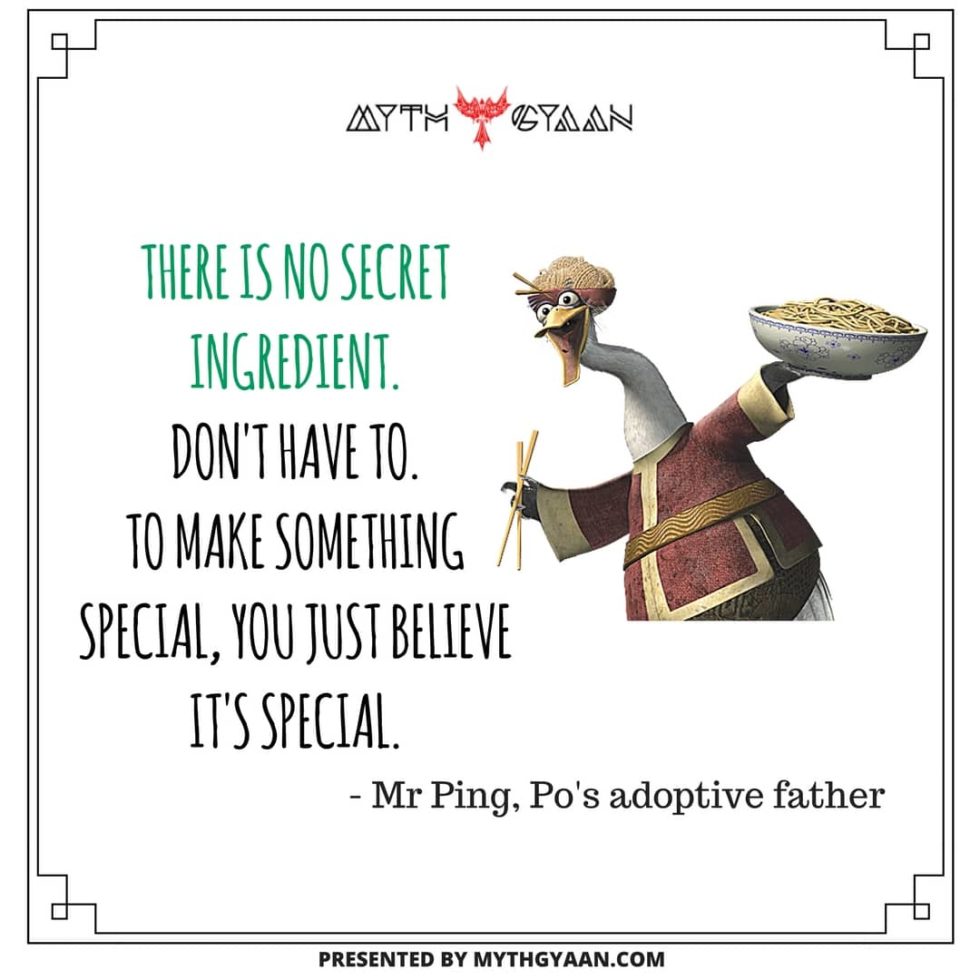 Kung Fu Panda 2 and 3 Quotes:
15. There is no charge for awesomeness.

Po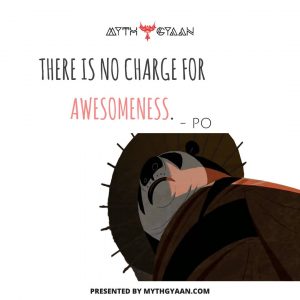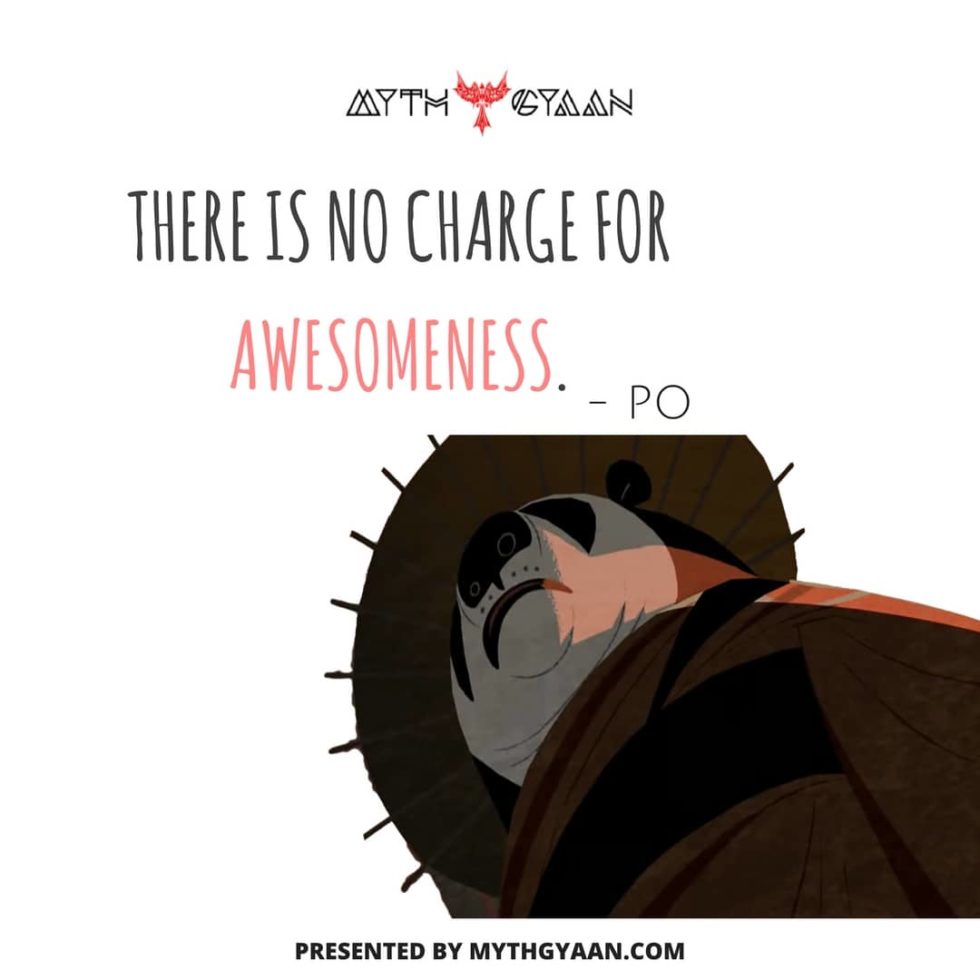 16. Anything is possible when you have inner peace.

Master Shifu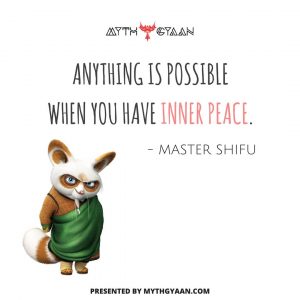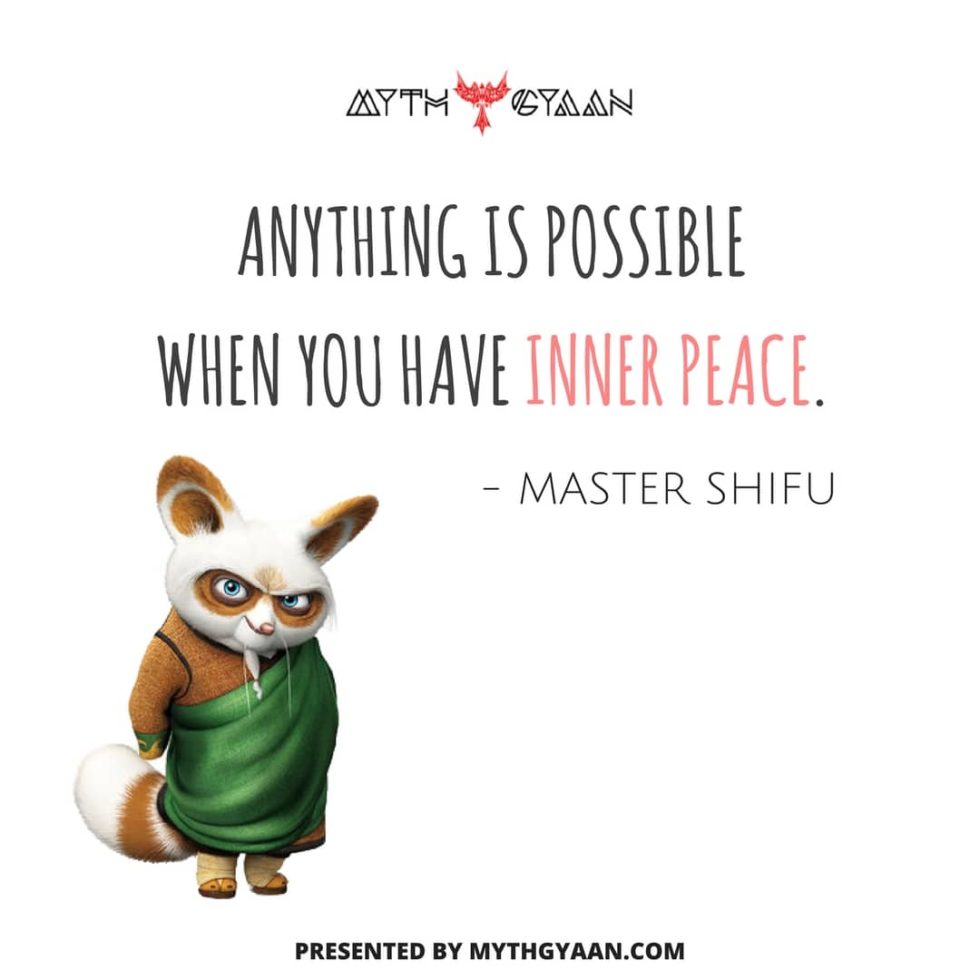 17. Your story may not have such a happy beginning,
but that doesn't make you who you are.
It is the rest of your story
who you choose to be.

Soothsayer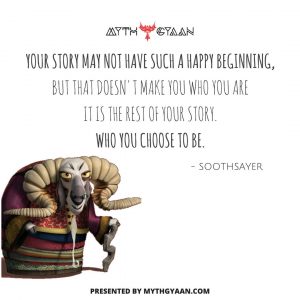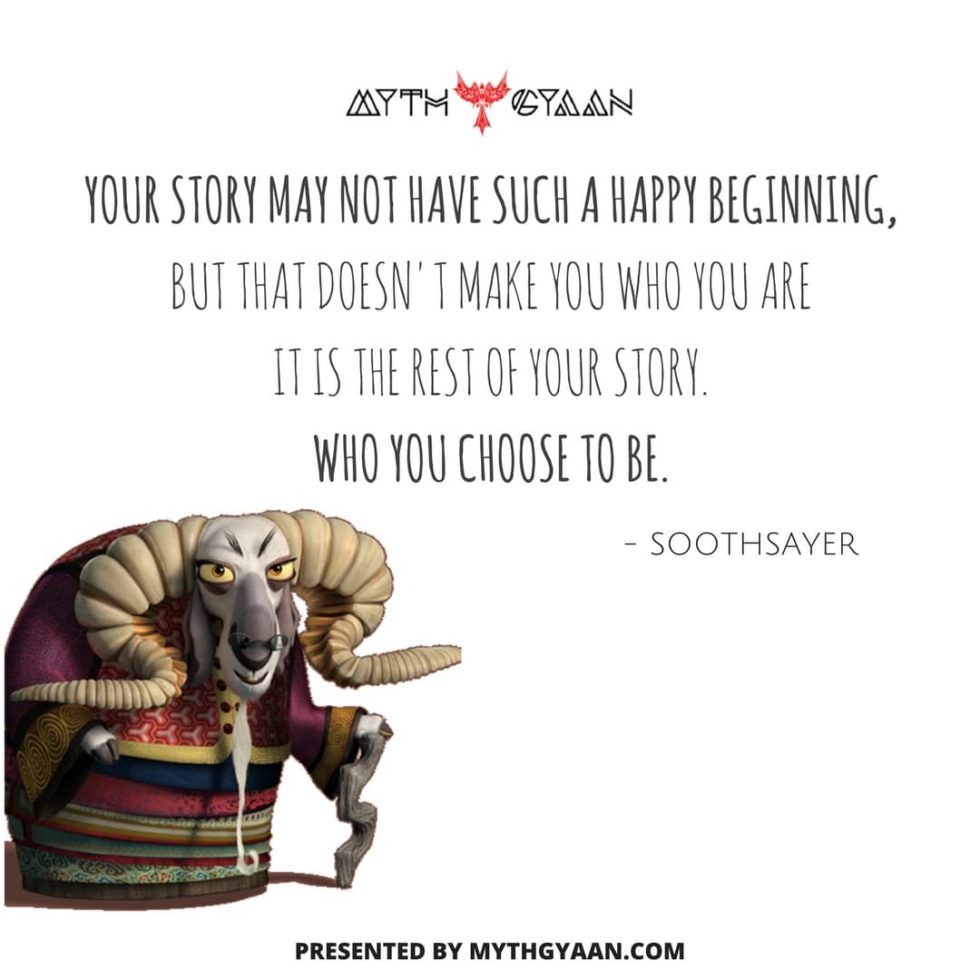 18. You gotta let go of that stuff from the past
because it just doesn't matter.
the only thing that matters is what you
choose to be now.

Po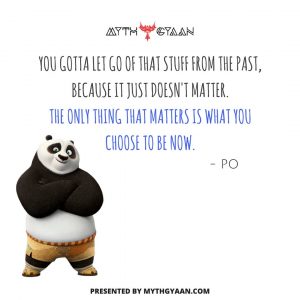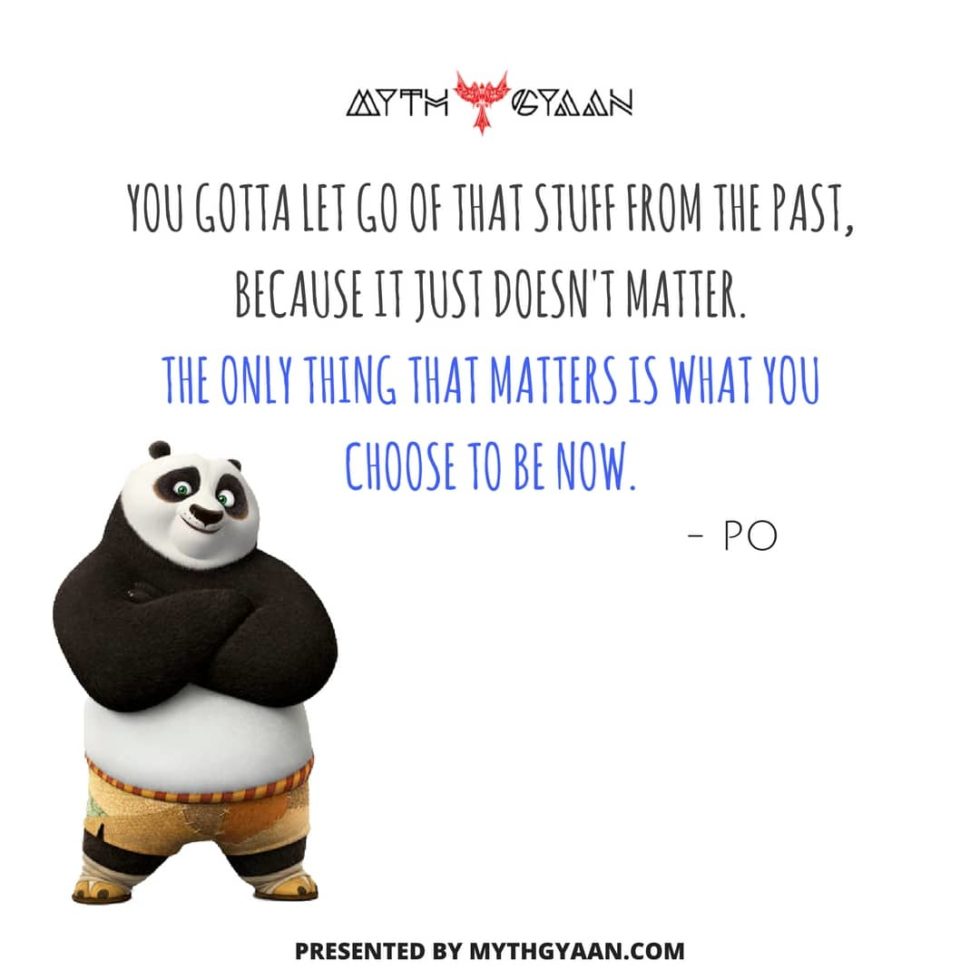 19. The more you take, the less you have.

Grand Master Oogway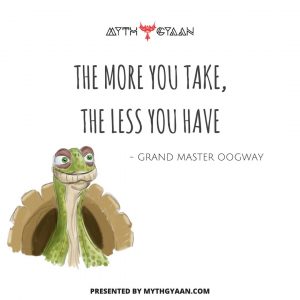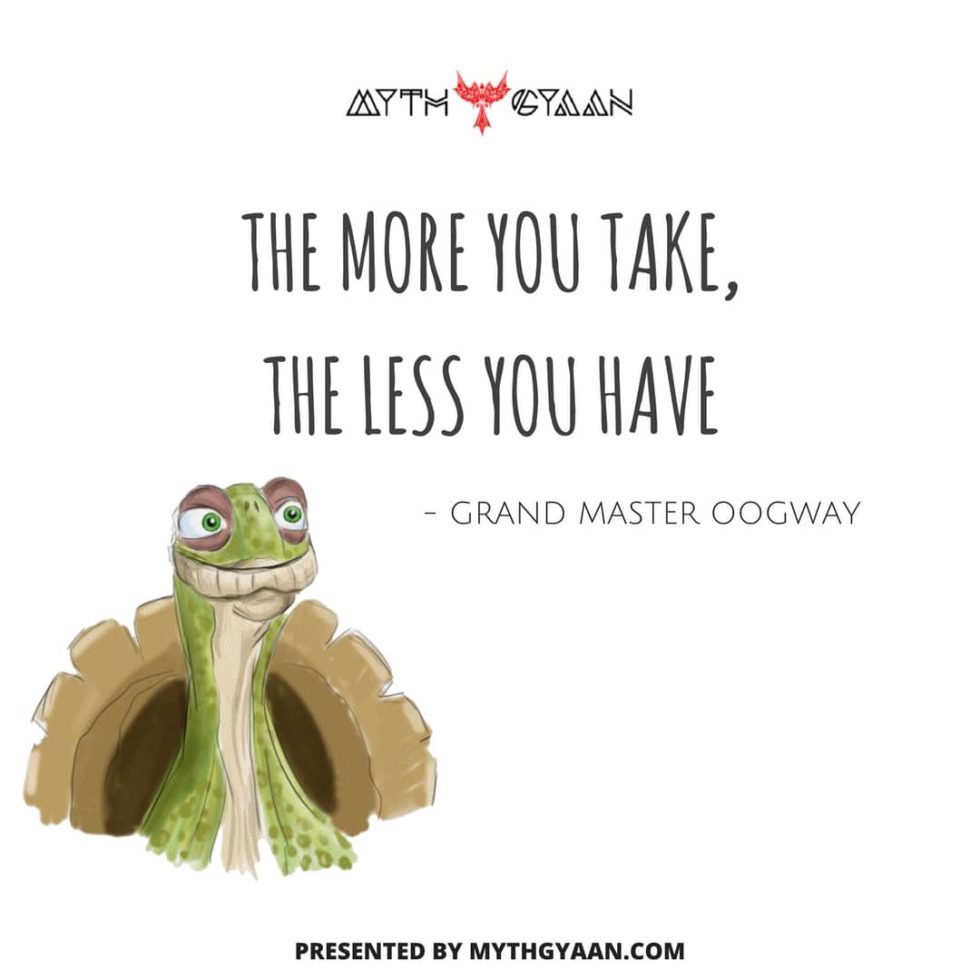 20. Before the battle of the fist, comes the battle of the mind.

Master Shifu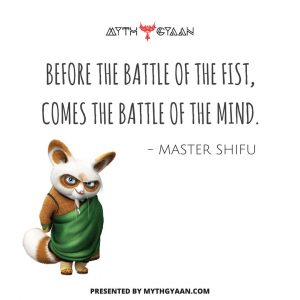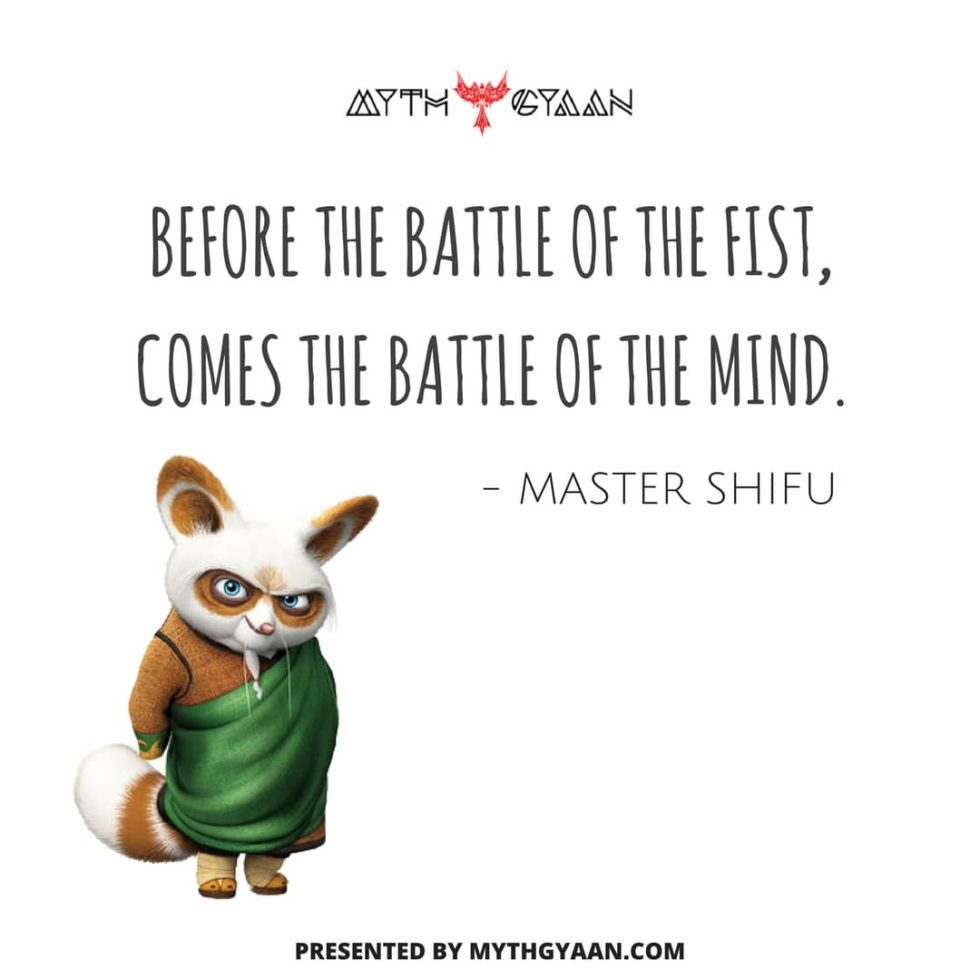 21. There is always something more to learn even for a master.

Po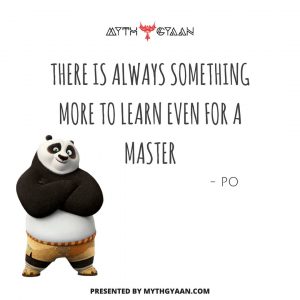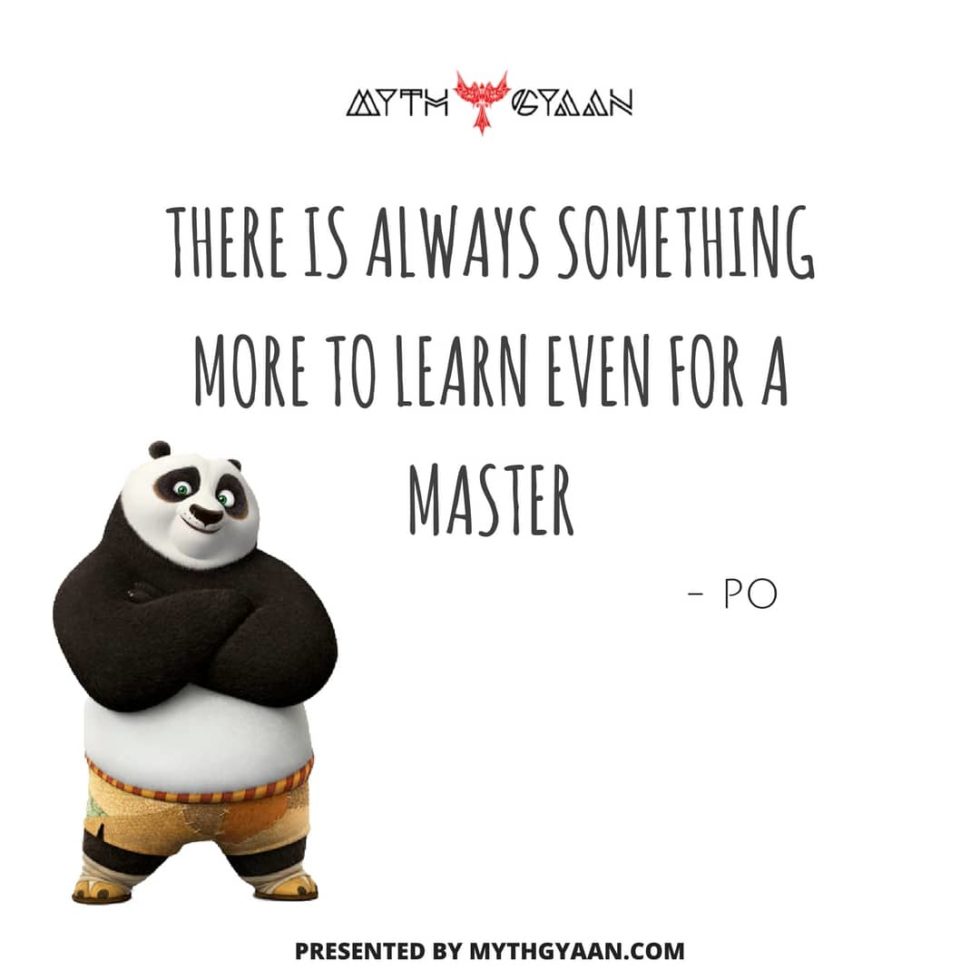 22. If you only do what you can do,
you will never be more than you are now.

Master Shifu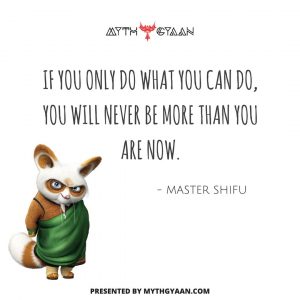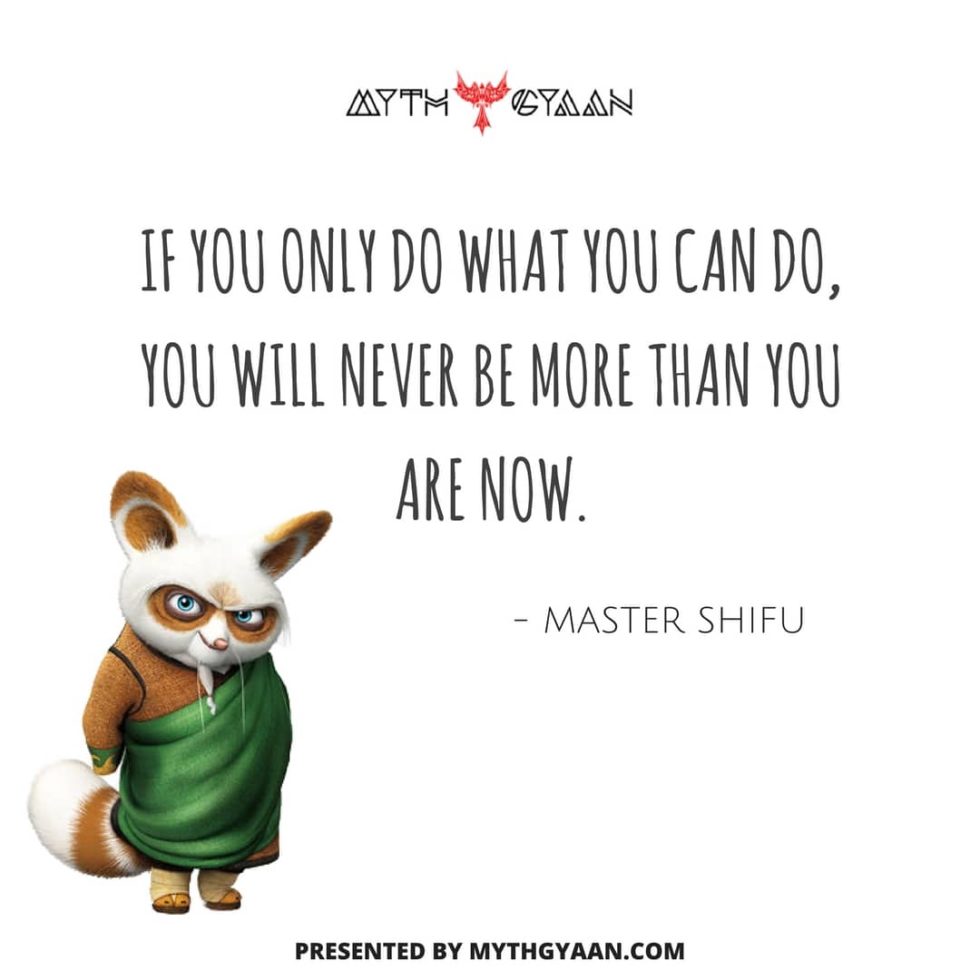 23. It doesn't matter what I think,
it only matters what the universe thinks.

Master Shifu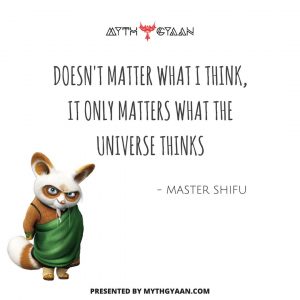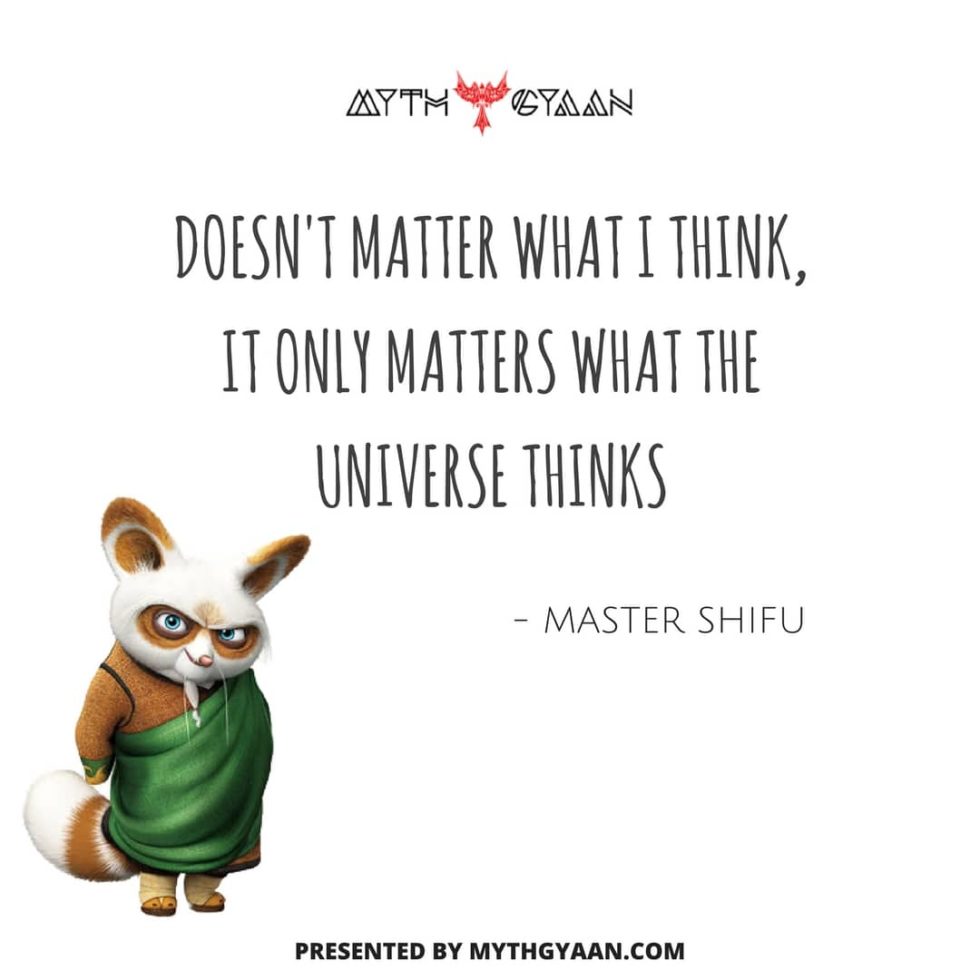 24. Sometimes, we do the wrong
things for the right reasons.

Mr. Ping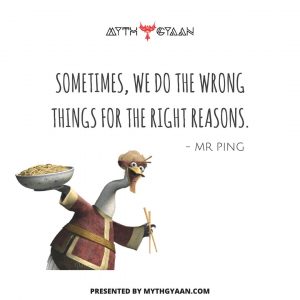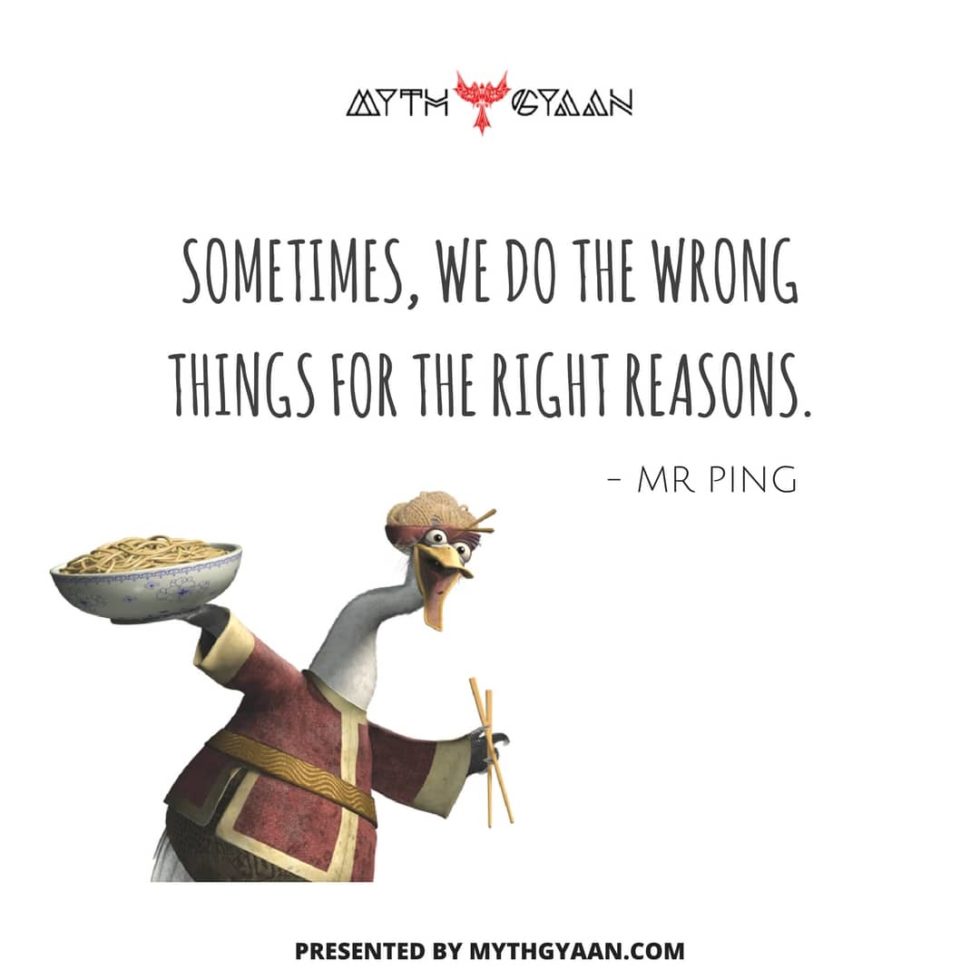 25. Your real strength comes from being the best "you" you can be.
So who are you?
What are you good at?
What do you love?
What makes you "you"?

Po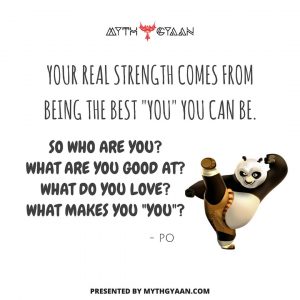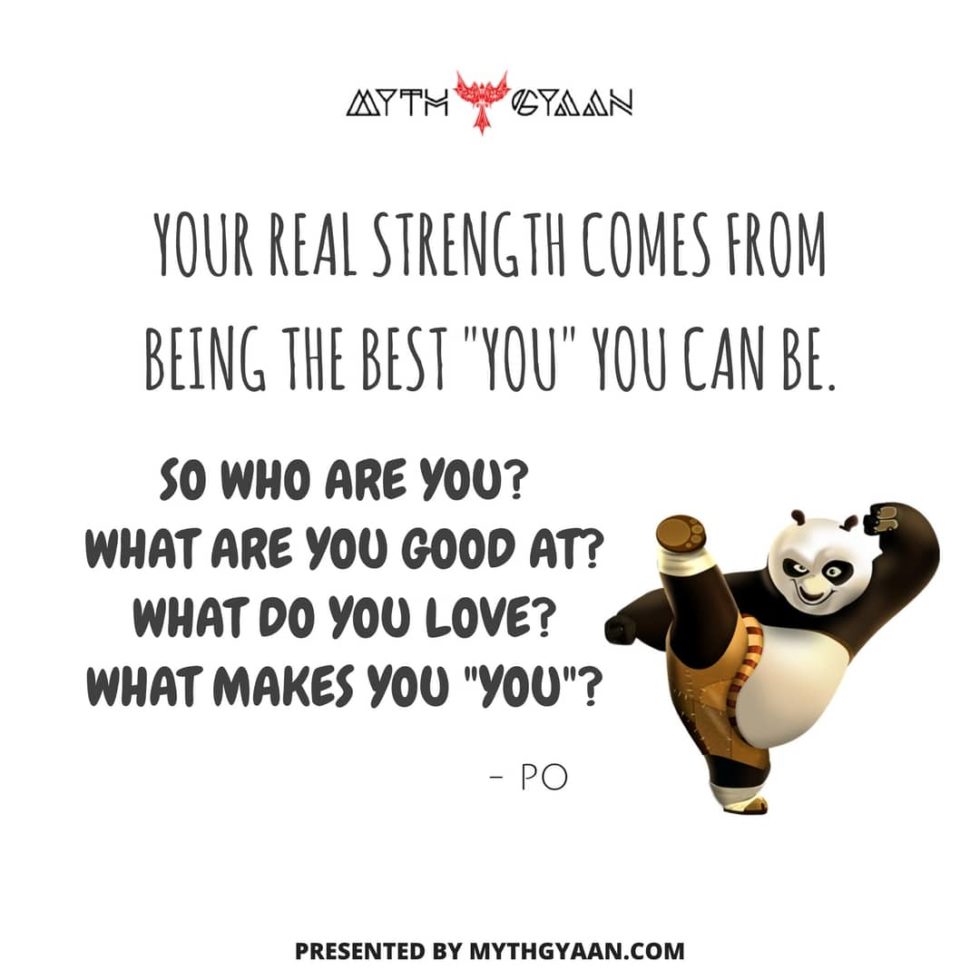 Kung Fu Panda 3 Motivational Song:
When you don't know who you are,
just look inside
When we move into the flow,
we are always gonna win
So feel the power
and let it in
Try, try, try, try
to be who you are
And so you will be
yourself somewhere deep inside
There is a universe waiting right there
waiting to be unlocked
The key lies in
looking into yourself
Try, try, try, try
just do what is right
Be who you are
Be yourself 'cause your power is on
When you believe in what you've got
You know you're perfect
just be who you are
So they don't see what you're made of
But I like you and I know they're wrong
Now it's time To show them what you got
You're perfect when you're who you are.
MUST-READ: