24 Best Godfather Quotes & Dialogues Filled With Life Lessons. The Godfather trilogy is arguably the best crime/gangster movie trilogy ever made. Directed by Francis Ford Coppola, it is based on the best-selling novel "The Godfather" by Mario Puzo.
It stars Marlon Brando as Vito Corleone and Al Pacino as Michael Corleone, his youngest son among others. Vito Corleone is the head of a fictional New York crime family.
The story focuses on the transformation of Michael from a war hero who has distanced himself from his family business to a ruthless mafia boss. In short, The Godfather trilogy is about the rise and fall of the Corleone's New York crime family.
In this article, we have covered Godfather quotes from all the three movies from the Godfather trilogy namely The Godfather (1972), The Godfather: Part II (1974) and The Godfather: Part III (1990).
The first two films of the trilogy are still rated at #2 and #3 on the IMDb's Top Rated Movies of all time. It is a bit ironic that this trilogy being of the crime-drama genre is full of life lessons that everyone should follow.
These dialogues & quotes from the godfather trilogy is an attempt to give you all the major themes shown in the trilogy and the life lessons you can get from it. Also, check us out on Instagram for more awesome quotes like these.
Here are 24 Best Godfather Quotes & Dialogues:
Don Vito Corleone Quotes & Dialogues:
#1. "Revenge is a dish best served cold."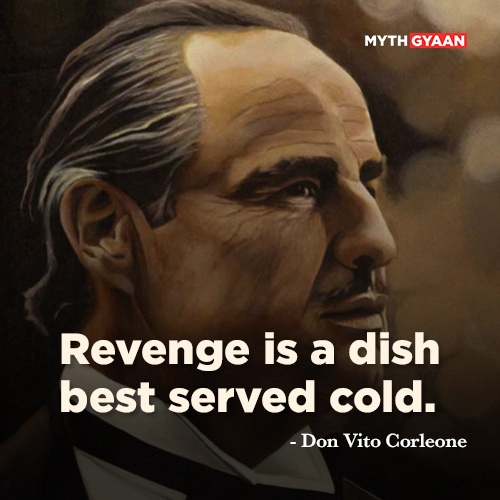 #2. "A friend should always underestimate your virtues and an enemy overestimate your faults."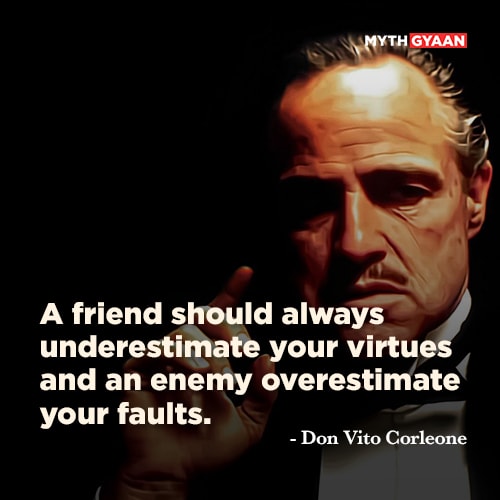 #3. "A man who doesn't spend time with his family can never be a real man."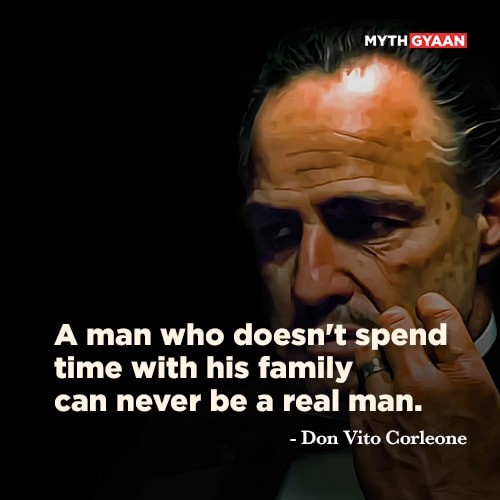 #4. "
I have learned more in the streets than in any classroom."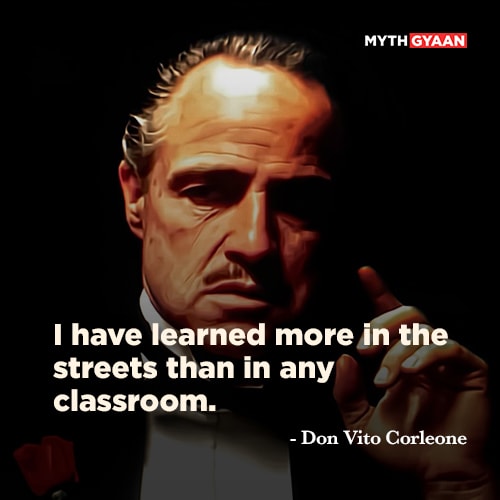 #5. "Friendship is everything. Friendship is more than talent. It is more than the government. It is almost the equal of family."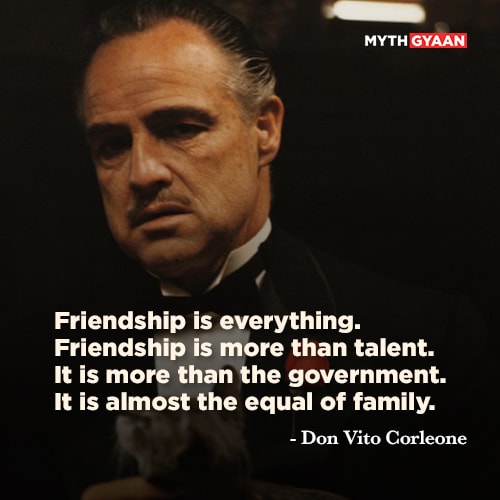 #6. "I have a sentimental weakness for my children, and I spoil them, as you can see. They talk when they should listen."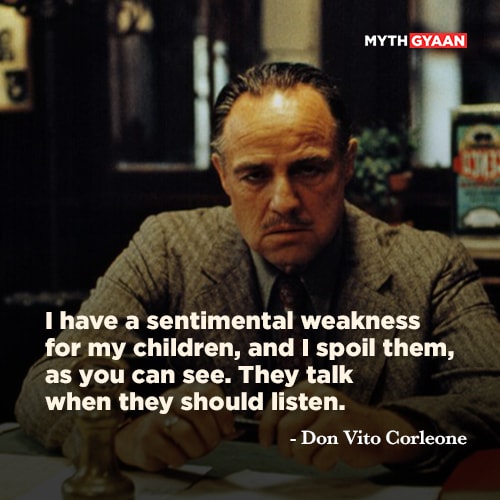 #7. "Great men are not born great, they grow great."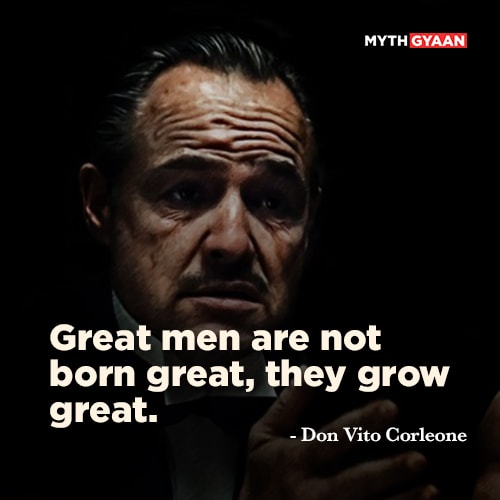 #8. "I spent my life trying not to be careless. Women and children can be careless, but not men."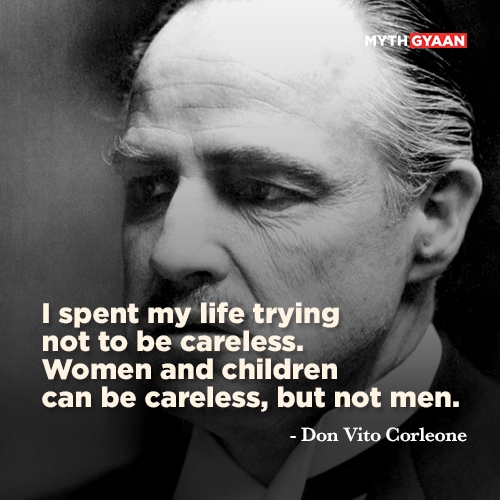 #9. "And I refused to be a fool dancing on the strings held by all those big shots. I don't apologize, that's my life."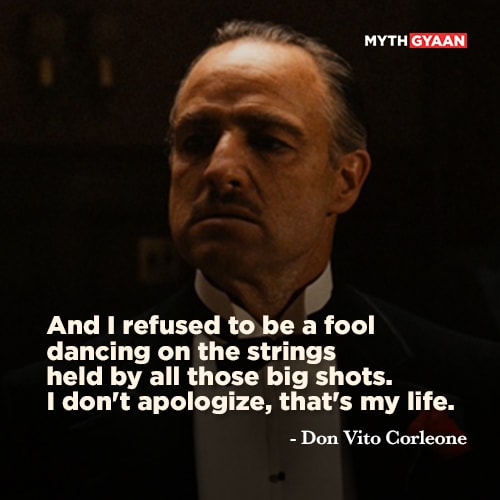 #10. "I'm gonna make him an offer he can't refuse."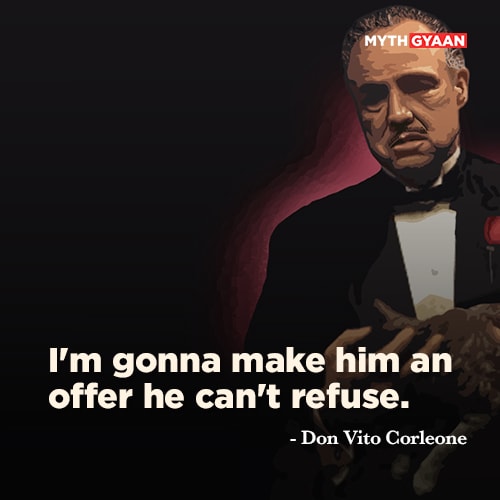 NOTE: The above quote is ranked #2 in the AFI's 100 Years… 100 Movie Quotes which is a list of top 100 movie quotations in American cinema.
Michael Corleone

Quotes & Dialogues:
#11. "Never let anyone know what you are thinking."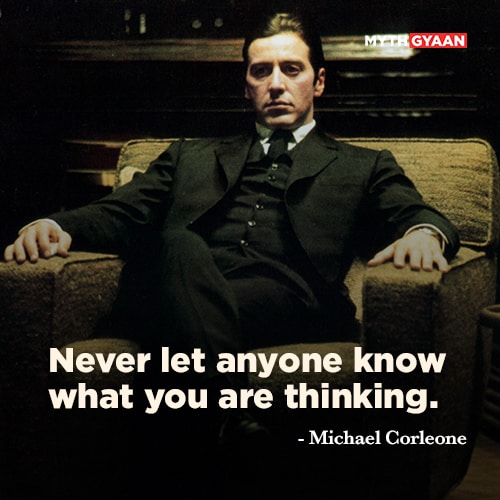 #12. "I respect those that tell me the truth, no matter how hard it is."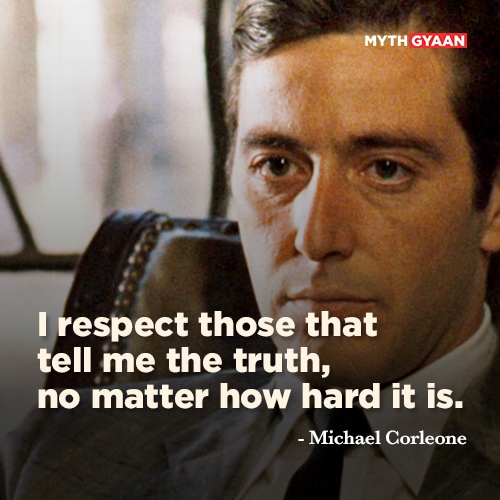 #13. "I asked God for a bike, but I know God doesn't work that way. So I stole a bike and asked for forgiveness."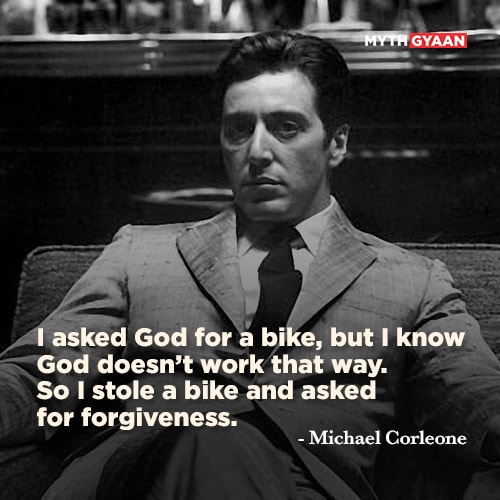 #14. "Never hate your enemies. It affects your judgment."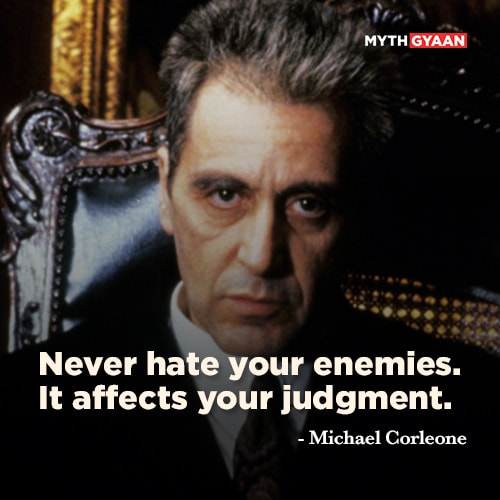 #15. "Only don't tell me you're innocent. Because it insults my intelligence. Makes me very angry."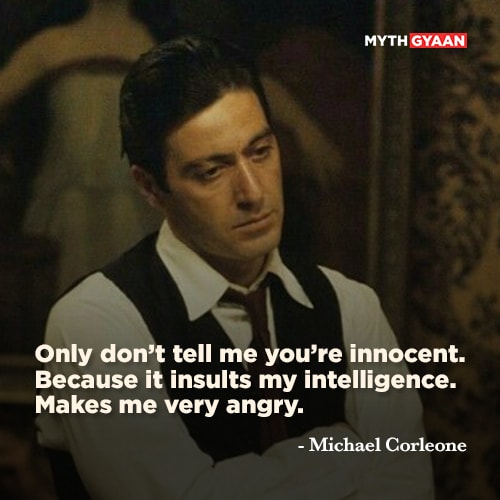 #16. "Your enemies always get strong on what you leave behind."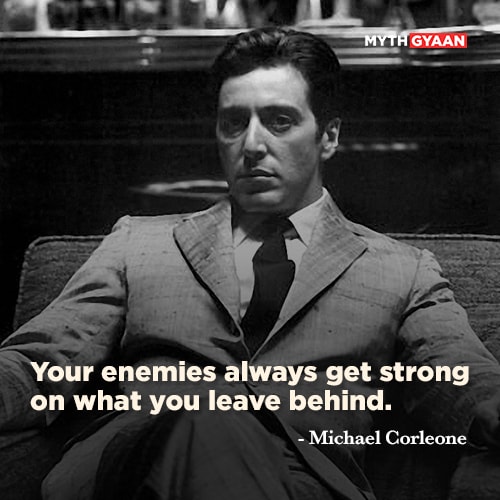 #17. "If anything in this life is certain, if history has taught us anything, it is that you can kill anyone."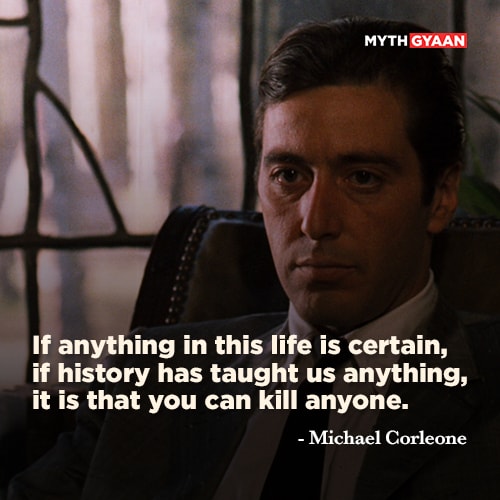 #18. "Keep your friends close, but your enemies closer."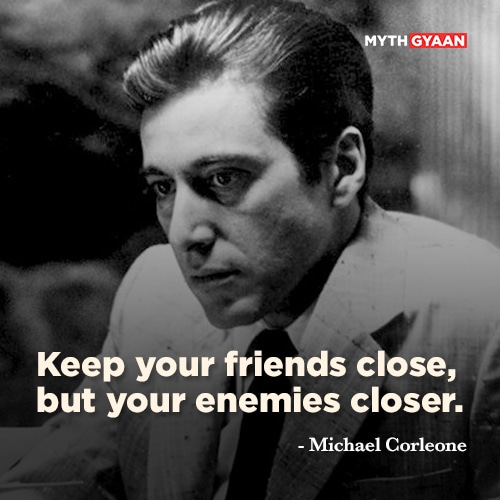 [powerkit_alert type="info" dismissible="false" multiline="false"]
NOTE: The above quote is ranked #58 in the AFI's 100 Years… 100 Movie Quotes.
[/powerkit_alert]
Virgil "The Turk" Sollozzo Quotes & Dialogues:
#19. "I don't like violence, Tom. I'm a businessman. Blood is a big expense."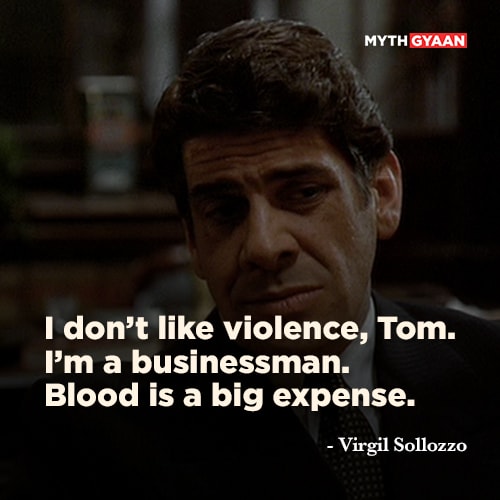 Thomas "Tom" Hagen Quotes & Dialogues:
#20. "A lawyer with his briefcase can steal more than a hundred men with guns."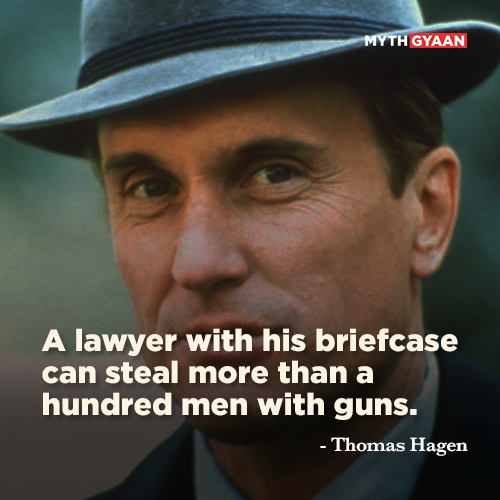 #21. "When a plot against the emperor failed, the plotters were always given a chance to let their families keep their fortunes."
Don Licio Lucchesi Quotes & Dialogues:
#22. "Finance is a gun. Politics is knowing when to pull the trigger."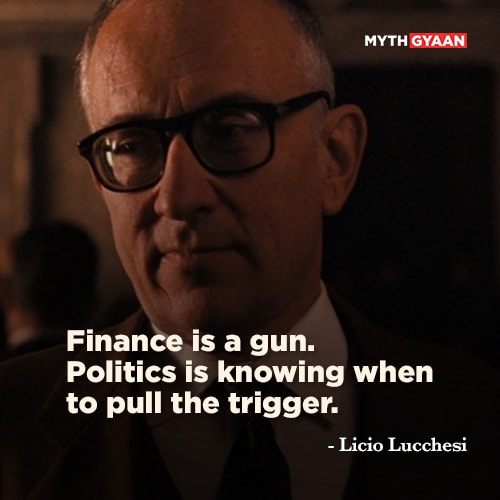 Don Osvaldo "Ozzie" Altobello Quotes & Dialogues:
#23. "The richest man is the one with the most powerful friends."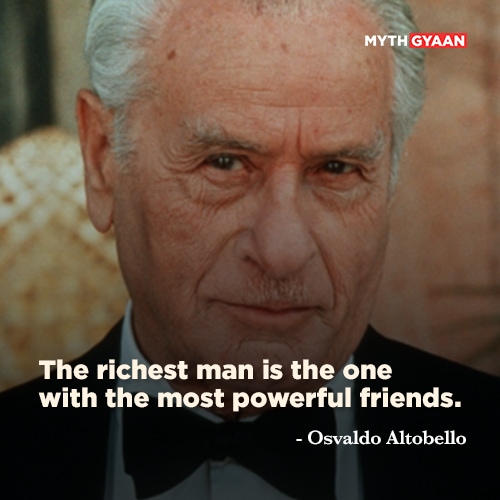 Hyman Roth Quotes & Dialogues:
#24. "Good health is the most important thing. More than success, more than money, more than power."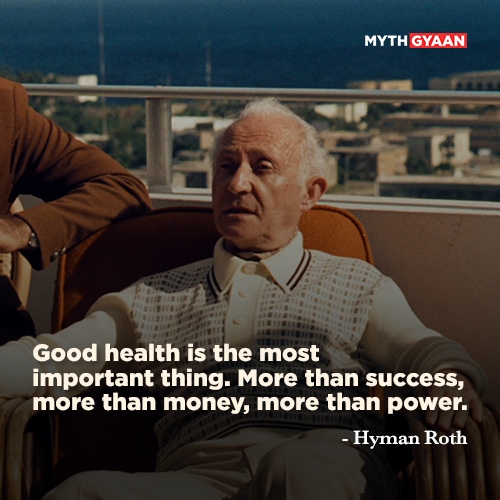 If you like our list of The Godfather Quotes, then share it with your friends on Whatsapp Groups and Facebook.
Related Posts: