The story of Black Tiger: RAW Agent who becomes a Major in Pakistani Army. Black Tiger aka Ravindra Kaushik is India's best and greatest spy ever.
He one of those unsung heroes that never get any honour, accolades or reward for what he has done for his country. Let's us dive deep into the real-life tale of this true patriot.
This is the story of an aspiring actor, who at the age of 23 agrees to serve his nation. A young man who sacrifices everything for his country and in return he gets a humiliating death in the jail.
He is regarded as India's greatest spy and rightly so. He penetrates into the Pakistani army and that too the rank of a Major.
Popularly known as "The Black Tiger", let us understand how this young man becomes a legend and an inspiration for all Indians.
The early life of Black Tiger:
He was born on April 11, 1952, in Sri Ganganagar, Rajasthan. Kaushik belongs to a Punjabi Family.
He always wanted to do something for his country. Due to his passion for acting, by his 20s, he becomes a theatre artist.
Who knows that his brilliant acting skills will change his life completely. And a young and handsome aspiring theatre becomes a major in Pakistani Army.
Once, he was performing a mono act during a National Drama event in Lucknow, Uttar Pradesh.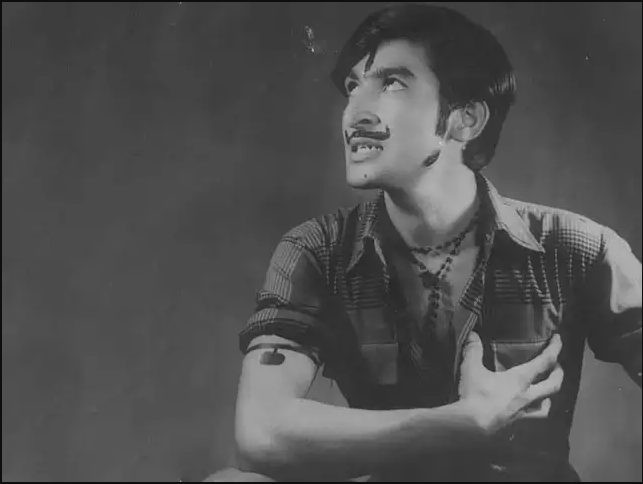 His role was that of a spy who refused to provide any information to the Chinese. And instead of revealing everything, he prefers dying for his country.
He performs his character of a spy with so much conviction that the RAW officials present there saw the possibility of a real spy in him.
RAW officials offer him a job as an undercover Indian agent in Pakistan. He willingly accepted this offer.
Intense Traning of 2 years:
After an intense training of 2 years in Delhi, he was ready to serve his country as an undercover RAW agent.
In the training, he learned all the tactics of an undercover agent. He studied Urdu so that he can talk and write in the national language of Pakistan.
He studied Quran to get familiar with the religion. Furthermore, he gets well versed in the way of living of Muslims so that he can mix up with people very easily. He even underwent circumcision so that he could pass as a Muslim.
Since he belongs to a Punjabi family, he was already fluent in Punjabi. This comes in handy as Punjabi is a very popular language in Pakistan.
He went on the mission without any hesitation even after knowing that there are few chances of him returning back to his home alive.
His mission was to infiltrate the Pakistani army somehow and send critical information to the Indian Army.
Black Tiger in Pakistan:
In 1975, at the age of 23, this brave young man was sent to Pakistan. He changed his name to "Nabi Ahmed Shakir".
In Pakistan, he did his graduation in law. After graduation, he gets posted in Pakistani army as a civilian clerk in Military Accounts Department. Soon he reached the rank of a Major.
He converted to Islam, married a local girl "Amanat" and also fathered a boy.
From 1972 to 1983, he passed on very crucial information to RAW.
Indian Army is successful in ruining many operations of the Pakistani army just because of his information.
It is also believed that he has the information about the Pakistani Nuclear Program and shared the same with RAW.
He became famous with the name of Black Tiger. Pakistani agencies know that there is an agent who is providing information about their secret operations to the enemies.
They tried very hard to catch him. But who could have thought that the man they were looking for is none other than a Major in their own army.
However, one day due to one unfortunate event, his cover was breached. And he was caught by the Pakistani army.
Unfortunate incident which reveals his identity:
In September 1983, RAW sent another agent Inyat Mashia to get in contact with Ravindra Kaushik aka Black Tiger.
But somehow he was caught by Pakistan's intelligence agencies while he was crossing the border. After being forced and tortured, he disclosed the true identity of the Black Tiger.
Inyat then arranged a meeting with Kaushik in a park, where Pakistani agencies arrested him on charges of espionage.
Ravindra asks for help from the Indian Government but the government refused to help. The government even refused to accept the allegations of spying by Pakistan.
For 2 years, he was tortured at an interrogation centre in Sialkot. Then he was shifted to Mianwali jail for another 16 years.
In 1985, he was given the death sentence by Supreme Court of Pakistan which was later reduced to life imprisonment.
Later in 1999, he died in the jail due to pulmonary tuberculosis and heart disease. Indian government even refused to own his body. He was buried in the jail itself.
Also, the government has clearly directed RAW to keep its mouth shut in this issue. And destroy all the related documents.
His father died of a stroke, 2 years after his death.
MUST READ: Cobrapost Operation 136: Indian Media Exposed: Part 1 & 2 Explained
What happens after his death?
It is very tragic that he never get recognition for his contribution to the nation by the Indian government. He has saved the lives of countless soldiers by providing crucial information.
But it is a common practice among the governments around the world to disown their spies caught in a foreign country.
Kaushik seems to be very disappointed with the stance of the government. This was clearly evident from his letters that he wrote to his family.
In one of his secret letters to his family, he asked:
Kya Bharat Jaise Bade Desh Ke Liye Kurbani Dene Waalon Ko Yahi Milta Hai.
English Translation: Is this the reward a person gets for sacrificing his life for India.
In another letter, few days before his death, he wrote:
Had I been an American, I would have been out of this jail in three years.
His brother Rajeshwar told that Indian government merely give his parents a monthly allowance of Rs 500 in recognition of his sacrifice for the nation. After few years, allowance was increased to Rs 2,000 per month.
After her mother's death in 2006, the pension was stopped.
His younger brother still cherishes Kaushik's memory and said:
He will always remain important for me. But for the country, he was just another agent.
It is extremely challenging to spy in a foreign nation and that too Pakistan. Death is just a few steps away. On that, if you are caught spying and your own country disowns you, then what can be worst than that.
This is the real-life story of Ravindra Kaushik, "The Black Tiger".
PLEASE SHARE THIS ARTICLE

SO THAT MORE AND MORE WOULD PEOPLE GET TO KNOW ABOUT THIS REAL HERO OF OUR COUNTRY
Sources:
Who is known as India's best Spy ever?
Wikipedia – Ravindra Kaushik
Hindustan Times – The real life behind a 2002 spy thriller
The Telegraph – India's forgotten spy agent's family fights an impossible battle