Why Govardhan Puja is celebrated? Why Krishna lift Mount Govardhan? What is the Significance of Govardhan Puja? What is Annakoot Puja and why it is celebrated?
It is a Hindu festival celebrated after Diwali. It is also referred to as the Annakoot (a heap of grains) Puja by the devotees. It is usually celebrated on the fourth day of Diwali.
The Annakut festival or Govardhan Puja is celebrated on the first lunar day of Shukla Paksha (bright fortnight) of the Hindu calendar month of Kartika, which is the fourth day of Deepawali (Diwali), the Hindu festival of lights, and also the first day of the Vikram Samvat calendar.
The story of Krishna lifting Mount Govardhan (Govardhan Parvat):
There is an interesting story in the Bhagavata Purana about Krishna lifting Mount Govardhan on his little finger.
Once Krishna saw villagers of the Braj (region mainly in Uttar Pradesh of India, around Mathura – Vrindavan) are planning for the Puja of Lord Indra.
Krishna, as a child then asked them why they are pleasing Lord Indra by doing Puja.
One of the villagers explained to Krishna that this is done every year to please Lord Indra so that he continued to grace the people of Braj by providing rain as and when required.
Krishna disapproved of it and wanted to teach a lesson to Lord Indra that it is the Dharma (duty) of Indra to provide rain for the people without any Puja or rituals.
He convinced the inhabitants that they should stop performing Puja for Indra. They should not perform pujas or conduct sacrifices for any natural phenomenon.
Instead, they should honor Mount Govardhan, whose fertile soil provided the grass upon which the cows and bulls grazed.
And also honor the cows and bulls who provided milk and plowed the lands.
Indra got enraged with the inhabitants of Braj that instead of worshipping him, the King of Devas, they are worshipping Mount Govardhan.
To punish them, he sends terrible rain clouds to flood the land of Vrindavan.
Calling the Samavartaka clouds of devastation, lndra ordered them to lash upon Vrindavan with torrents of rain and thunderstorms and cause extensive floods that would destroy the livelihood of the inhabitants.
Krishna lifted Mount Govardhan: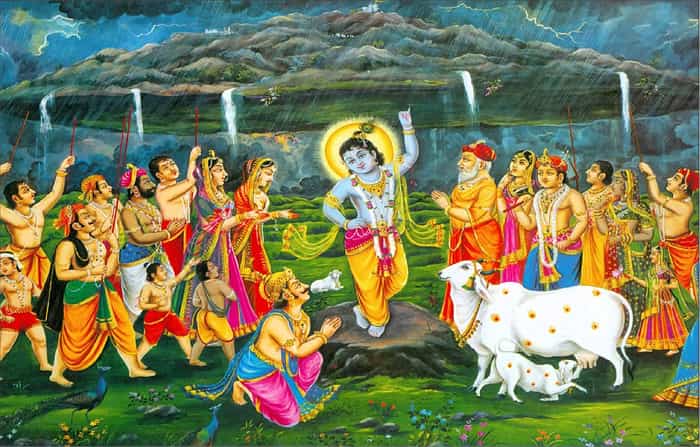 Frightened people of Vrindavan goes to Krishna for help. To protect villagers from this calamity, Krishna lifted Mount Govardhan on his little finger and had the entire village come under the hill to take shelter from the storm.
For seven days and seven nights, he held up Mount Govardhan, providing a giant umbrella to shelter the inhabitants of Vrindavan from the torrential rain.
Realizing his blunder, Indra called back the clouds of devastation. The sky became clear again, and the sun shines brightly over Vrindavan.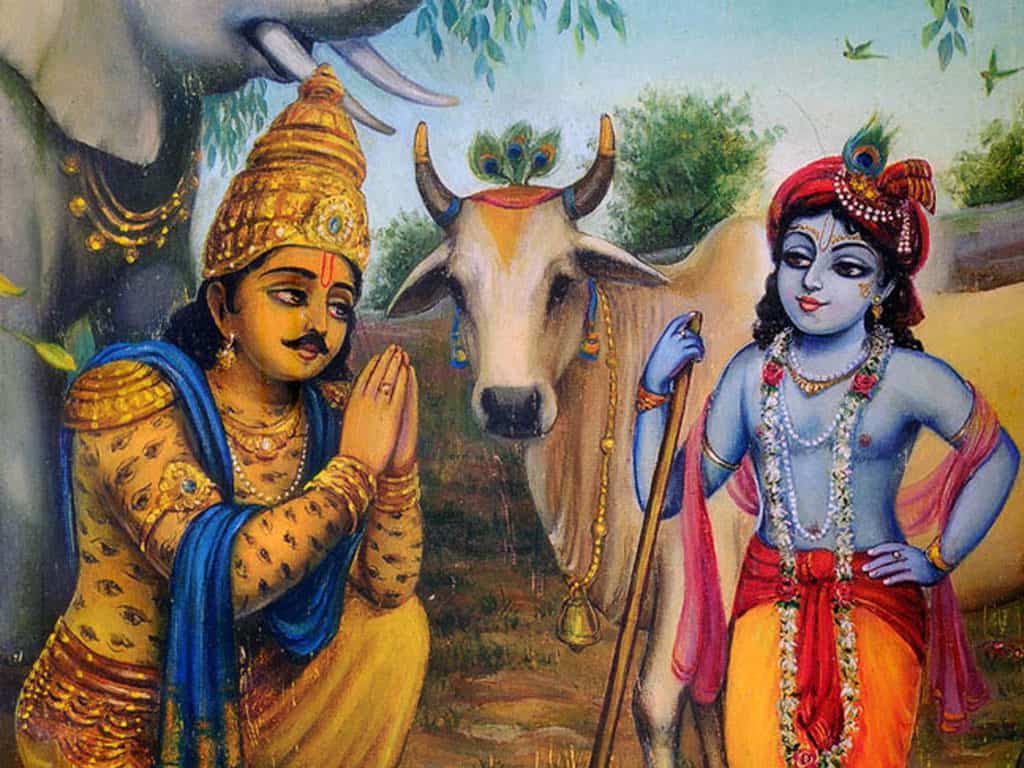 This is how the false pride of King Indra was shattered to pieces. He came to Lord Krishna with folded hands and prayed to Him for forgiveness.
Krishna explained to him that it is his Dharma (duty) to provide rain for the people without expecting any Puja or rituals.
Several thousand years later, on this same day, Srila Madhavendra Puri established a temple for the self-manifest Gopala Deity on top of Govardhana Hill.
ALSO READ: Who is Ashwathama? Why he was cursed by Krishna? Is he still alive?
Where is Govardhan Puja celebrated?
Govardhan Puja is mainly celebrated by people in the northern states such as Punjab, Uttar Pradesh, Haryana, Rajasthan, and Bihar.
Rituals of Govardhan Puja:
There are many variations of how Govardhan Puja is performed.
On this auspicious day, several pilgrims go to the Govardhan hill and offer food and delicacies to thank Krishna for his blessings and protection.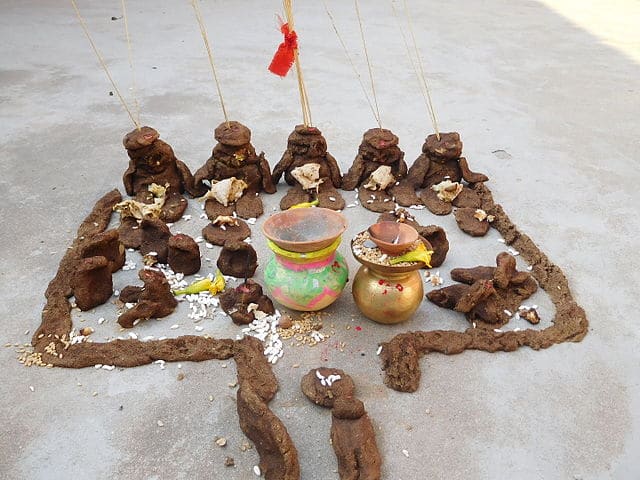 People who do not go to Govardhan hill, prepare small mounds of cow dung or dirt symbolizing Mount Govardhan, which is then adorned with flowers and later worshipped by circumambulating around them.
Annakoot Festival:
In many Hindu temples, Annakoot (or Annakut) is offered to Deities present on this day. Devotees celebrate the pooja by literally offering a mountain of food to Lord Krishna called Annakoot.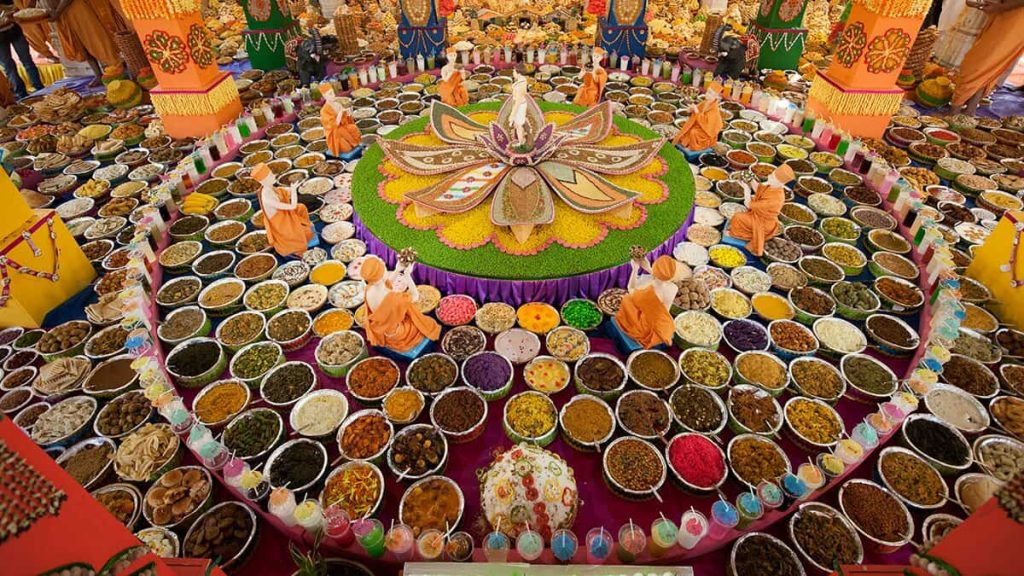 The Annakoot contains a large fare of vegetarian dishes. From vegetables, pulses, dals, sweets, and savory snacks served in tiers.
The bhog is also called the 'Chappan Bhog'. As an offering to the Lord, people put together a list of 56 food items.
Why 56 food items:
It is believed that Lord Krishna lift the mountain for seven days continuously.
He usually eats eight food items every day, but he didn't consume any food during these seven days.
So out of gratitude, at the end of the seventh day, everyone made Lord Krishna a total of 56 dishes (eight dishes for each of the seven days).
Some of the common food items in Chappan Bhog are Makhan Misri, kheer, rasgulla, jeera ladoo, jalebi, rabri, mathri, malpua, Mohan Bhog, chutney, murabba, saag, dahi, rice, dal, kadhi, ghewar, chila, papad, Moong Dal ka Halwa, pakoda, khichadi etc.
Mansi or Manasi Ganga:
Idol (or Murti) of Mansi Ganga is also present along with that of Lord Krishna in Govardhan hill temples.
It is believed that when villagers started worshipping Mount Govardhan, they require pure and holy water of Ganga.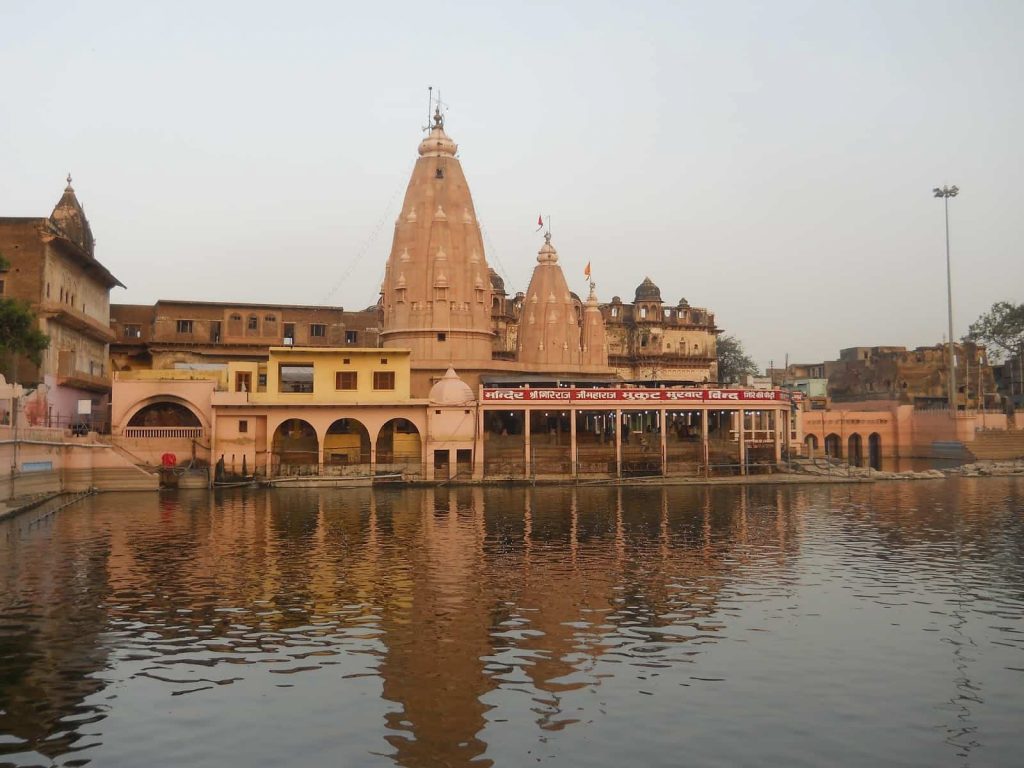 But they became worried as to perform the rituals they require a large amount of Gangajal (water of Ganga). And to how they would bring this much amount of water.
To solve this problem, Krishna using his divine powers or using his mind, showers Gangajal on the Mount Govardhan.
From that day onwards, it is known as Mansi Ganga (Ganga that came out from the mind of Krishna).
The significance of Govardhan Puja:
By lifting Govardhan Parvat (mountain), Lord Krishna demonstrated that any purpose for which demigods might be worshipped could easily be served by worshipping him, the supreme cause of all causes.
Also, he demonstrated that God is present in nature, in trees, plants, flowers, animals, etc. Therefore to worship God, one should honor and take care of nature.
One should be grateful towards nature for providing all the necessary things required for sustaining life.
Govardhan Puja 2023 Muhurat:
In 2023, Govardhan Puja is celebrated on 13th November 2023.
Govardhan Puja 2023 Sayankal (Evening) Muhurat = 03:17 P.M. to 05:16 P.M.
Duration: 1 Hour 59 Minutes
Like this article? Or have something to share? Write it down in the comment section below. Share this article on Facebook and WhatsApp to with your friends and family members.