Kai Cenat is a 21-year-old Twitch streamer and YouTuber from New York City who has become hugely popular online recently. He is known for his funny prank and comedy videos as well as his live streams where he plays games and just chats with fans.
Kai started making YouTube videos back in 2018 while he was still in high school. After graduating, he began focusing more on live-streaming gameplay and reactions on Twitch in 2021.
Over the past couple of years, Kai has built up millions of followers across platforms like YouTube, Twitch, Instagram, and Twitter. Fans love his energetic personality and the chaotic humor in his videos.
In February 2023, Kai broke the record for most subscribers on Twitch during a month-long charity live stream. He gained over 300,000 paid subscribers on the platform! This led to him winning the Streamer of the Year award in 2022.
But Kai ran into some serious trouble recently though.
A mob of angry teens rampaging through downtown Manhattan. Thousands gathering for a sweet giveaway turning into utter chaos. Injuries, arrests, and cries of "F-the police!"
This may sound like a scene from a movie, but it really happened last week thanks to one wildly popular 21-year-old Twitch streamer. After promising free PlayStations to followers in New York's Union Square, he ended up getting cuffed by the NYPD instead.
Keep reading this article to find out why this famous Twitch streamer got charged with inciting a riot in New York City last week!
Union Square Park Giveaway Event By Kai Cenat
On August 4, 2023, Kai Cenat announced a surprise video game console giveaway event to his fans during a live stream on Twitch. He said he would be handing out free prizes like PlayStation 5s, gaming PCs, headphones, and more at Union Square Park in downtown Manhattan.
The event was scheduled to start at 4 PM that same day. Kai told viewers to come to Union Square if they wanted a chance to win the cool gaming prizes.
Well, the news spread like wildfire online! Even though Kai only announced it hours before, thousands of fans said they would show up.
The police estimate over 5,000 to 10,000 people gathered in and around Union Square before 4 PM. A sea of excited teenagers crowded the park and spilled into surrounding streets.
Many fans had arrived hours before the event was supposed to start. People were camping out hoping to get the coveted PlayStation 5s and other expensive prizes.
The enormous crowd completely blocked traffic around Union Square. It made it very difficult for police and emergency vehicles to get through.
Overall, Kai Cenat's surprise giveaway announcement went viral extremely quickly. This brought thousands of his young fans to Union Square within hours.
Chaos at Union Square Park in Manhattan
Unfortunately, the huge crowds at Union Square soon turned chaotic and dangerous.
Even before the 4 PM start time, people were getting restless. Fans started blocking traffic, climbing buildings, destroying public property, and more.
Some people stormed a nearby construction site and took tools like hammers, shovels, and axes. Others began destroying food carts and police cars parked nearby.
The crowds got very rowdy and started throwing objects like bottles, rocks, and even buckets of paint they found. Some teenagers began lighting fireworks and aiming them at crowds and police officers.
In the madness, many attendees got injured by flying objects. Even police officers trying to control the crowds suffered injuries.
According to the NYPD, at least 3 officers and 4 civilians were hurt in all the mayhem. One teenager was taken to the hospital with serious injuries after getting hit by fireworks.
With the huge crowds getting more dangerous by the minute, the police had to take action. Around 3:30 PM, dozens of officers moved in wearing riot gear.
The police finally had to remove Kai Cenat from the area for his own safety. The whole situation had spiraled out of control very rapidly.
By 5 PM, the NYPD said they had to make 65 arrests, including approximately 30 underage kids. It took several hours for them to disperse the chaotic crowds and restore order.
The Union Square giveaway event had quickly turned into a dangerous riot situation all because of Kai Cenat's viral announcement earlier that day.
Kai Cenat in Custody – Aftermath and Charges by NYPD
The Union Square riot caused by Kai Cenat's giveaway event had some serious consequences.
According to the NYPD, several police officers were injured while trying to control the chaotic crowds at Manhattan's union square event. Some people in attendance also suffered injuries.
In addition, public property was damaged. Rioters destroyed food carts, police vehicles, subway stations, and more. Some stores in the area were also vandalised and looted.
NYPD Chief of Department Jeffrey Maddrey said: "We have encountered things like this before, but never to this level of dangerousness, where young people would not listen to our commands."
After the order was finally restored, the police confirmed they had arrested 65 people in total. Out of those arrested, around 30 were under 18 years old.
Once things calmed down, the police were able to investigate who was responsible for inciting the violence. The blame fell primarily on Kai Cenat.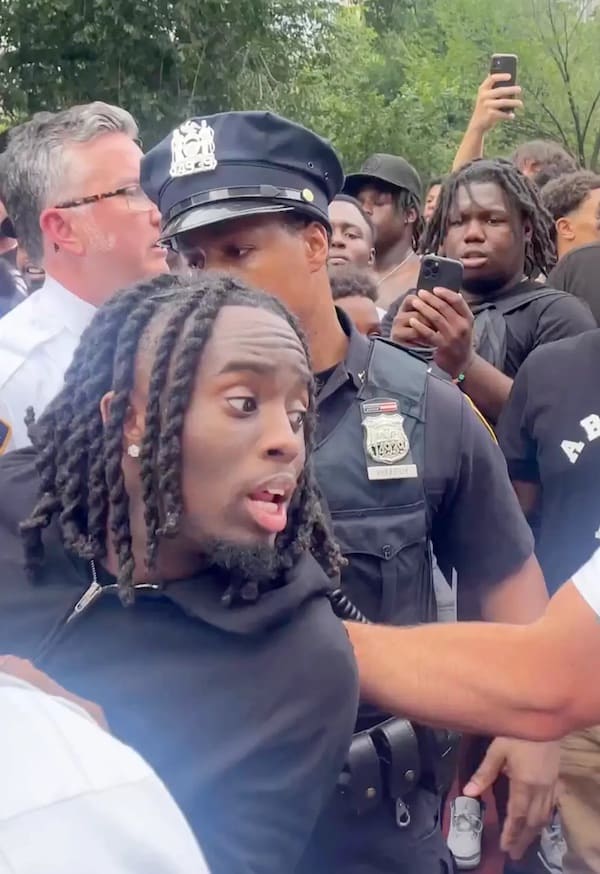 Kai Cenat was taken into custody by the NYPD following the Friday afternoon event at around 17:00.
On August 5th, the NYPD officially charged Twitch Influencer Kai Cenat with two counts of inciting a riot and unlawful assembly. They said additional charges may be added later as well.
New York City Police Chief Jeffrey Maddrey said Kai Cenat did not get the proper permits from the city to hold a public event in Union Square. He also did not take enough safety precautions.
If convicted of all charges, Kai could potentially face over 10 years in prison according to New York law. But because Kai is a first-time offender, he may get a lighter punishment.
Still, these criminal charges are very serious for such a young internet star. Kai Cenat's reputation has definitely been damaged by the chaotic outcome of his public giveaway event.
Responses and Reactions
Kai Cenat faced a lot of backlash after the Union Square riot. But there were also some people who came to his defense.
The NYPD placed most of the blame on Kai for the chaos. They said he did not plan the massive giveaway properly or safely.
Police officials said Kai should have gotten permits, set up barricades, and requested a bigger police presence. They think his huge social media influence made the crowds spiral out of control.
Others blamed the parents for not monitoring their kids and allowing them to run wild at the event. They said parents should have stepped in to calm the crowds.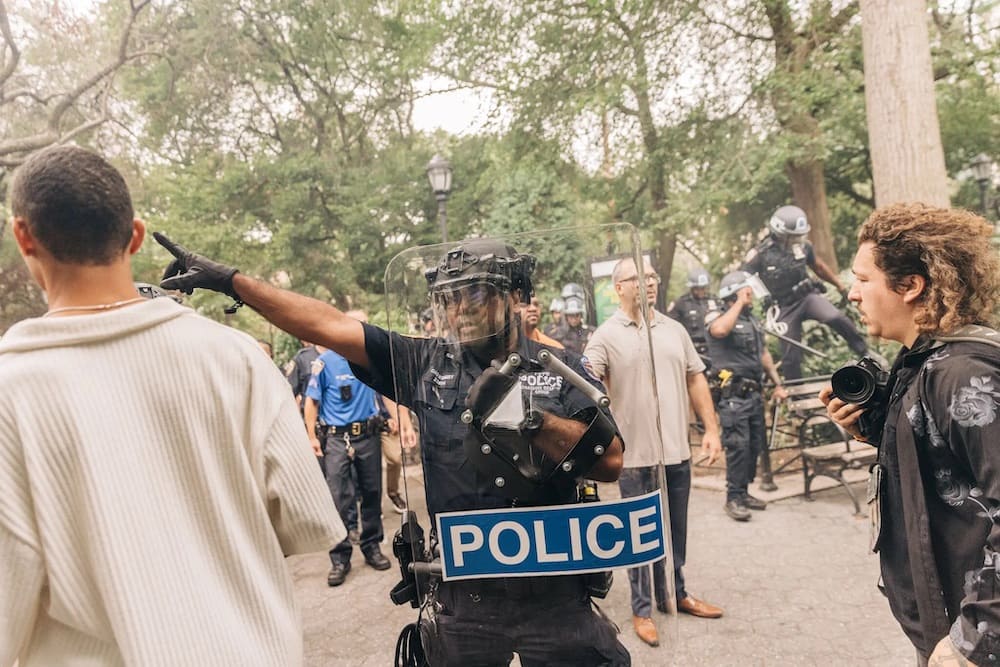 Some people have sympathy for Kai since he is so young. They argued it's not entirely fair to blame one 21-year-old for the actions of thousands of teens.
Others pointed out that crowds at sporting events or concerts also sometimes get violent despite the organizers' best efforts. They say Kai should not be singled out.
But critics say Kai needs to take responsibility as an influencer. They argue he should have coordinated better with the city before announcing the event on social media.
The Union Square riot has certainly ignited a debate about how online celebrities like Kai Cenat handle meetups with their massive youth fanbases. It's a discussion that will likely continue in the coming months.
Who Is Kai Cenat?
Kai Cenat was born on December 16, 2001, in the Bronx area of New York City. He is currently 21 years old.
Kai has 3 siblings – a twin sister named Kaia, a younger brother called Kaleel, and an older brother named Devonte. It must have been fun growing up in a big family!
He went to Frederick Douglass Academy for high school and graduated in 2019. After that, Kai attended SUNY Morrisville College for 1 year where he studied Business Administration.
However, juggling school and creating YouTube videos became too difficult for Kai. So in 2020, he decided to drop out of college to focus completely on his online career.
Kai first started uploading funny prank and challenge videos to his YouTube channel in 2018 when he was still in high school. Some of his early popular videos involved pranking his siblings.
He then joined a YouTube group called AMP (Any Means Possible) where he collaborated with other creators like Fanum. This gave his channel a boost in popularity.
In February 2021, Kai switched to live streaming on Twitch where he played games like GTA and reacted to viral videos. His streams quickly gained followers.
Kai Cenat has the following number of followers on major social media platforms:
2022 was a breakout year for Kai on Twitch. He streamed with big celebrities like Bobby Shmurda, Lil Baby, and 21 Savage, bringing him lots of new viewers.
Kai Cenat has amassed a huge audience on Twitch, where he gained over 300,000 paid subscribers during his record-breaking charity livestream in February 2023.
His popularity on Twitch and other platforms like YouTube contributed to the massive crowds that showed up to his impromptu Union Square giveaway event.
Final Thoughts
The Union Square riot caused by Kai Cenat's spontaneous giveaway announcement taught some tough lessons.
It showed how quickly online influencers can gather huge crowds of fans in public spaces. But things can get dangerous without proper planning and coordination with law enforcement.
Kai Cenat is now facing serious criminal charges for inciting unlawful behavior. While accidents happen, content creators need to understand the power and responsibility of their platforms.
The situation also highlighted issues around minors attending influencer events. Parents should be aware of what their kids are getting into online to keep them safe.
But despite the chaos, Kai Cenat remains hugely popular, especially among teens. It will be interesting to see if his career recovers from this controversy as he continues appealing his charges.
Let us know what you think! Should Kai be forgiven for his role in the riot? Or does he deserve the blame? Share your opinions in the comments below! And don't forget to share this article on Twitter and Facebook.
Read More Interesting Stories: