Brooke Shields, the acclaimed actress, has been joyfully married to Chris Henchy since 2001.
Yet, before this chapter of her life, she was famously united in matrimony with tennis sensation, Andre Agassi from 1997 to 1999.
Their relationship spanned six years, but it met a sorrowful end, with Agassi's meth addiction playing a significant role.
Actress Shields and Andre Agassi Get Married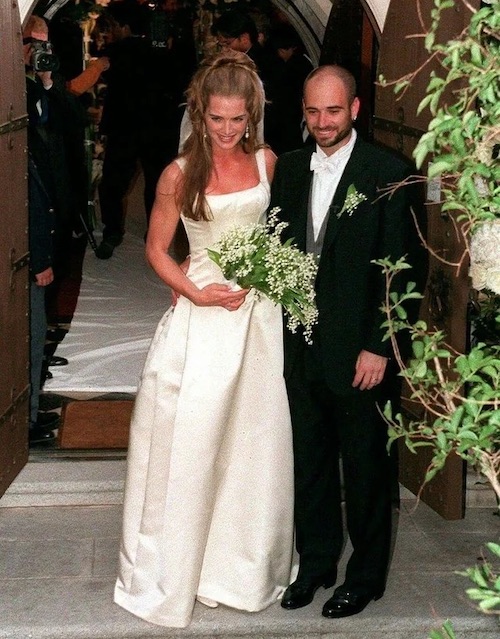 The duo's paths first intertwined in 1993 during a tennis match. This initial encounter led to continuous communication, culminating in their first date.
They exchanged vows on April 19, 1997, at the picturesque St. John's Episcopal Chapel in Monterey, California, surrounded by 100 close friends and family.
However, the marital bliss was ephemeral, leading to a separation just two years later, in 1999.
The Meth Addiction of Tennis Player Agassi and Its Impact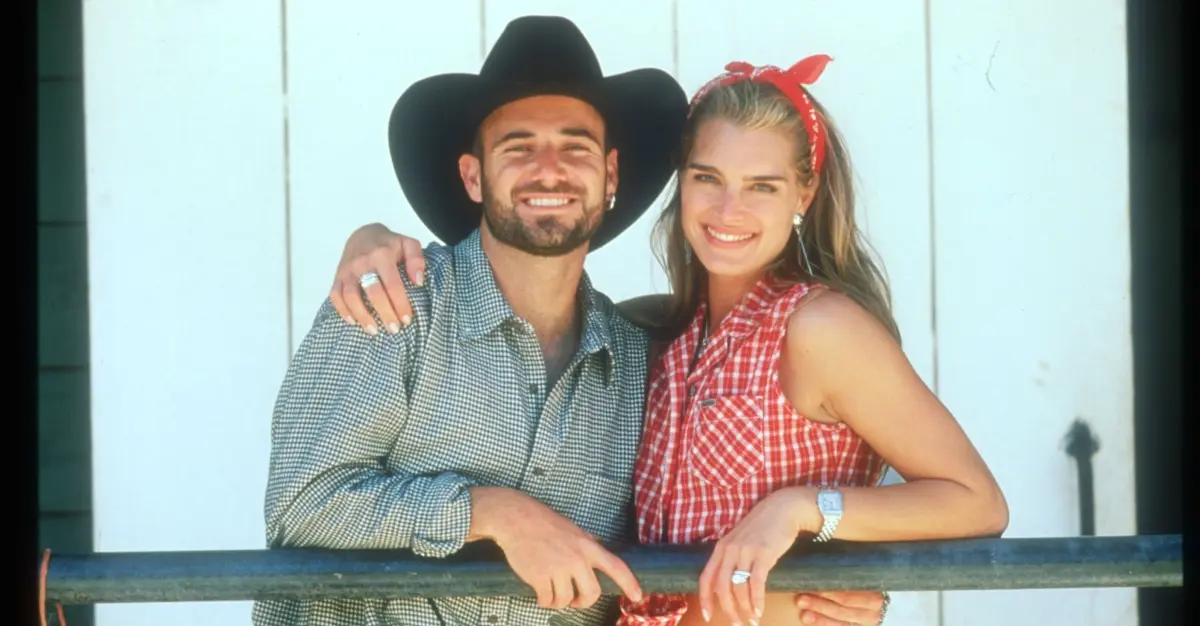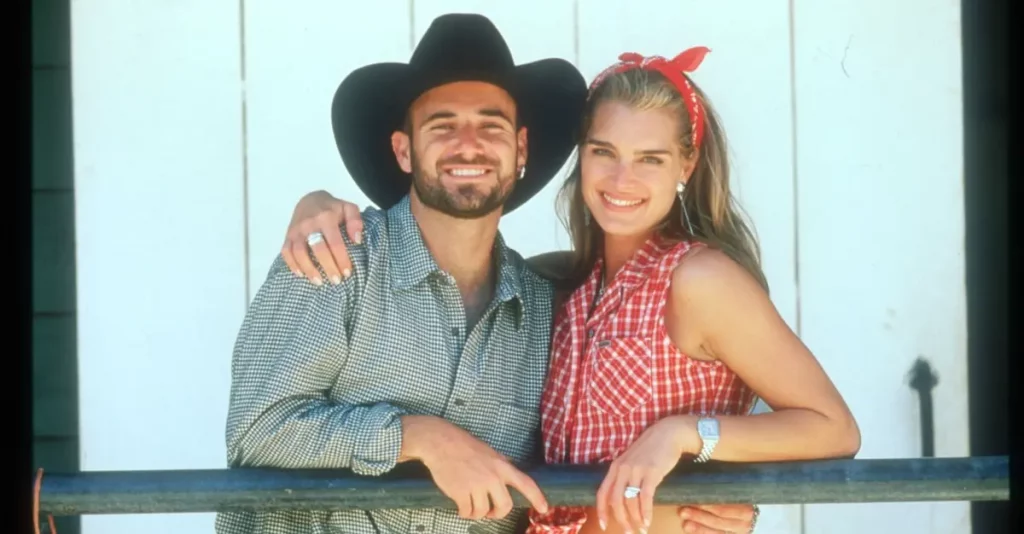 In her 2014 memoir titled 'There Was a Little Girl', Brooke Shields candidly discussed the downfall of her marriage to Agassi.
She says,
"He explained to me that for the first whole part of our relationship, he had been addicted to crystal meth."
This revelation was a shock to Brooke, who further shared,
"He had no interest in attending couples counseling with me and didn't appear to want my support."
Brooke Shields mentioned,
"I was the one who had supported him unconditionally when he told me (after we started dating) that he was basically bald and had been wearing hairpieces most of his adult life. Why would this have been any different? I would have been his biggest advocate and supporter."
Despite their love, post-wedding life was challenging. Brooke mentioned,
"For the next two years, we saw very little of each other. I was working on my show, 'Suddenly Susan,' and he was playing at various tournaments."
She further added,
"He alienated me when he lost and was on to the next tournament after he won. We were drifting apart."
Years after their relationship ended, Andre Agassi's 2009 autobiography, 'Open,' shed light on his addiction to crystal meth.
This revelation provided context to some of the erratic behaviors Brooke had witnessed during their time together.
But it wasn't just the drug addiction that strained their bond. Agassi's jealousy also played a pivotal role.
Brooke's Memorable Cameo on "Friends" – Agassi Smash All His Trophies
Brooke Shields' guest appearance on the 1996 episode of 'Friends' left a lasting impression on fans.
She portrayed Erika, an eccentric superfan and stalker of Joey Tribbiani (played by Matt LeBlanc), who was under the illusion that Joey was actually Dr. Drake Ramoray, his fictional character from 'Days of Our Lives.'
Recalling an episode of 'Friends' in her memoir 'There Was a Little Girl,' where Brooke had to enact a scene licking Matt LeBlanc's fingers, she explained,
"In the scene, I'm supposed to lick Joey's fingers, because they're the hands of a genius, and I want to devour them, and I'm a nut."
The scene didn't sit well with Agassi, who was in the audience supporting Brooke and felt humiliated by it.
Brooke further shared,
"He said I made him look like a fool by licking Joey's fingers and he got in his car and drove all the way to Vegas. Once there, he smashed all of his tennis trophies, destroying them in a rage."
In a new interview with the New Yorker, she recalled
"Andre stormed out. He said, 'Everybody's making fun of me. You made a fool of me by that behavior.' I'm like, 'It's comedy! What is the matter with you?'"
Also Read: Shocking Truth Behind Justin Trudeau and Sophie Trudeau Divorce – Revealed!
The Silver Lining for Brooke
Despite the tumultuous events surrounding her 'Friends' appearance, it proved to be a pivotal moment in Brooke's career. The scene, which initially faced skepticism from the show's producers, became a hit.
Brooke's insistence on her character's "crazy laugh" and the finger-licking act not only added depth to her character but also caught the attention of industry professionals.
Reflecting on the episode, Brooke mentioned,
"All of a sudden, the energy changed, and all these men in suits started coming into the studio. The next day, I was asked if I wanted to do my own television show."
This led to her starring role in the NBC sitcom 'Suddenly Susan,' which aired from 1996 to 2000.
Current Relationship Status: Brooke Shields and Andre Agassi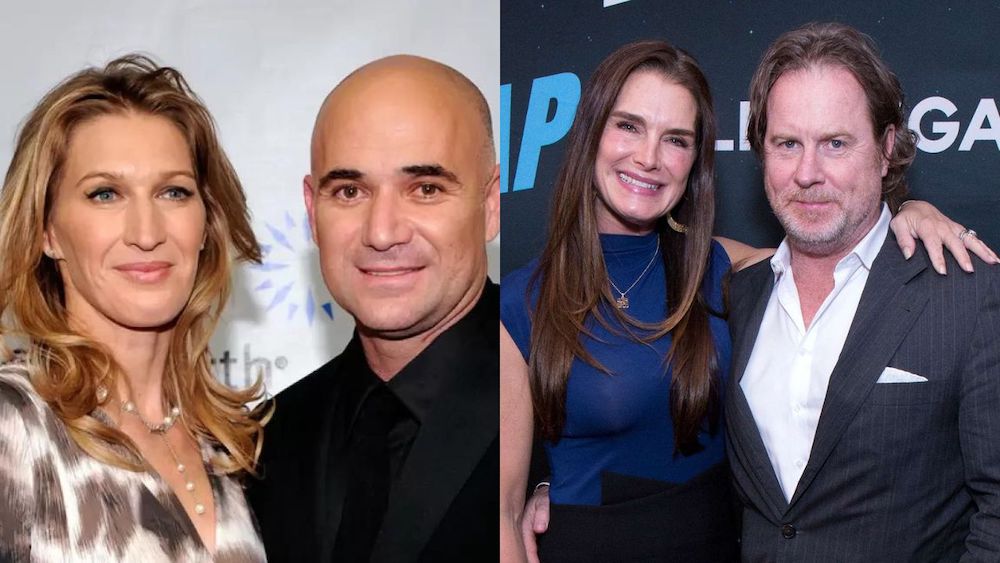 Brooke Shields has been married to Chris Henchy since 2001 and Andre Agassi has been married to fellow tennis player Steffi Graf since 2001.
In her two-part Hulu documentary, 'Pretty Baby,' Brooke delves deeper into her tumultuous relationship with Agassi.
Reflecting on her past with Agassi in the documentary 'Pretty Baby: Brooke Shields', Brooke stated, "I've never reconnected with him."
They haven't been in touch for 14 years since 'Open' was released.
Looking back she sees Agassi's reaction to the licking scene in 'Friends' as "petulant behavior."
She continued,
"That was an important stage and relationship in my life, and I don't regret it. It afforded me a lot of space from my mother and gave me this belief in my own talent. That was one of the main beautiful purposes of the marriage."
She credits Agassi for aiding her in distancing herself from her mother and manager, Teri Shields. Brooke's therapist even expressed gratitude towards Agassi for this separation.
She concluded with a thoughtful remark,
"I don't know if he does that much reflection on things. People process things very, very differently, and I have come to respect that."
Read to know about Brooke Shields's Husband Chris Henchy