Cat-eye glasses, Harlequin frames, flared edges – you've seen the iconic design, but do you know the creative woman behind it? Altina Schinasi sparked a fashion craze in the late 1930s with her bold new eyeglass shape.
The New York native had a lifelong passion for art and innovation. She studied with Salvador Dalí, patented groundbreaking designs, pioneered documentary techniques, pushed for women's rights, and lived vibrantly until age 92. Schinasi's trailblazing career defied expectations.
On her 116th birthday, Altina Schinasi is honoured with a Google Doodle celebrating her groundbreaking legacy as an artist and inventor
Join us as we delve into the story of this visionary painter, filmmaker, activist, and inventor who brought cat-eye glasses into the spotlight. Her remarkable legacy will dazzle and inspire you.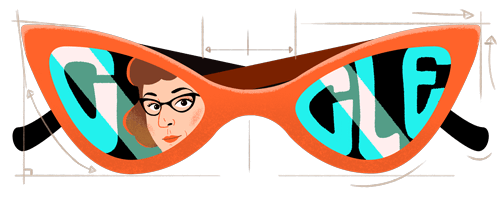 Key Takeaways:
Altina Schinasi was an artist, inventor, and designer who lived a pretty amazing life. She was born in New York City in 1907. Her parents had moved to America from the Ottoman Empire.
Even as a young girl, Altina loved art. After finishing school, she got to study painting in Paris for a while.
She designed store window displays on Fifth Avenue. She even worked with the famous artist Salvador Dali!
Schinasi's biggest claim to fame is inventing cat-eye glasses. The idea came to her when she saw boring glasses in a store window. She decided to jazz them up by making a frame shaped like a Harlequin mask.
At first, companies said Altina Schinasi's design was too unusual. But soon her cat-eye frames became super popular across America. Movie stars and fashion models wore them all the time in the 1930s and 40s.
Early Life & Education of Altina Schinasi Miranda
Childhood of Altina Schinasi in New York
Altina Schinasi was born on August 4, 1907 in New York City at the Schinasi Mansion on Manhattan's Upper West Side.
Morris Schinasi, Altina's father, came from a Turkish Jewish background, and made his money in the tobacco business. He was born in Manisa, Turkey.
Born as Laurette Ben Rubi, Altina's mother Laurette Schinasi was the granddaughter of Joseph Ben Rubi, a business associate of Morris. She was born in Salonica, which belonged to the Ottoman Empire at that time.
Her parents had immigrated to America from the Ottoman Empire.
Morris started a successful cigarette business in New York and made a lot of money. So Altina grew up in a wealthy family. She lived in a mansion on the Upper West Side of Manhattan.
As a young girl, Altina had tutors who taught her at home. Then she went to the Horace Mann School in New York City.
Boarding School in Massachusetts
When Altina turned 12, her parents sent her to Dana Hall School. This was a private all-girls boarding school located in Wellesley, Massachusetts.
Schinasi attended Dana Hall in the early 1920s. She lived on campus with the other students.
She was involved in school activities like hockey, French club, and the school magazine. Altina also held leadership roles – she was vice president of her junior and senior classes!
Even as a teenager, Altina felt like being creative and doing her own thing. She didn't always fit in with the other girls at her fancy boarding school.
When Altina's father, Morris Schinasi, died in 1928, her mother Laurette Schinasi went to Manisa, Turkey.
There, she started the Moris Sinasi Children's Hospital in the city where her husband was born. That hospital is still helping people today.
Studying Art in Paris
After Altina Schinasi graduated from Dana Hall in 1924, her mom brought her and her sister on a trip to Paris.
In Paris, Altina got to study painting with her cousin Rene Bensussan. He was an artist too. This time in Paris helped grow Altina's passion for art.
When the family returned to New York, Altina started taking art classes at the Art Students League of New York. She learned woodblock printing from an artist named Samuel Halpert.
Altina Schinasi's Career as a Designer and Inventor of Cat-Eye Glasses aka Harlequin Glasses
Window Displays on Fifth Avenue
After finishing art school, Altina got a job in New York as a window dresser. This meant she designed eye-catching displays for store windows on Fifth Avenue.
For one project, Altina worked with the famous Spanish artist Salvador Dali. He designed weird and wacky window displays that Altina helped build.
She also took more art classes with a German teacher named George Grosz. He had escaped from Nazi Germany.
How Altina Schinasi Changed Eyeglass Fashion Forever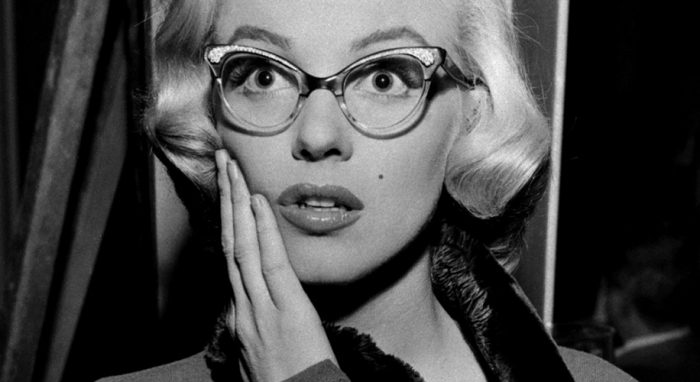 In the late 1920s, Altina came up with an idea that would make her famous. She decided to design a new style of eyeglass frames for women.
While walking by an optician's shop, Altina saw the boring eyeglasses for sale. She thought the frames should be nicer looking.
She was inspired to create a cat-eye shape, with points at the edges that looked like a Harlequin mask. This frame design made glasses into a fashion accessory.
At first, the eyeglass companies told Altina that her Harlequin frames were too strange. But soon they caught on as a hot new trend.
Altina started her own company to produce and sell the cat-eye glasses. They became very popular in the 1930s and 40s.
Awards and Expansion
In 1939, Altina won the Lord & Taylor American Design Award for her creativity. Her eyeglass frames were featured in magazines like Vogue.
She had invented one of the most famous designs of the 20th century! Altina expanded her business to the West Coast as the Harlequin glasses grew more popular.
Artistic Pursuits of Altina Schinasi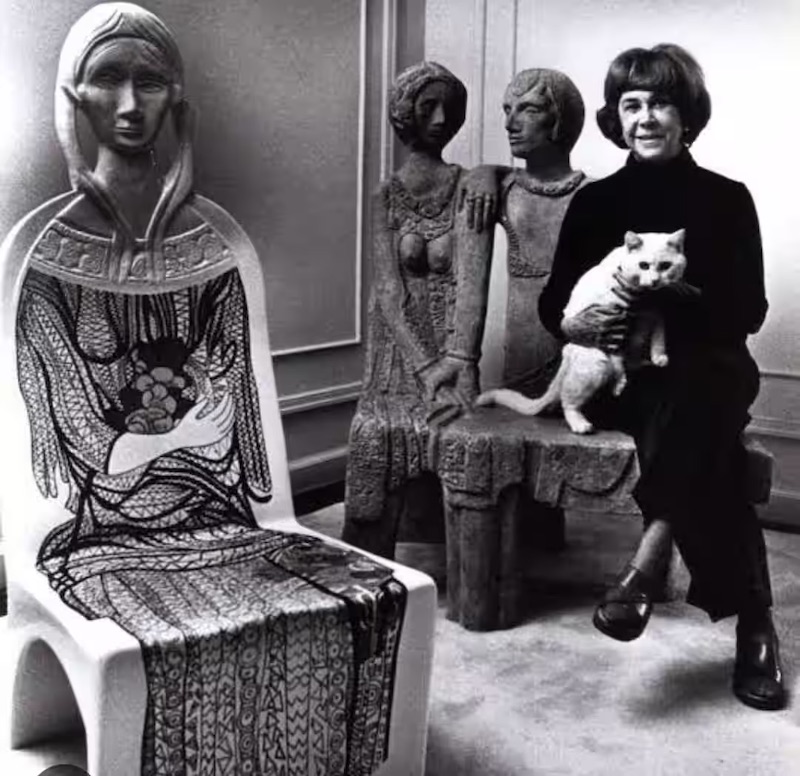 Focusing on Painting in California
In the 1940s, Altina decided to sell her eyeglass company so she could spend more time on her art. She moved out west to Los Angeles.
Out there, Altina took painting classes from an artist named Howard Warshaw. She would paint for hours each day in the studio at her home.
Altina's hard work paid off – some of her paintings were chosen for a special exhibit at the Los Angeles County Museum of Art.
Filmmaking and Sculpting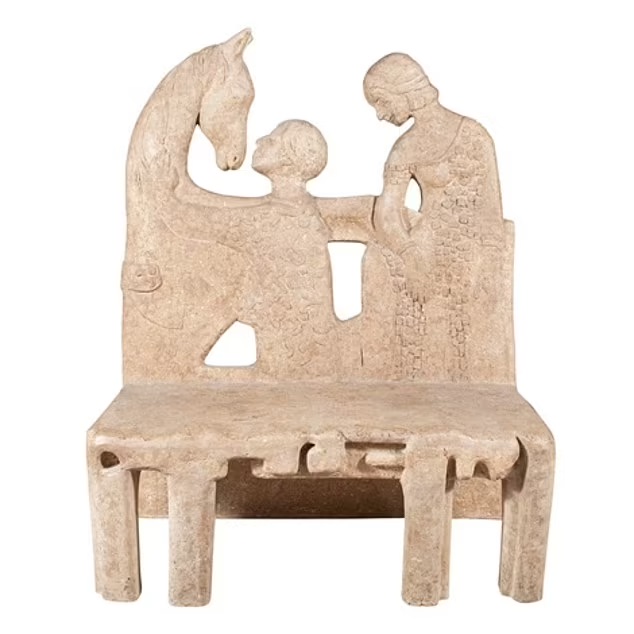 In 1960, Altina produced a short film called "George Grosz' Interregnum." It was about the German artist George Grosz, who she used to study with.
The film won first prize at the Venice Film Festival! Altina was proving she was a talented filmmaker too.
Later on, Altina began sculpting unique chairs called "chairacters." She combined the shape of a person with the function of a chair.
Her imaginative chairacter sculptures were featured in magazines and newspapers. People thought they were very clever and creative.
Art Exhibits Across the Country
Even after moving to Washington DC and Santa Fe, Altina kept making art. She had exhibitions of her paintings and sculptures at galleries and museums.
Altina also wrote an autobiography about her remarkable life called "The Road I Have Traveled." It was published in 1995 when she was 88 years old.
Husband and Children of Altina Schinasi
Altina was married four times throughout her life. Her husbands included architect Morris Sanders, doctor Eric Barrett, political scientist Charles Carey, and Cuban artist Celestino Miranda.
She had two sons with her first husband Morris Sanders – Denis Sanders and Terry Sanders. Both of her sons became filmmakers. In 1955, Denis and Terry won an Academy Award for their short film A Time Out of War.
Altina met her fourth husband, Celestino Miranda, while working on her "chairacter" sculptures in the 1970s. Miranda was hired as her studio assistant and later they married in 1981.
Altina spent her final years in Santa Fe, New Mexico with her fourth husband Celestino Miranda until her passing in 1999 at age 92.
Social Activism of Altina Schinasi
Altina didn't just focus on art – she also cared about making the world a better place. She used her talents to try to create social change.
In the 1960s, Altina got the rights to make a movie about the famous March on Washington in 1963. This was when Martin Luther King Jr. gave his "I Have a Dream" speech.
Altina met with Dr. King to talk about the movie. She visited his church in Alabama and met other civil rights leaders.
Altina really wanted to share this important story through film. But none of the movie studios would give her the money she needed to make it.
Even though the March on Washington movie didn't end up happening, this showed Altina's passion for social justice.
All her life, she believed that art could inspire people to do good. Altina used her creativity to support causes like civil rights, women's rights, and education.
Later Years, Legacy and Death of

Altina Schinasi
Even as she got older, Altina kept imagining, creating, and inspiring.
She moved to Santa Fe, New Mexico in 1990. There she lived happily with her fourth husband, an artist named Celestino Miranda.
Altina continued to make art and have a vibrant social life into her 80s and 90s. She surrounded herself with other creative thinkers and friends.
On August 19, 1999, Altina passed away in Santa Fe at the age of 92. She had lived an incredibly full life doing what she loved.
Though Altina is gone, her legacy lives on. Those cool cat-eye glasses she invented are still popular today.
In 2014, a documentary movie called "Altina" by Peter Sanders came out to celebrate her life and art. Altina was definitely a visionary designer and artist way ahead of her time! Peter Sanders is the grandson of Altina.
She proved that creativity and imagination can change the world. Altina's adventurous spirit will continue inspiring people for generations.
Conclusion
Altina Schinasi sure accomplished a lot during her amazing 92 years!
She followed her passion for art and design from a young age. Her creativity led to groundbreaking inventions like the cat-eye glass frame.
Altina also cared deeply about making the world better through art and activism. She wasn't afraid to try bold new things.
Even though she faced challenges, Altina kept pursuing her dreams and spreading joy. She truly lived life to the fullest!
Altina's story teaches us to stay curious, imaginative, and true to ourselves. Keep being creative and don't be afraid to try new things.
Make sure to tell your friends about this inspiring woman! Share this article on social media so others can learn about Altina too.
The world needs more visionary thinkers and doers like Altina Schinasi. With creativity and passion, just imagine what you can accomplish!
FAQs
Q: What is Altina Schinasi best known for designing?
A: Altina Schinasi is best known for designing the cat-eye or Harlequin eyeglass frame for women in the late 1920s.
Q: Where did Altina Schinasi grow up?
A: She grew up in New York City in a wealthy family, living in a mansion on the Upper West Side of Manhattan.
Q: How did Altina Schinasi get started in art?
A: Schinasi began studying art at a young age, taking classes in New York and later traveling to Paris to study painting with her cousin.
Q: What creative mediums did Altina Schinasi work in?
A: She was a prolific artist who worked in painting, filmmaking, sculpture, writing, and innovative design over her decades-long career.
Q: What social causes was Altina Schinasi passionate about?
A: Some of her main social passions were women's rights, civil rights, education, and using art to inspire positive change.