Gabriel Guevara has rapidly risen to fame in recent years as one of the most promising young actors in Spanish cinema. Though only in his early twenties, Guevara has already showcased immense talent and versatility across television and film projects.
After gaining recognition for shows like Skam España, he catapulted to stardom in 2023 with his sizzling lead role in the romantic drama My Fault (Culpa Mía).
In this article, we will explore Gabriel's background, relationships, career achievements, net worth, and more. Get ready to learn all about this gifted actor taking the entertainment industry by storm!
| Information | Details |
| --- | --- |
| Full Name | Gabriel Guevara Mourreau |
| Nickname | Gabriel |
| Date of Birth | February 6, 2001 |
| Age | 22 years old |
| Birth Place | Madrid, Spain |
| Parents | Mother – Marléne Mourreau (French model and actress) |
| | Father – Michel Guevara (Cuban dancer) |
| Siblings | None |
| Relationship Status | Single |
| Profession | Actor, Model |
| Debut Show | Skam España (2018) |
| Breakthrough Role | My Fault (Culpa Mía) (2023) |
| Upcoming Projects | Sequels to My Fault – Your Fault, Our Fault |
| Net Worth | Approximately $1-2 million |
| Height | 6 feet (183 cm) |
| Hair Color | Naturally brown, dyes it blonde |
| Eye Color | Blue |
| Interests | Travel, food, music, sports |
Gabriel Guevara Early Life & Family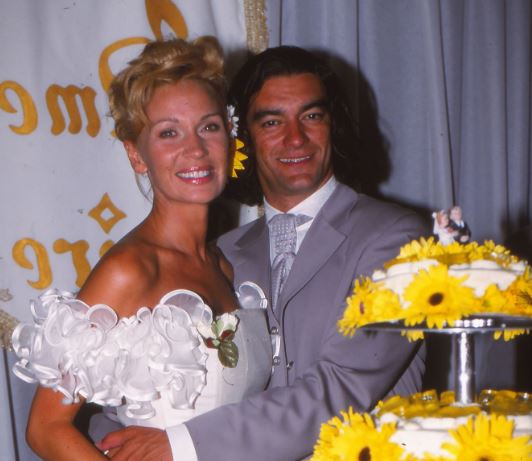 Gabriel Guevara was born on February 6, 2001, in Madrid, Spain. His full name, Gabriel Guevara Mourreau, speaks to his diverse ancestry.
Gabriel's mother, Marléne Mourreau, is a French model, actress, and television personality who made her mark in the European entertainment scene.
His father, Michel Guevara, is a professional Cuban dancer known for his excellent salsa skills. With creative parents immersed in performing arts, it seems Gabriel was destined to follow in their footsteps.
Gabriel spent his early years in the energetic city of Madrid, surrounded by the love and support of his family. His parents recognized his artistic leanings and encouraged him to explore his talents from a young age.
However, when Gabriel was only 5 years old, his parents made the difficult decision to separate. Despite this challenge, Gabriel remained very close to his mother as he continued growing up in Madrid.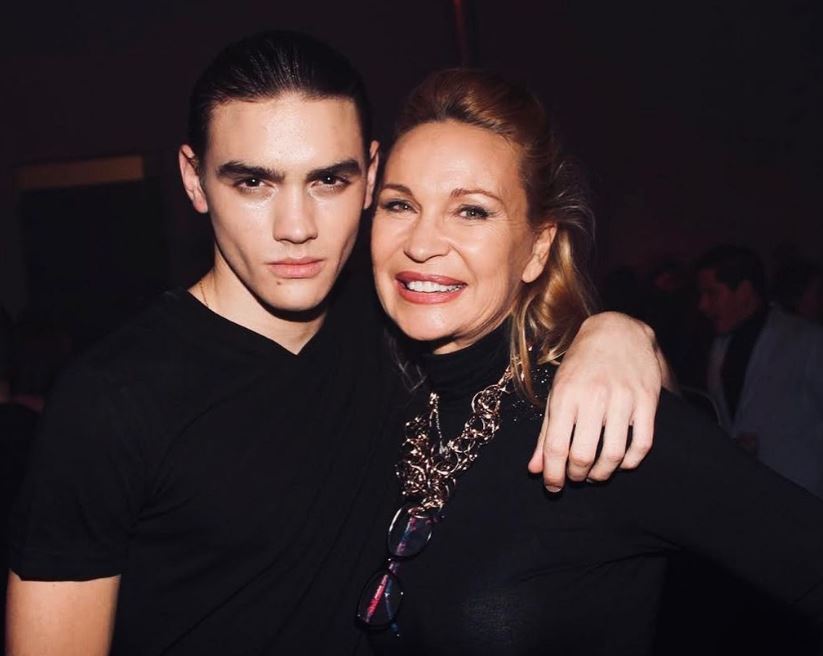 According to those who know this rising star, Gabriel shares a special bond with his mother Marléne. She nurtured his creative passions and paved the way for him to pursue modeling and acting.
Even when Gabriel spread his wings into new endeavors, Marléne remained his pillar of strength. Her unwavering belief in her son motivated him to work hard and make the most of his natural abilities.
With the encouragement of his family, Gabriel dove into developing his skills. By channeling his creativity into productive outlets like dance, music, and performance, the foundations of an incredible career began taking shape.
It's clear that the unconditional love and support from his mother and father gave Gabriel the confidence to pursue his dreams. Now, their talented son is flying high as his star rises in the entertainment world.
Gabriel Guevara

Height, Weight, and Body Measurements
In addition to captivating audiences with his acting talents, Gabriel Guevara has also won over fans with his handsome looks.
Standing 6 feet tall, Gabriel cuts an athletic and well-built frame. He maintains a fit physique through regular exercise and sports. Sources estimate his weight to be around 70 kgs (154 lbs).
With his light brown hair that he often dyes blonde, piercing blue eyes, and charming smile, it's easy to see why Gabriel makes hearts flutter.
His stylish fashion sense adds to his appeal, whether he's walking the red carpet or starring in magazine editorials. Gabriel knows how to leverage his dreamy good looks and modeling background to full advantage on screen.
In his recent breakout role in the Spanish romance My Fault, Gabriel's physical appearance aligned perfectly with his character Nick.
As a wealthy, brooding teen who finds himself drawn into a forbidden romance, Gabriel's handsome features added the perfect dose of appeal.
Between his captivating gaze and sinfully good looks, he convinced viewers to root for the complicated relationship at the heart of the film.
Given his Spanish and French ancestry, Gabriel has a distinctive blend of European features that makes him stand out.
Fans often compliment his beautiful golden locks, piercing eyes, and modelesque bone structure.
He also stays fit through regular gym sessions and varied physical activities. As Gabriel continues maturing, his natural magnetism and heartthrob appeal are only becoming stronger.
On-screen or off, Gabriel Guevara's physical attributes play a key role in his success. His natural good looks may have opened doors initially, but it's his sheer dedication to honing his craft that will keep this rising star ascending new heights.
Audiences can't take their eyes off Gabriel thanks to his talent and drool-worthy appearance – a powerful combination in the world of entertainment.
Gabriel Guevara Career & Achievements
Gabriel Guevara may just be starting out, but he has already built up an impressive acting resume.
His career took off in 2018 when he landed the role of Cristian in Skam España, a remake of the hit Norwegian teen drama Skam.
As one of the core characters, Gabriel charmed viewers over two seasons and 12 episodes.
This first major acting role displayed his ability to portray a troubled yet sympathetic high school student navigating relationships and identity.
The very next year, Gabriel proved his versatility by starring in the Spanish sitcom Señoras del (h)AMPA.
His comedic timing earned praise as he took on the fun role of Cristofer for 2 memorable episodes.
Gabriel was also willing to tackle more complex characters, like his starring role as Darío in the emotional drama series HIT from 2020 to 2021.
As Darío, a teacher using unconventional methods, Gabriel added layers of depth and conflict to his performance.
He held his own against veteran actors, impressing critics with his screen presence and raw talent. These early successes paved the way for even bigger things to come.
Gabriel's career reached dazzling new heights in 2023 with his casting as the lead heartthrob Nick Leister in My Fault.
As the charismatic, wealthy, and mysterious Nick, Gabriel lit up the screens alongside his co-star Nicole Wallace.
Their palpable on-screen chemistry added sizzle to the forbidden romance at the heart of this Spanish drama.
Gabriel's emotional performance earned him a Best Actor nomination at the 2023 Feroz Awards.
Securing the coveted lead role in My Fault (Culpa Mía) was a game-changer for Gabriel's career.
The film broke viewing records on Amazon Prime Video, bringing Gabriel immense fame. But his excellent acting abilities, not just good looks, earned him this opportunity.
Gabriel plans to continue showcasing his talent in upcoming projects like the My Fault sequels. This gifted young actor's future shines bright, as he conquers new challenges through hard work and sheer skill.
Gabriel Guevara Girlfriend & Relationships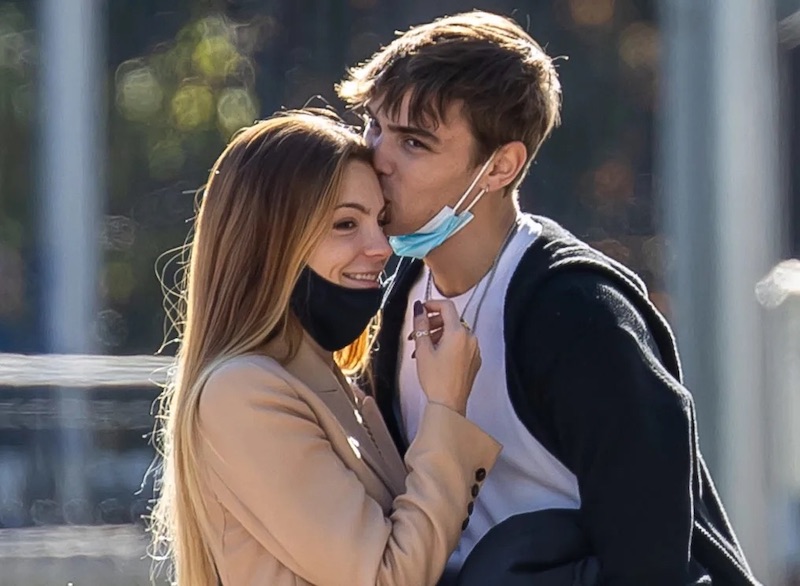 When it comes to his personal life, Gabriel Guevara prefers to avoid the glaring spotlight. He takes care to keep details about his relationships and romantic interests private.
However, living life in the public eye makes it tricky to keep his dating status under wraps.
In 2020, rumors emerged that Gabriel was possibly dating fellow actress and model Agostina Goni. They were photographed together showing some PDA, hinting at a blossoming relationship.
But neither Gabriel nor Agostina officially confirmed they were an item. Since then, it seems they have gone their separate ways romantically.
Most recently, Gabriel's on-screen chemistry with his My Fault co-star Nicole Wallace has fueled relationship speculation.
Their social media posts showing cozy, affectionate moments suggest they may be more than friends. Still, despite prodding from fans and media, Gabriel and Nicole remain tight-lipped about romance rumors.
In a rare revelation about his personal life, Gabriel admitted during an interview that he got out of a toxic relationship a while back.
He shared feeling relief and peace after removing himself from that situation. Gabriel also confessed he is not in a hurry to start dating again after that negative experience.
For now, he is focused on meeting new people, having fun with friends, and prioritizing his growth as an individual.
Gabriel's last known relationship may not have ended well, but it taught him important lessons. He understands the need for privacy, taking romances off the radar of gossipy tabloids.
Gabriel now knows to protect his heart by being cautious with who he lets in. While his fans may be dying for updates on his love life, this discreet actor prefers keeping that side of himself away from the limelight.
Gabriel Guevara Net Worth
As Gabriel Guevara's fame and popularity continue rising, so does his financial net worth.
While still early in his career, he has already amassed an impressive estimated net worth of between $1-2 million.
This wealth will certainly multiply rapidly as Gabriel books more lucrative acting and modeling gigs.
The 22-year-old already lives a comfortable lifestyle with his growing assets. Gabriel owns luxurious homes in expensive neighborhoods in Madrid and Marbella.
He also loves splurging on stylish clothes, accessories, and cars befitting his celebrity status. Gabriel has been spotted driving high-end vehicles like Mercedes and Audi.
Of course, the primary source fueling Gabriel's net worth is his entertainment career. Following his breakout role in My Fault, his paycheck per project has increased exponentially.
Gabriel earns ample income starring as the lead in television shows and films produced by major Spanish networks and platforms.
In addition to on-screen acting, Gabriel supplements his income through brand sponsorships on social media.
He has over 200,000 Instagram followers and frequently collaborates with labels like Pull&Bear. Gabriel reportedly charges thousands of euros for branded posts on his Instagram account.
Gabriel Guevara Fun Facts & Hobbies
Outside his acting career, Gabriel Guevara leads a vibrant life pursuing various hobbies and passions. This well-rounded young actor has multiple talents and interests that make him an intriguing personality.
Gabriel is an avid traveler who loves exploring new destinations around the world.
Some of his favorite trips have been to tropical spots like Bali, Hawaii, and the Bahamas, where he enjoys scenic beaches, water sports, and trying local cuisine.
He also visits European cities like Paris, London, and Milan where he indulges in shopping and art.
Food and cooking are another hobby of Gabriel's. He considers himself a major foodie, always willing to sample innovative dishes and international flavors.
Gabriel is especially fond of chocolate, sushi, and tacos. His Spanish, French, and Cuban roots have given him an appreciation for global cuisines.
In addition to acting, Gabriel is musically gifted too. He can play the guitar and piano quite well. Gabriel also has an athletic side, with interests in activities like surfing, martial arts, and yoga.
He has a black belt in taekwondo. Staying active is important to Gabriel, along with practices like meditation for mental well-being.
Gabriel is also an animal lover and proud parent to his two pet dogs – Rio and Maya. He actively supports animal welfare organizations, especially those helping dogs.
Gabriel has a soft spot for furry friends and enjoys spending time with his cute canine companions.
Finally, Gabriel is an ardent sports fan. He ardently follows European football and basketball leagues. Gabriel supports the prominent Spanish club Real Madrid.
He also makes time in his busy schedule to attend live matches and sports events as much as possible.
Clearly, Gabriel Guevara pursues a wide array of hobbies, constantly seeking new adventures.
His diverse talents and interests showcase how he is much more than just another pretty face from the world of entertainment.
Gabriel's dynamic personality and passion for life make him a star who shines both on-screen and off.
Gabriel Guevara on Social Media
Like most celebrities today, Gabriel Guevara leverages the power of social media to engage with fans worldwide.
He is extremely active on visually-driven platforms like Instagram and TikTok where he provides glimpses into his life.
Gabriel's Instagram account with 7 million followers gives him immense reach. He frequently posts gorgeous photoshoot pictures and behind-the-scenes videos showing his work and travels.
Gabriel also shares about his fitness routine, lifestyle choices, and bonding time with family and friends.
Through Instagram Q&As and replying to comments, Gabriel strives to have genuine interactions with fans.
He recently launched his own merchandise line on Instagram, allowing dedicated followers to purchase Gabriel-branded clothing and accessories.
In comparison to Instagram, Gabriel has a relatively smaller yet significant following of 80,000 on TikTok.
His funny lip-syncs, dancing videos and promotional clips receive immense engagement on TikTok.
Gabriel's social media presence expanded exponentially when his film My Fault premiered, gaining him millions of new followers literally overnight.
Unlike other platforms, Gabriel does not have an active presence on Facebook or YouTube yet. He does have a Twitter account with around 12,000 followers but is not an avid Twitter user.
Gabriel focuses his social media efforts on Instagram and TikTok, which best allow him to flaunt his modeling talent and attract youth audiences.
Conclusion
In just a few years, Gabriel Guevara has established himself as a star on the rise in Spanish entertainment. His natural magnetism, excellent acting skills, and dreamy good looks have already won over global fans.
After the immense success of My Fault, Guevara's future shines incredibly bright. He has proven his ability to captivate audiences and take on diverse, complex roles.
As Guevara books more ambitious projects, his fame, and acclaim are guaranteed to rapidly multiply. At just 22, he is poised for an illustrious career at the forefront of European cinema.
More Interesting Articles:
FAQs on Gabriel Guevara
1. Where is Gabriel Guevara from?
Gabriel Guevara is from Madrid, Spain.
2. How old is Gabriel Guevara?
Gabriel Guevara is 22 years old as of 2023.
3. What shows is Gabriel Guevara known for?
Gabriel Guevara is known for shows like Skam España and HIT.
4. What was Gabriel Guevara's breakthrough role?
Gabriel's breakthrough role was Nick Leister in the 2023 film My Fault.
5. Who are Gabriel Guevara's parents?
Gabriel's parents are French actress Marléne Mourreau and Cuban dancer Michel Guevara.