Bruce Cucchiara seemed to have it all – a successful career, a loving family, and admiration from his community. So who would want the prominent Louisiana businessman dead?
Cucchiara's unsolved murder has perplexed investigators for over a decade. In this article, we will provide a comprehensive overview of the perplexing case – from Cucchiara's background to the baffling crime details to the theories on motives and suspects.
Who was Bruce Cucchiara?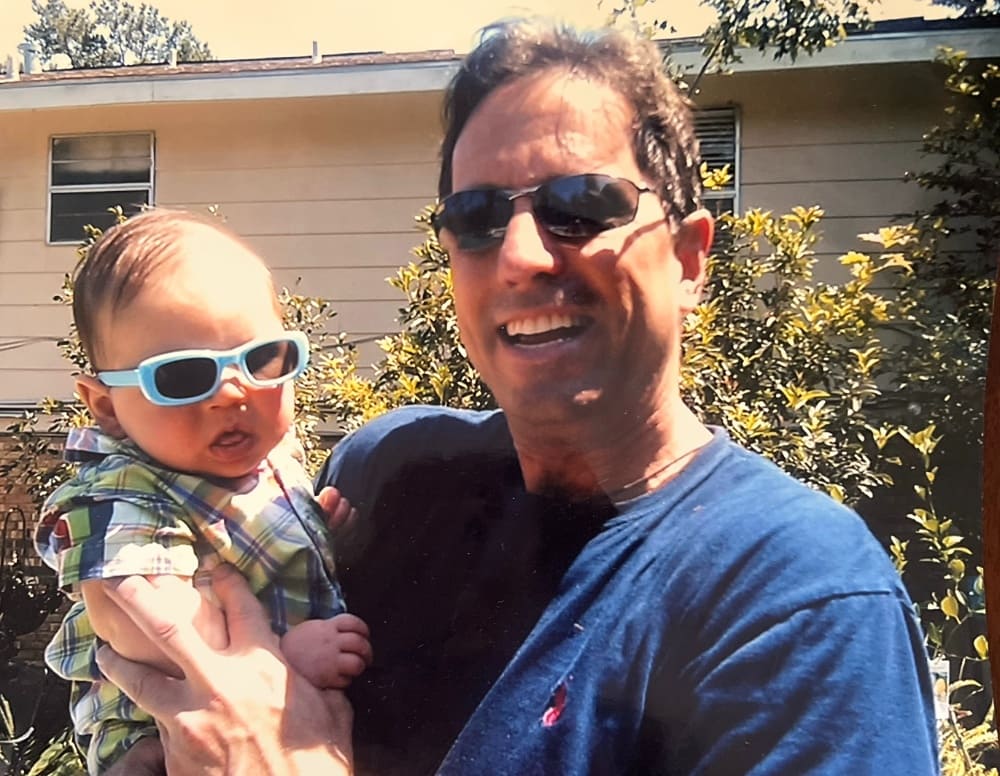 Bruce Felix Cucchiara was born on December 28, 1954, in New Orleans. His parents were Vivian Eimer Cucchiara and the late Mario P. Cucchiara.
Prominent businessman – Bruce Cucchiara was a well-known and successful businessman in his community. He held prestigious positions including President and CEO of Resource Bank and Chief Financial Officer of the real estate development company SECO.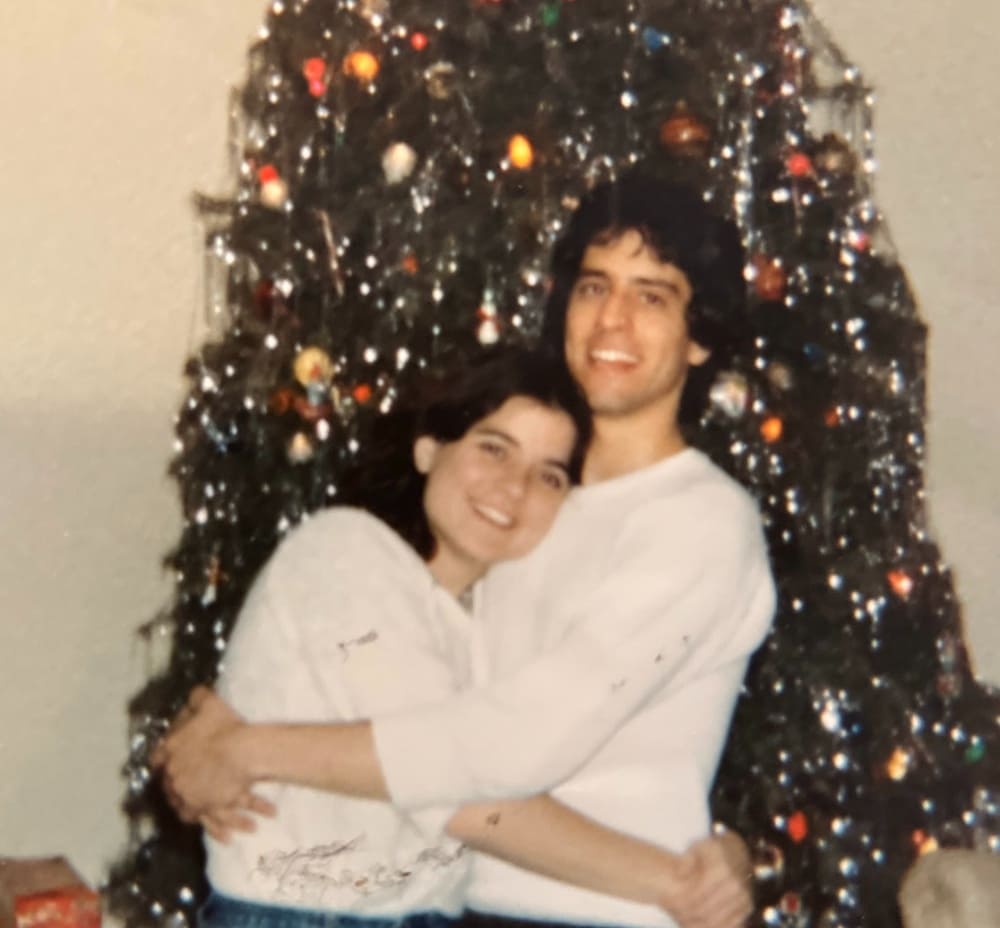 Father, grandfather, husband – Cucchiara was a devoted family man. He was the loving father of two children (Chris and Caitlin Picou) and a doting grandfather.
Cucchiara was previously married to Mary Ann Meiners Cucchiara with whom he has two children. Later on, he married Anne Soileau Cucchiara around the time of his unexpected death.
Loved sports, especially baseball – An avid sports fan, Cucchiara had a particular passion for baseball. He dedicated much of his free time to coaching baseball and basketball for youth in his local community.
Dedicated time to coaching youth baseball and basketball – Cucchiara spent years volunteering as a youth baseball and basketball coach. He was known for his kindness and patience in working with young players.
Graduated St. Paul's School 1972, remained active in alumni association – After graduating from St. Paul's High School in 1972, Cucchiara stayed actively involved with the alumni association and school foundation board.
Earned degree from Southeastern Louisiana Univ. – Cucchiara received his undergraduate degree from Southeastern Louisiana University before beginning his career in banking and finance.
Career in banking/finance – Cucchiara built a successful career in the banking and financial industries. He served as the first President of Resource Bank in St. Tammany Parish and later became the CFO for a real estate development firm.
Remarried shortly before his death – Only a short time before he was tragically murdered, Cucchiara had remarried and was embarking on a new chapter in his personal life.
The Murder of Covington Businessman Bruce Cucchiara
Date/Time: Morning of April 24, 2012
Location: Parking lot of Mark VII apartment complex in New Orleans East
Circumstances:

Cucchiara went to the apartment complex to look at a potential investment property
The address he was given turned out to be incorrect
He spoke to the building manager and realized the mistake
As he walked back to his truck, Cucchiara was shot at close range
No casings were found at the scene, indicating a revolver was likely used

Immediate aftermath:

A police officer responded approximately 4 minutes after the shooting
Cucchiara was found lying next to his truck, already deceased
His wallet and cell phone were missing from the scene

Investigation details:

An autopsy confirmed Cucchiara died from a gunshot wound
There was no security camera footage that captured the actual shooting
Two days later, a sketch of a possible suspect was released – described as a clean-shaven white male in his mid-20s wearing all-black clothing
This suspect has never been positively identified
The brazen murder of such a prominent citizen in broad daylight shocked the New Orleans community. The lack of witnesses, evidence, and motives left police puzzled.
Theories & Suspicions – Who Killed Bruce Cucchiara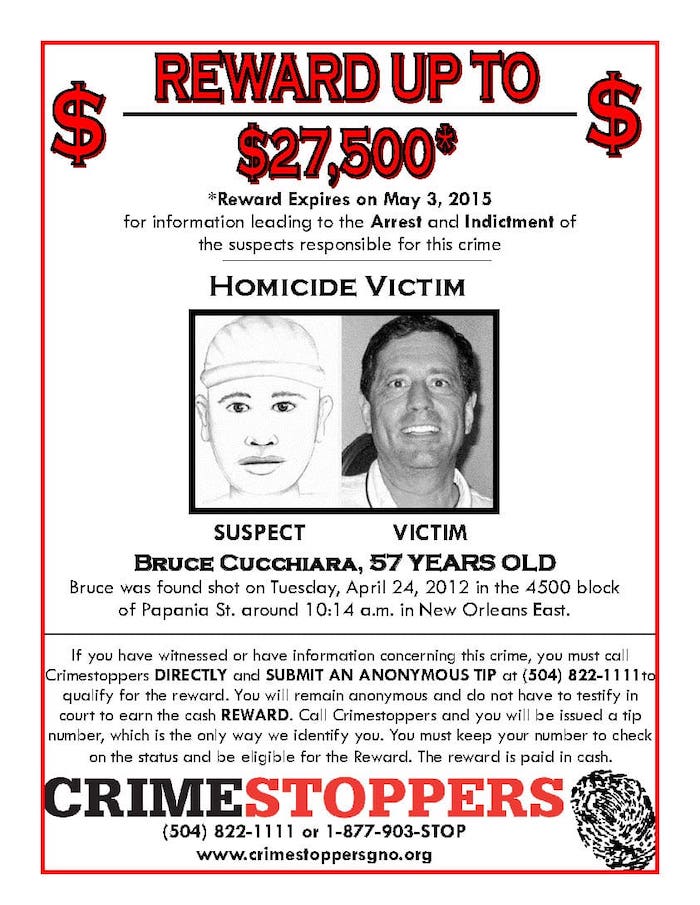 While the murder initially looked like a robbery gone wrong, several discrepancies led to questions and alternative theories:
Out of his normal territory:

Cucchiara was well outside of his typical territory of St. Tammany Parish when he was murdered in New Orleans East.
This raised questions about why he would be in that area and who requested he visit that location.

Who provided the bad address?

Someone gave Cucchiara an incorrect address for the apartment complex.
Who misdirected him and why?

Supposed to meet someone?

Cucchiara told his wife he had a meeting that morning related to business.
Who was he supposed to meet at the apartment complex and why didn't this person show up or come forward after the murder?

Potential organized crime involvement:

The area of New Orleans East where the shooting took place has a history of organized criminal activity.
Some speculated that Cucchiara's business partner may have had ties to the New Orleans crime family.

Life insurance motives?

Suspiciously, $5 million in life insurance policies had been taken out on Cucchiara years prior to his death.
His business partner was the beneficiary on $3 million of those policies.

The family believes it was a setup:

Based on the inconsistencies and lack of leads, Cucchiara's family came to believe he was intentionally lured to the location under false pretenses and killed in a premeditated murder.
The bizarre circumstances fueled rampant speculation that Cucchiara's prominent position may have made him a target or that he was worth more dead than alive to those who stood to gain from his demise.
Police have been unable to corroborate any specific theories, but it seems clear there is more to this story than a random armed robbery.
The Investigation and Discussion on Counterclock Podcast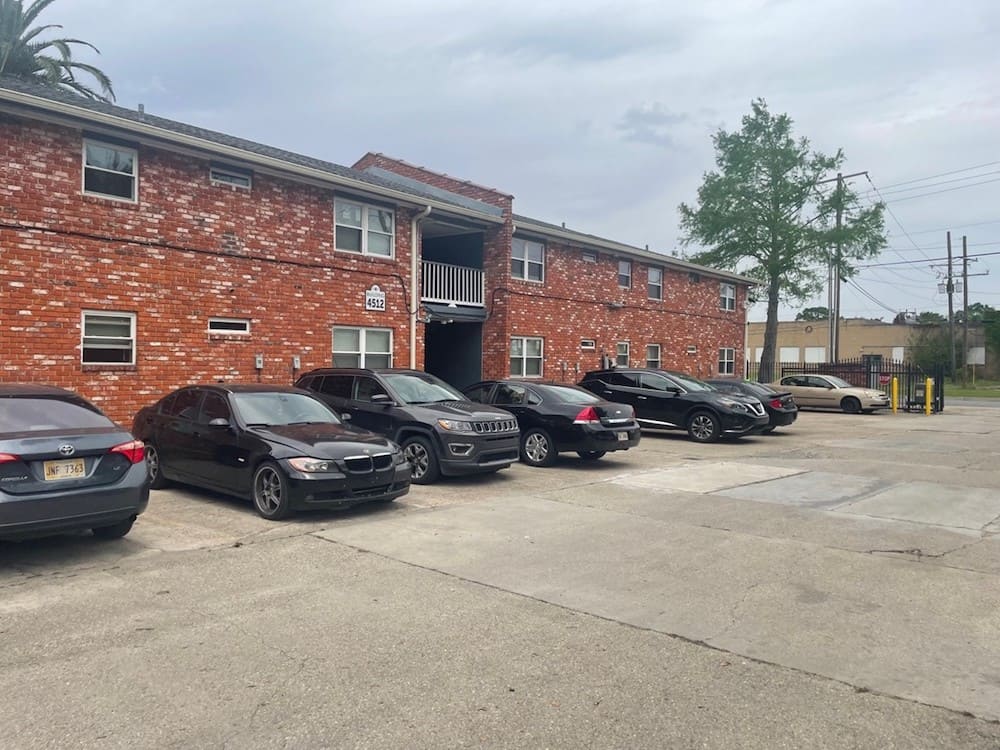 The investigation into Cucchiara's murder has faced numerous challenges and setbacks over the past decade:
Early challenges:

No witnesses came forward who saw the shooting or provided leads.
There was no security camera footage recovered of the actual incident.
Cucchiara's stolen cell phone mysteriously disappeared from evidence storage.

Persons of interest:

Glen Angus – The last person Cucchiara spoke to on the phone before being shot. Claimed to have no involvement.
Richard Chambers Sr. – Questioned by police but never charged. Had past criminal ties.
Joyce Whitfield – Police have expressed interest in speaking with her.

The case went cold:

The case has been transferred between multiple detectives over the years.
Cucchiara's family feels disappointed with the lack of progress made by investigators.
No new substantial leads have emerged recently.

Renewed interest:

In 2019, Season 5 of the popular true-crime podcast "Counterclock" extensively covered the case.
Cucchiara's family offered a $100k reward for new information.
This publicity spawned tips and theories but no break in the case.

Remains open investigation:

New Orleans police department maintains the case is still an active investigation.
They remain hopeful that emerging technology and new leads could help solve it.
The confusing lack of evidence and motives has stymied authorities. While the case has gone cold in recent years, law enforcement maintains optimism that justice will eventually be served.
Theories on Motive – Case Remains Unsolved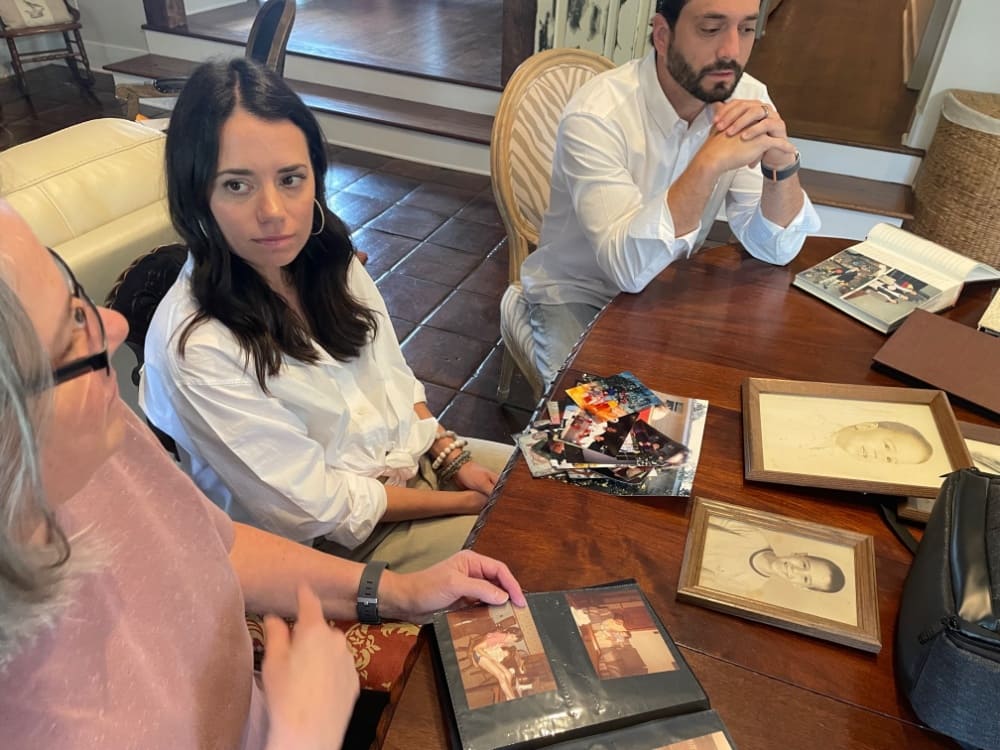 While no clear motive has been confirmed, there are various theories on why someone may have wanted Cucchiara dead:
Silence him from testifying?

Cucchiara was reportedly a witness in a $4 million lawsuit at the time of his death.
He may have had insider knowledge that would expose shady business practices.
Some speculate he was killed to prevent him from testifying.

Collect on life insurance?

There were $5 million in life insurance policies taken out on Cucchiara, well exceeding his net worth.
His business partner was the beneficiary on $3 million of those policies.
Money from the policies could have been a motive.

Financial disputes:

Cucchiara was involved in some high-risk real estate investments and allegedly had unpaid debts.
His business partner refused to speak to investigators, fueling suspicions.

Mob connections:

Cucchiara's business partner purportedly had ties to organized crime in New Orleans.
The area where Cucchiara was shot had a history of mafia activity.
Possibly he was caught up in a mob dispute.

Property investment rivalry:

Cucchiara was scouting a new real estate investment when he was killed.
Possibly another investor wanted the property and eliminated the competition.
Despite these theories, no clear personal or financial motive has been substantiated by authorities. However, the available evidence points to Cucchiara likely knowing his killer and this being more than just a random crime.
Cucchiara's Life & Legacy
Beyond the mysterious murder, Cucchiara left behind a rich legacy in his community:
Father and grandfather – He was a loving father of two and a doting grandfather who always put his family first. His children remain dedicated to finding justice.
Loved Christmas – The holiday season was Cucchiara's favorite time of year to celebrate with family. He went all out decorating his home.
Rediscovered Christian faith – In the years prior to his death, Cucchiara had rediscovered his Christian faith and became heavily involved with his church.
Kids advocate for justice – Cucchiara's adult children have tirelessly advocated to keep their father's murder case from going completely cold. They offer a reward for information that gets police closer to finding his killer.
Remembered fondly by the community – Those who knew Cucchiara have only fond memories of him as a kind, generous man. They are shocked anyone could kill such a beloved community leader.
Closure for family – Getting answers on this case would finally provide closure for Cucchiara's grieving family after 11 painful years of unresolved questions.
Preserving his legacy – Solving the tragic murder would help preserve and honor Cucchiara's memory as a father, businessman, and philanthropist in the community he loved.
Though his life was cut short, Cucchiara clearly impacted many around him. Justice for his murder would provide closure and peace to those he left behind.
Conclusion
Over a decade later, Cucchiara's brazen murder remains an open case and source of mystery. The beloved businessman's family still hopes renewed publicity and tips from the public can eventually help investigators identify the killer.
Cucchiara's story illustrates the complexities of solving cold-case homicides with limited evidence. While difficult, police remain dedicated to ultimately bringing justice and closure.
Help keep Bruce's story alive by sharing this article on his murder. Your efforts could make a difference in returning answers to his grieving family.
Read More Stories:
FAQs
1. What happened to Bruce Cucchiara?
57-year-old Bruce Cucchiara was murdered on April 24, 2012, in the parking lot of a New Orleans East apartment complex. He was shot at close range while walking back to his vehicle after finding the address he had been given was incorrect. The killer has never been identified.
2. What is the podcast about Bruce Cucchiara?
The "Counterclock" true crime podcast covered Cucchiara's unsolved murder in Season 5. It investigated the case and interviewed his family.
3. Who did Bruce Cucchiara work for?
Cucchiara worked for the Riecke family's businesses in Covington, Louisiana. He was involved in real estate investments with his business partner Jared Caruso-Riecke.
4. Where did Bruce Cucchiara live?
Cucchiara was a resident of St. Tammany Parish, Louisiana. He lived in the town of Covington with his family.