On August 3, 2023, entrepreneur Patrick Bet-David was a guest on the Joe Rogan Experience podcast. During the episode, Patrick gifted Joe 5 unique and thoughtful presents that reflected the interests and personality of Joe Rogan.
The gifts included a Jimi Hendrix pen, an Andrew Jackson letter, JFK assassination memorabilia, a microphone stand used by comedian Lenny Bruce, and an advance copy of Patrick's new book.
5 Thoughtful Gifts That Patrick Bet-David Gives To Joe Rogan
Jimi Hendrix Montblanc Pen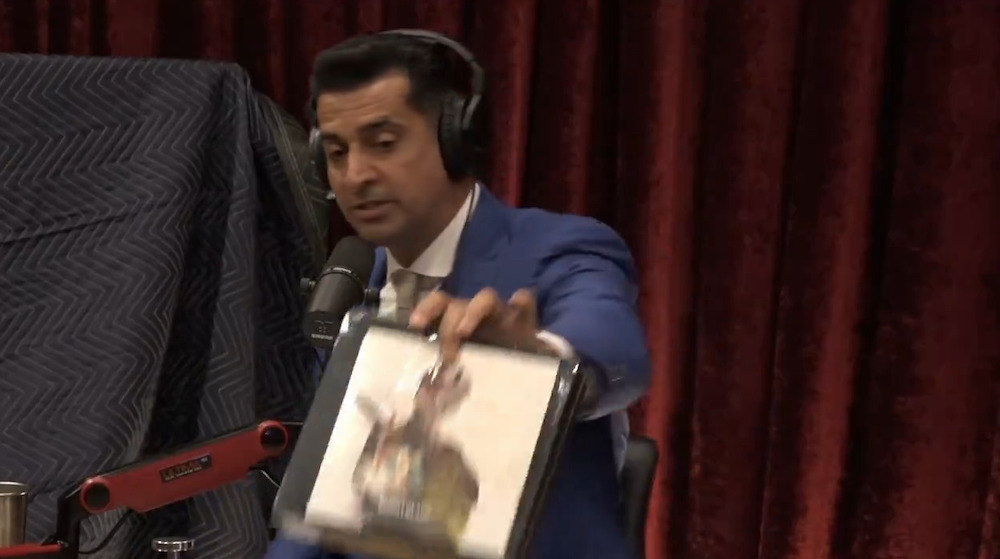 The first gift that Patrick gave to Joe was a limited edition Jimi Hendrix Montblanc pen. Patrick knew that Joe is a big fan of Jimi Hendrix, so he tracked down this special pen that depicts Hendrix on it. As Patrick presented the pen, he said:
"You're a Jimi Hendrix guy, right? I think you're a Jimi Hendrix guy. Perfect. I got this. We looked up to see what we can do with Jimi Hendrix. Jimi Hendrix did a Montblanc, did a special Jimi Hendrix pen that while you're sitting here writing stuff. I know you're probably not a big guy that you care about having a fancy pen or not, but we got you the special limited edition Montblanc pen with Jimi Hendrix. I hope you like it."
Even though Joe may not care much about fancy pens, the fact that it was Hendrix-themed made it a thoughtful gift that incorporated Joe's love of the iconic musician.
Andrew Jackson Letter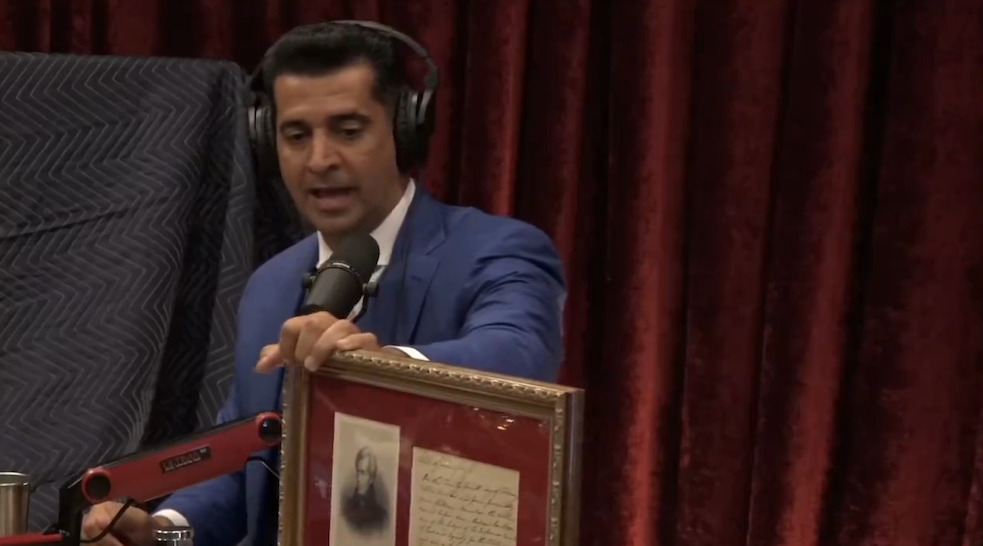 Next, Patrick gifted Joe an original letter handwritten and signed by President Andrew Jackson. Patrick chose this because he sees Joe as an "anti-establishment" figure like Andrew Jackson was as president. As Patrick gave him the letter, he stated:
"I think when I think about personalities that kind of push the envelope a little bit, presidents in the past that were anti-establishment, people that pushed the envelope, one of the names you think about is Andrew Jackson. So, this took me a minute to find this, but this is a letter written by Andrew Jackson, president, signed at the bottom. Wow, with COA, and he is known as the first-ever anti-establishment president minus the founding fathers. So, I hope you like this. This represents that aspect of you."
The thoughtful parallel between Joe and Jackson made this historical artifact an ideal present.
JFK Assassination Memorabilia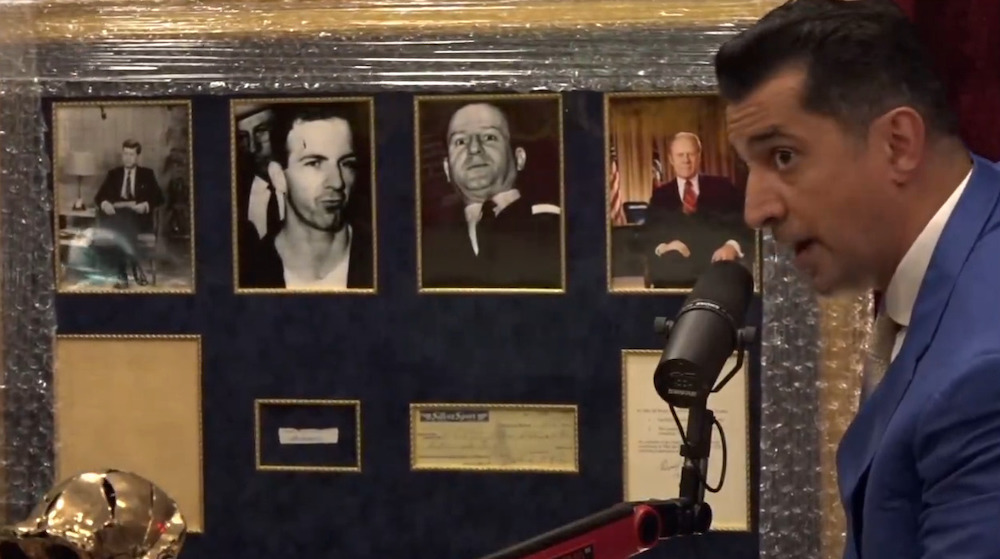 Another gift that Patrick picked out for Joe was a collection of JFK assassination memorabilia since he knew Joe had gone down the "rabbit hole" in researching the topic.
Patrick presented a framed collection featuring signed documents and autographs related to the assassination, including those of Lee Harvey Oswald, Jack Ruby, John F. Kennedy, and a letter from the Warren Commission signed by Gerald Ford.
"Now, next one, you've gone down the rabbit hole with John F. Kennedy assassination, what happened there, what happened to him, all this other stuff. I said let me see what we can find with this. This took us a minute to find as well. This piece, Joe, this is the actual Warren Commission, the letter, signed by Gerald Ford. The letter to the right is the Warren Commission, then you have the autograph of Jack Ruby, then you got the autograph of Lee Harvey Oswald, and you got the autograph of John F. Kennedy. Wow. Okay, so I hope you like this with the letters, COA, all of it."
This incredible collection of JFK memorabilia expertly matched Joe's fascination with the topic.
Lenny Bruce Microphone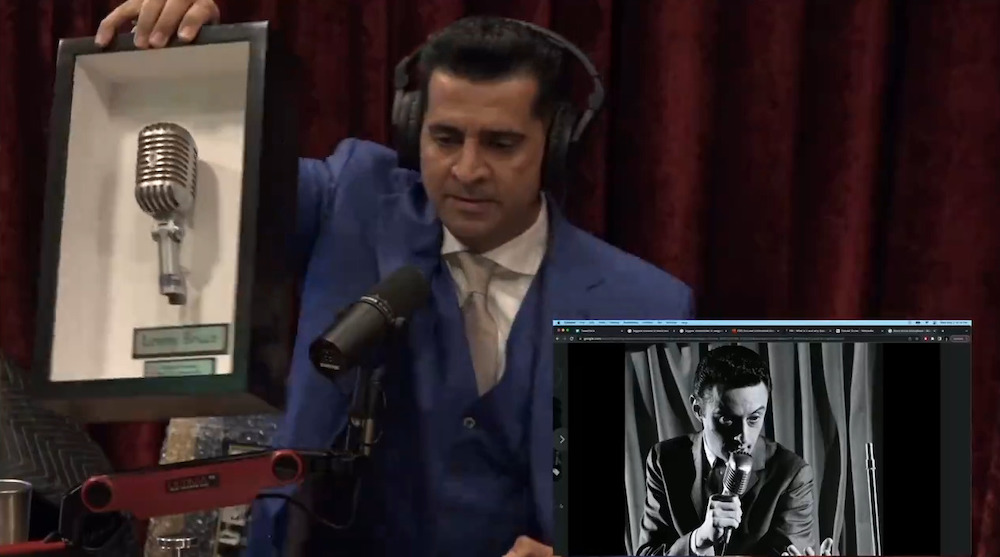 One of the most special gifts that Patrick put effort into tracking down was an original microphone and stand used by the legendary comedian Lenny Bruce.
Since Bruce is one of Joe's comedy idols, Patrick worked to get this mic directly from Bruce's daughter Kitty. As he revealed it to Joe, Patrick shared:
"Who's one of your favorite comedians of all time? Okay, so I called around and I spoke to Lenny Bruce's daughter, Kitty. I don't know if they know who she is or not. So, I spoke to her, and I said, guys, I want to find something special for Joe that's tied with Lenny Bruce. So, you open up a comedy shop. This is with the mic stand. When he would go on the road, he had a mic stand and a mic that he would use. I think this is from 1959. This is the original mic Lenny Bruce used."
Joe was blown away by this incredibly meaningful comedy relic, stating he knew exactly where it would go – right into his comedy club.
The rarity of this vintage microphone owned and used by one of Joe's biggest comedy inspirations made it the most thoughtful gift of all.
Advance Copy of Patrick's New Book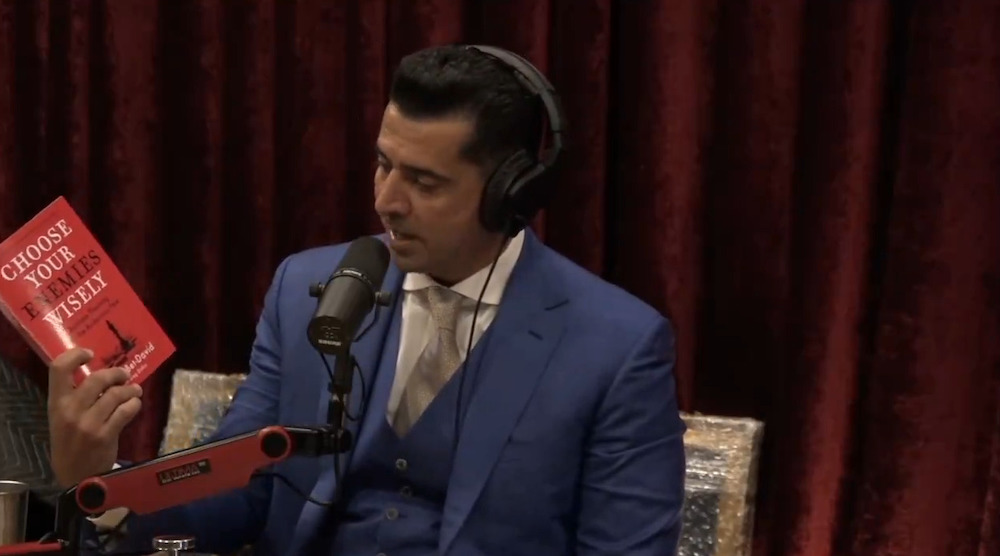 As one final gift, Patrick gave Joe an advance copy of his new book "Choose Your Enemies Wisely" which would not be released until December 2023.
Since Joe is an influential voice, Patrick wanted him to have an early copy before it officially came out. As he presented it, Patrick stated:
"By the way, my book is coming out in December. I mean, you can't buy the book right now. My book comes out December 5th, but they sent me the first copy of the book. Its title "Choose Your Enemies Wisely", and it's not an easy thing to choose your enemies wisely. Most people choose the wrong enemies. Portfolio sent us the first copy of "Choose Your Enemies Wisely", and my first copy they gave to me, I'm giving to you, brother."
Giving Joe an early copy showed the respect Patrick has for Joe and his platform. It also allowed Joe to check out the book himself months before anyone else could.
Final Thoughts
Watch and Listen to the entire episode:
Throughout the podcast, Patrick Bet-David demonstrated his thoughtfulness by gifting Joe Rogan several personal and meaningful presents.
From the Jimi Hendrix pen to the Lenny Bruce microphone, each gift tied into Joe's interests and displayed Patrick's creativity and effort to get gifts that Joe would truly appreciate. The exchange highlighted the mutual respect between the two podcast hosts.