Maharana Pratap was the ruler of the Mewar region. In present times it comes under the Indian state of Rajasthan. He is one of Bharat's greatest kings and warriors who never capitulated to the Mughals. Pratap fought till death to defend his homeland Mewar from them, whom he considered foreign invaders on Indian soil.
He is believed to be the only Rajput king who stood up against Akbar in the 16th century. Akbar wanted to capture Maharana Pratap but couldn't succeed in his lifetime. When other Rajput kings were signing treaties with Akbar, he refused them.
Pratap was and is the face of Rajput valor. Maharana Pratap Jayanti i.e. his birth anniversary is celebrated on the 3rd day of the month of Jyeshta every year in his honor. He enjoys the same respect in Rajasthan as the great Maratha Chhatrapati Shivaji Maharaj in Maharashtra.
His determination was such that he pledged that he would eat in a leaf place and sleep on the bed of straws until his wins Chittor (capital of Mewar). Some Rajputs in honor of Maharana Pratap place straw under their bed while sleeping and a leaf under their plate while eating even today.
Interesting facts about Maharana Pratap who is an inspiration for all and is a symbol of Rajput valor and faith:
1. Maharana Pratap's family
1.1 Maharana Pratap's Birth
Maharana Pratap was born on May 9, 1540, at Kumbhalgarh Fort in Mewar. He was the eldest son of Maharana Udai Singh II and Maharani Jaiwanta Bai. Maharana Udai Singh II was the ruler of the Kingdom of Mewar with Chittor as its capital and the founder of Udaipur city in India's present-day state Rajasthan.
1.2 Maharana Pratap's first wife – Ajabde Punwar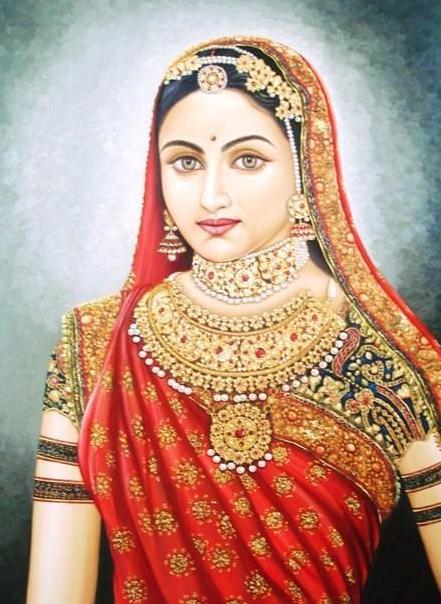 Maharani Ajabde Punwar was the first wife of Maharana Pratap. She was his best friend and lifelong companion who supported him in both pleasures and pains. She is considered as the symbol of immortal love because of her immeasurable love and respect for Pratap. Both were known to each other for quite a long time, and they fall in love before marriage. Pratap's mother also liked her for her sharp intellect and simplicity.
For political reasons, Maharana also married ten more women. Although she was not happy and in full support of this decision, she stood faithfully along with Pratap fulfilling all her duties as the principal queen. She understood that Pratap is not only his husband but also the king of Mewar. He has to take these uncomfortable decisions for the well-being of his people and kingdom. Unfortunately, she died at a very early age due to illness.
1.3 Pratap's complete family
In all, Maharana Pratap had a total of 11 wives: Ajabde Punwar, Solankhinipur Bai, Champabai Jhati, Jasobai Chauhan, Phool Bai Rathore, Shahmatibai Hada, Khichar Asha bai, Alamdebai Chauhan, Ratnawatibai Parmar, Amarbai Rathore, and Lakhabai.
He had 17 sons and five daughters from 11 wives. His successor Amar Singh was the son of his first wife and principal queen, Maharani Ajabde Punwar.
2. Pratap's physique and his armor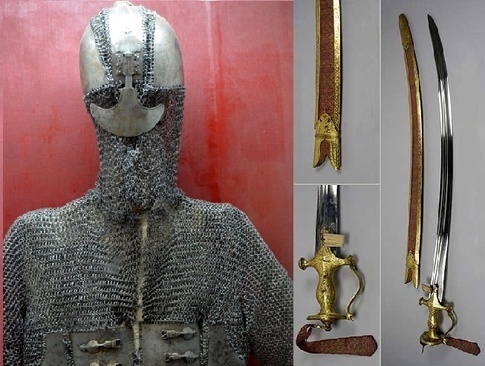 Maharana Pratap was one of the greatest kings and warriors in history who defended his homeland Mewar, till his death. He was almost 7.5 feet tall (2.26 m) and weighed more than 100 kg. He used to carry two swords, a spear, and armor with a heavy shield on the battlefield.
3. Maharana Pratap becomes the King of Mewar because of meritocracy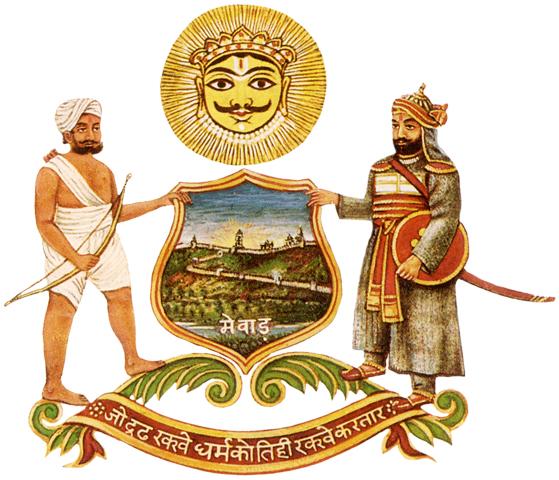 Rani Dheerbai Bhatiyani, Pratap's stepmother and Maharana Udai Singh II's favorite wife, wanted his son Jagmal Singh to become the king of Mewar. According to the tradition, Pratap was the rightful successor of the throne as he was the eldest son. Besides, he also possesses all the qualities of a leader and a king. Despite this, Udai Singh named Jagmal as the next Maharana on his deathbed.
Pratap was ready to give up his rights, but Mewar's chieftains disagree with the king's decision. They believed that Jagmal did not possess the qualities of being a king and a leader, and only Pratap deserved to be the king of Mewar. Finally, meritocracy over personal preference prevailed, and Pratap accepted the responsibility of leading the people of Mewar and thus was crowned as the king of Mewar.
Jagmal Singh being unhappy with this decision left Mewar. Later on, he, along with his brothers Shakti Singh and Sagar Singh, served Akbar.
Maharana Pratap was the son of the soil. He never discriminated against different groups of people. His army consists of people from all sections of society.
4. Utmost Respect for Women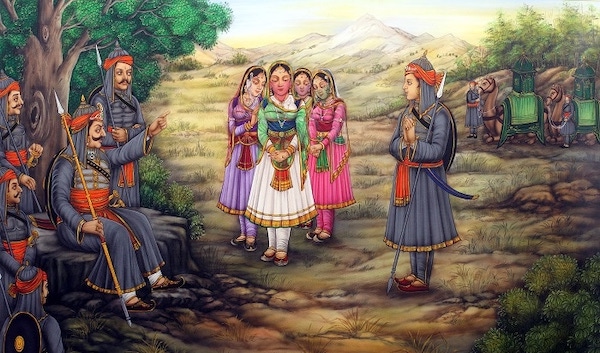 Maharana Pratap has the utmost respect for women. No women of his kingdom could ever be sent to Akbar's Harem.
When Rahim Khan-e-Khana, a Mughal military general, was campaigning against Mewar, Amar Singh arrested all the womenfolk of Rahim Khan-e-Khana. When Pratap came to know about women's captivity, he rebuked his son for such a mean act. He said that disrespecting women is not in our culture. Pratap commanded his son to set them free and escort them safely till their camp with the utmost respect.
This gesture from Maharana Pratap melted Rahim Khan-e-Khana's heart. Pratap's generosity touched him, and he refused to campaign against such a kind-hearted king and pledged not to raise a single weapon against Mewar from then onwards.
Abdur Rahim Khan-e-Khana was the son of Bairam Khan, Akbar's guardian and mentor. After Bairam Khan's death, his second wife and Rahim's stepmother Salima Sultan Begum married Akbar. In this way, Rahim was Akbar's stepson.
Abdur Rahim Khan-e-Khana is none other than the Rahim who is famous for his Hindi dohe (couplets).
5. Maharana Pratap's bravery in Haldighati War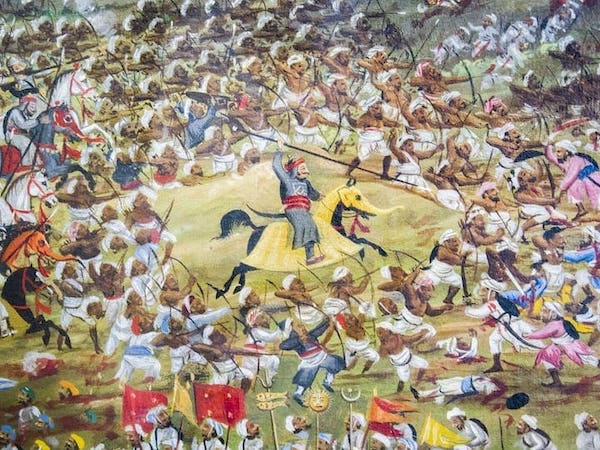 Once Akbar sent Raja Man Singh as his representative to Mewar. He wanted Maharana Pratap to acknowledge him as the emperor and became subservient to him.
During his stay in Mewar, Man Singh was invited to a royal dinner. But Pratap instead of going himself sent his son Amar Singh for dinner. He considered Raja Man Singh as the crown prince of the vassal state of the Mughals.
Raja Man Singh felt insulted and left. He then advised Akbar to attack and capture Mewar. This is the opportunity Akbar was looking for. He always used Hindus against Hindus to create further division between them. Akbar immediately ordered an attack on Mewar.
I think the British have created their "Divide and Rule" policy after taking inspiration from Akbar.
The heroic Battle of Haldighati was fought between Pratap's army and the Mughal army in June 1576. Despite a numerically smaller army of around 20,000 warriors pitted against almost 5 times larger Mughal army, Pratap and his warriors gave a tough fight.
Since the battle's main aim was to imprison Pratap, it ended in a stalemate as Pratap tactically retreated from the battlefield safely through a 40 km long pass with the help of his horse Chetak.
6. Chetak with a fake elephant trunk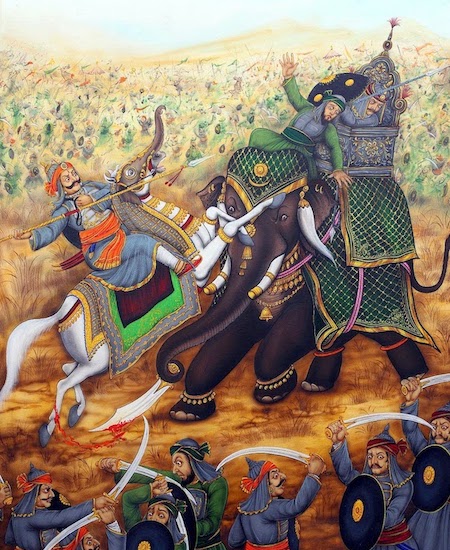 In the above painting, you can see Chetak with a fake elephant trunk attacking the enemy. Rajputs used this technique during battles. They put a fake elephant trunk on their horses. The elephants carrying the enemy get confused as the horses would appear like baby elephants and would not spontaneously attack them.
Maharana Pratap also used this technique during the Battle of Haldighati. He put a fake elephant trunk on Chetak. The elephant of Akbar's general Raja Man Singh gets confused. In the meantime, Chetak put his hooves on the head of the enemy elephant, allowing Maharana Pratap to throw a spear at Man Singh. Man Singh ducked the spear, but his mahout died because of the spear.
7. Chetak became immortal along with Maharana Pratap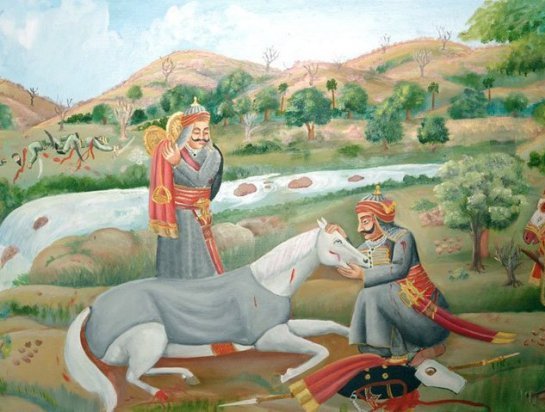 Chetak was Maharana Pratap's faithful horse. His agility and strength allow Pratap to slay his enemies and win numerous battles.
During the Battle of Haldighati, although severely injured, he miraculously leaped over a big canal to save Pratap and carried him safely away from the battle. But unfortunately, he died after this because of his battle wounds. Pratap mourned over the death of his faithful companion.
There are several statues and monuments dedicated to Chetak and Pratap. There is also a memorial of Chetak known as Chetak Smarak in the Rajsamand district of the Indian state of Rajasthan. It is said to have been built at the spot where Chetak died after saving Pratap.
8. Jhala Mann's sacrifices himself to save Maharana Pratap
Jhala Mann had a close resemblance in terms of physique. During the Battle of Haldighati, Jhala Mann advises Pratap to retreat as the Mughal army outnumbered their army.
To save Pratap and buy time so that he could safely leave the battlefield, he wore the crown of Maharana Pratap. The Mughal army misunderstood him to be Pratap and attacked him. In the meantime, Pratap left the battlefield along with his remaining soldiers safely.
Unfortunately, he was killed by the Mughal army during this time. This way, he sacrifices his life to save Pratap so that he could regain their lost territory and honor.
9. Maharana Pratap's mighty elephant Ramprasad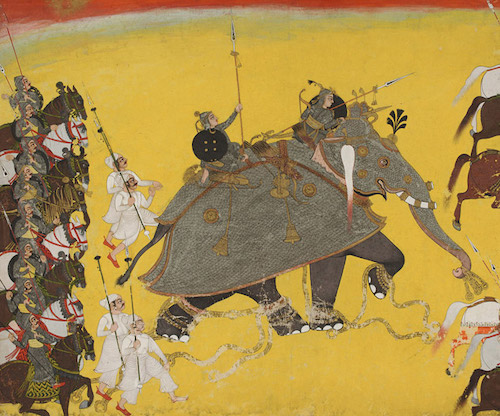 We have learned about Pratap's loyal horse, Chetak, who sacrificed his life while rescuing his master from the battle. But Maharana Pratap has a faithful and mighty elephant too named Ramprasad (or Ram Prasad).
During the Battle of Haldighati, he created havoc and crushed numerous Mughal soldiers, horses, and several war elephants too. After hearing about Ramprasad, Akbar wanted to own him. So he ordered his commander in chief Raja Man Singh to capture Ramprasad. Man Singh devised a strategy and deployed seven war elephants to capture Ramprasad.
After being caught by the Mughal army, Akbar changed his name to Pirprasad (or Peerprasad). He facilitated exceptional food for him. But Ramprasad was so loyal to Pratap that he refused to eat or drink anything and died after 18 days of imprisonment.
10. Maharana Pratap once thought of surrendering to Akbar
After the Battle of Haldighati, when Pratap was forced to lead his life in Aravalli's forest to continue his fight against the Mughal forces, he was moved by an incident.
During his struggle in the jungle, he and his family had nothing to eat. They used to eat rotis made of grass. Once, the grass roti made for his daughter was snatched by a cat. He became emotional after seeing the condition of his family and his people. He decided to surrender to Akbar and wrote a letter regarding the same. Akbar was delighted after receiving the message from Pratap.
He sends this letter to Prithviraj, who was the Rajput poet and warrior, working under Akbar. Prithviraj was shocked and was not able to believe that Pratap has decided to surrender before Akbar. To clear his doubt, with Akbar's permission, he wrote a letter to Pratap to confirm this.
Prithviraj wrote back to Maharana Pratap in a poetic way, giving him the strength and asking him not to accept defeat and surrender before Akbar. This letter jolted Maharana Pratap, and he changed his mind and reversed his decision of surrendering before Mughal forces.
Pratap wrote a letter back to Peethal (Prithviraj) saying he would never accept Akbar as an emperor. For him, he was always a mere Turkish invader.
11. Maharana Pratap, a man of principles, refused to backstab Man Singh, the Commander in Chief of Mughals
Once Pratap got the news through his Bhil spy that Raja Man Singh, the commander in chief of the Mughal army, was on a hunting expedition in the jungle along with a few hundred soldiers.
If Pratap wanted, he could have easily defeated Raja Man Singh in the jungle. But he refused to do so and told his forces that he would prefer to face Raja Man Singh on the battlefield rather than backstabbing him in the jungle where he is unaware of the danger.
12. First warrior to use guerrilla warfare
Although guerrilla warfare had existed before Maharana's time, he was the first warrior of Bharat who used it against the Mughals in an organized form.
13. Bhamashah's financial help to Maharana Pratap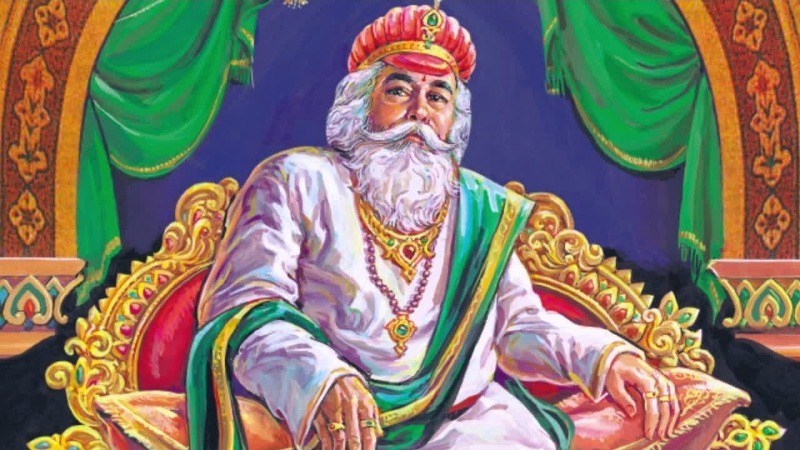 Even after the Battle of Haldighati in 1576, Mughal forces continued their attacks on the Rajput army. Pratap's army got weaken day by day because of these attacks. When Pratap has no resources left to sustain his army, his minister Bhamashah came to his rescue.
Bhamashah was Maharana's minister. He gave all his accumulated wealth to Pratap, which was enough to sustain and maintain an army of 25,000 men for 12 years. Bhamashah's financial help boosted Pratap's morale and enabled Pratap to form an army of around 40,000 soldiers.
14. When Maharana Pratap defeated Mughals in the Battle of Dewair (1582)
After the Battle of Haldighati, Pratap was only left with 7,000 soldiers. After getting financial help from his Bhamashah, he forms an army of around 40,000 soldiers to regain his lost territory from the Mughals.
In 1582, on the day of Vijayadashami (Dussehra), the Battle of Dewair, Maharana and his army attacked the Mughal outpost in the village of Dewair, situated about 40 km northeast of Kumbhalgarh.
After the decisive victory in the Battle of Dewair, Pratap recovered complete Mewar except for Chittor, Ajmer, and Mandalgarh. Additionally, 36,000 soldiers of the Mughal army surrendered before Pratap, and all 36 garrisons (check posts) of Mughals in Mewar were closed.
Read more: How Maharana Pratap defeated Mughals – Battle of Dewair/Diver (1582)
15. Maharana Pratap's death
Maharana Pratap never surrendered to Akbar. He bravely fought numerous battles in his life against all odds and never succumbed to the Mughals. Unfortunately, he passed away at 57 in Chawda (or Chawand) on 19 January 1597 because of injuries inflicted in a hunting accident.
Even on his death bed, Pratap told his son, Amar Singh, to never succumb to Mughals and win their lost territory of Chittor back.
16. Death of Maharana Pratap made even Akbar cry
The news of Maharana Pratap's death made even Akbar cry. In 1597, when Akbar was in Lahore, the news of Pratap's death reached to him. The man Akbar battled for 20 years and tried everything to subdue him but failed to do so, was no more.
The famous poet of Marwar (or Mewar), Dursa Adha spontaneously composed and recited a poem on Maharana Pratap. He described the effect that Pratap's death has on Akbar as follows:
"And now as the Badshah learns of your passing
He does not rejoice
Behold all, see how he has fallen into deep silence…
And he has bowed his head in sorrow
Even as tears well up in his eyes."
17. Abdur Rahman praised Maharana after his death
Mughal poet Abdur Rahim Khan-e-Khana praised Pratap after his death and wrote,
"All is unstable in this world; land and wealth will disappear, but the virtues of a great name live forever. Pratap abandoned wealth and land, but never bowed his head. Alone, of all the princes of Hind, he preserved his honor."

– Abdur Rahim Khan-e-Khana
18. Some more facts about Maharana Pratap
18.1 Pratap's Nickname
Maharana Pratap's nickname was "Kika." He got this name from the Bhils. In Bhils dialect Kika means son.
18.2 Pratap – The Rider of the Blue Horse
We have talked about Chetak and Pratap's affection for him. Chetak had blue eyes, and because of this, Maharana Pratap is often referred to as "The Rider of the Blue Horse."
Conclusion:
Rana Pratap's defiance of the mighty Mughal empire, almost alone and unaided by the other Rajput states, constitute a glorious saga of Rajput valour and the spirit of self sacrifice for cherished principles. Rana Pratap's methods of sporadic warfare was later elaborated further by Malik Ambar, the Deccani general, and by Shivaji Maharaj.

– Medieval India by Satish Chandra (2000), p.164
Frequently Asked Questions about Maharana Pratap:
Q1. How and When Maharana Pratap died?
Maharana Pratap died because of injuries incurred by him in a hunting accident on 19 January 1597 in Chawda (or Chawand) at the age of 57.
Q2. Who killed Maharana Pratap?
Nobody killed Maharana Pratap. He died because of injuries incurred by him in a hunting accident.
Q3. What was the height Maharana Pratap?
7.5 feet tall (2.26 m)
Q4. When and where was Maharana Pratap born?
Who defeated Maharana Pratap?
Q5. Who defeated Maharana Pratap?
No one was able to defeat or capture Maharana Pratap. He tactically retreated from the Battle of Haldighati and lost his territory but was not defeated or captured.
Q6. Which Mughal ruler was a contemporary of Maharana Pratap?
Mughal emperor Akbar was contemporary of Maharana Pratap.
Q7. What was the name of elephant of Maharana Pratap?
Ramprasad (or Ram Prasad)
Q8. How many wives Maharana Pratap had?
Maharana Pratap had a total of 11 wives, Ajabde Punwar, Solankhinipur Bai, Champabai Jhati, Jasobai Chauhan, Phool Bai Rathore, Shahmatibai Hada, Khichar Asha bai, Alamdebai Chauhan, Ratnawatibai Parmar, Amarbai Rathore, and Lakhabai.
Q9. What is the name of Maharana Pratap horse?
Chetak
Q10. Who was the father of Maharana Pratap?
Maharana Udai Singh II
Sources:
Read More: