Have you heard of X-Men Red Lotus? If not, you're not alone. The early 2000s saw the launch of the popular X-Men live-action film series, as well as Grant Morrison's New X-Men series. There was another, less-remembered comics series in this era, X-Treme X-Men, which featured a now-forgotten mutant and martial artist: Red Lotus.
Despite his impressive feats of strength, durability, and nimbleness, Red Lotus has since slipped into obscurity. But now, with the Dawn of X and X of Swords events, it's time for him to shine once again. Read on and discover the remarkable story of Red Lotus – the forgotten superhero of the X-Men!
Origins and Backstory of Red Lotus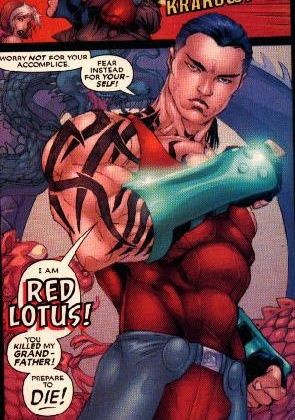 Created by legendary X-Men scribe Chris Claremont and artist Salvador Larroca, Red Lotus was first introduced in X-Treme X-Men #5.
He is a mutant with superhuman athleticism, strength, reflexes, durability, and nimbleness. His superhuman abilities and martial arts prowess make him an incredible fighter, capable of physically overpowering Sebastian Shaw, aka the Black King of the Hellfire Club.
His origin story is one of complexity and betrayal. Red Lotus' real name is Paul Hark, and he was poised to become the heir to the local chamber of the Triad in Australia. However, his ascension was derailed by the death of his grandfather.
The X-Treme X-Men happened to be in Sydney investigating a series of mysterious deaths and got caught up in the Triad's affairs. Red Lotus' first big mission was to stop the Hellfire Club's attempted takeover of the Triad in Sydney, Australia.
Through the manipulation of the Examiner, who wished to rule the Triad himself, Red Lotus believed Gambit was responsible for his grandfather's death, but in reality, it was the Examiner and his ally, Lady Mastermind. Red Lotus got to the bottom of it, with the help of Gambit expose Examiner's treachery, freed Rogue and Sage and save the Triad.
Later, he worked with the X-Men against alien invaders and the mutant slave trade in Madripoor. His powers are impressive, but not spectacular, making him less interesting to the mutant status quo in Dawn of X. Since then, he hasn't appeared much in main X-line books, and it's uncertain if he maintained his powers after M-Day.
Also Read: 20 Cute Anime Shows That Will Warm Your Heart
His Current Status and Future in the Marvel Universe
Red Lotus' character was meant to appear in the 2019 film Dark Phoenix, but the role was changed to an original character named Ariki who has the power to control his hair like the Inhumans' Medusa.
His powers may not be extraordinarily powerful, especially when compared to heroes like Colossus and Beast. However, his martial arts skills make him an above-average fighter, and he has the ability to hold his own against other formidable opponents.
His relatively muted superhuman abilities, compared to other heroes, maybe the reason for his lack of wide appeal. But Red Lotus deserves to be more fleshed out and recognized. With the upcoming X of Swords event, there is a chance that he could make his triumphant return to the Marvel Universe. Until then, the martial arts master remains a forgotten superhero.
Read More: